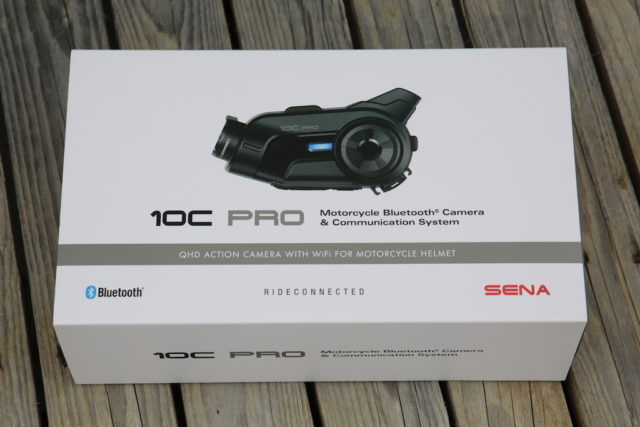 Never before has there been such a seamless way to combine good quality video and speech in one unit, but the clever team at Sena appear to have solved the puzzle with the 10c Pro.
The 10c has been around a couple of years, with the Pro-version featuring improved 4.1 Bluetooth connectivity while the camera can now film in 1440(2K) @ 30fps or 1080 @ 30 or 60fps. It also does all the rest of the excellent intercom bits 'n' bobs that Sena is renowned for, with excellent sound quality, easy pairing and long battery life making the unit easy to use.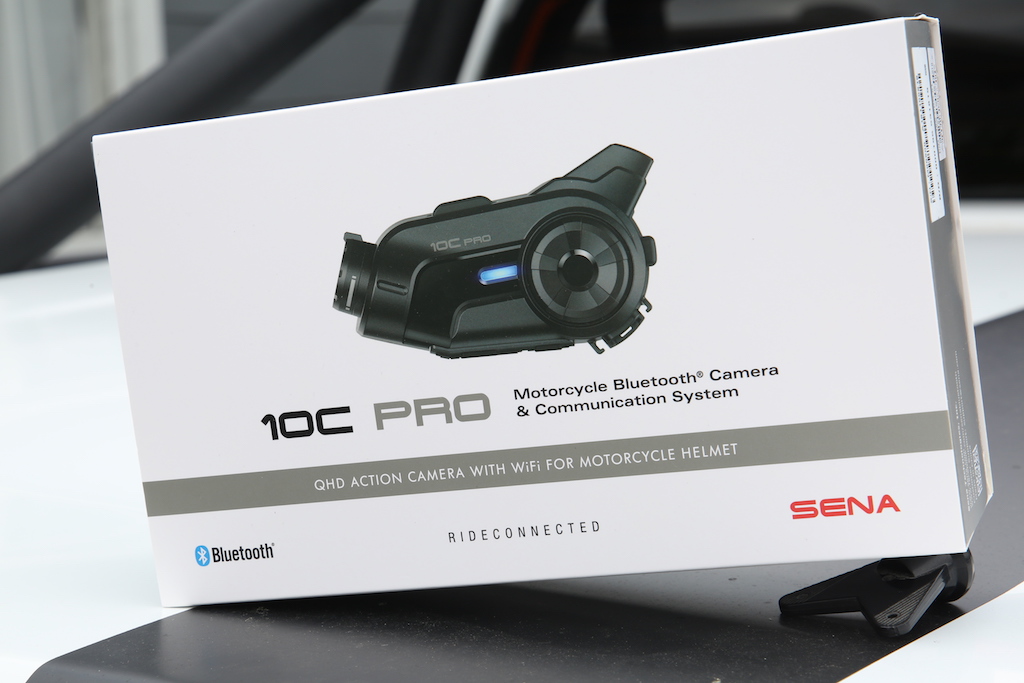 For set-up, I found the easiest option was to pair it to my iPhone after I'd installed the Sena Photo App where I could adjust all the settings and also set precisely where the camera was pointing as it streamed the image live to the phone. Once I was set-up, it's merely a case of pressing the sizeable top button momentarily to activate the camera and then again to start recording. Press it again, and you're rewarded with a voice telling you exactly what you're doing, i.e. camera on, camera off, recording etc.
The best bit though is that it also records the audio, so if you fancy a go at blogging, if you're a motorcycle trainer or you want to give someone a few pointers, then you can record what you're saying along with videoing it. If you're a city commuter, I reckon the system will be invaluable as a 'dashcam' for two wheels as you can video everything that's happening but also give a running commentary when you spot an idiot trying to knock you off.
And despite the 10c Pro being a camera, it hasn't lost any of the typical Sena goodness, with excellent quality from the microphone (with very little wind noise) and good quality headphones. Answering the phone can be done with voice activation or a quick press of the unit, and most people don't even realise I'm on a bike when I'm talking to them.
Fitting to any helmet is a simple process, with plenty of sticky pads, along with two microphones to choose from depending whether you run a full-face helmet or a flip-front/open face. After using this unit for a few weeks including doing laps on a race track, I've found it provides excellent video quality, impressive audio, and despite the size being slightly bigger than the standard unit, doesn't create any extra drag. If you're looking to video plus talk while you ride, check out the Sena 10c Pro.
Tester: Paul | Distrubuted by: Whites Powersports | Price: $599 | Check it: www.bits4bikes.co.nz