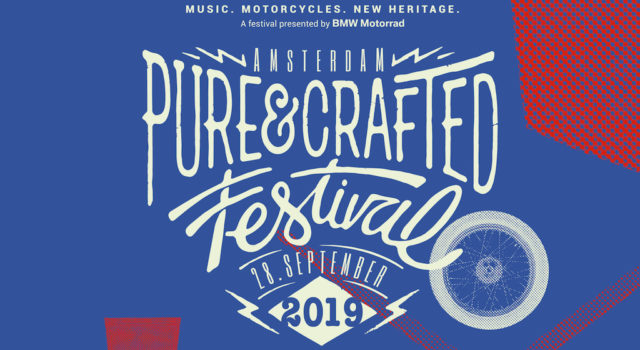 First Music Acts for the Pure&Crafted Festival confirmed: Bad Nerves (UK), SONS (BE), Indian Askin (NL) and Swedish Death Candy (UK); with more acts to be released soon.
After three legendary editions in Berlin in 2015, 2016 and 2017 as well as Pure&Crafted ON THE ROAD in 2018, the Pure&Crafted Festival now moves from Berlin to the gates of Amsterdam: The beautifully situated location Taets Art and Event Park will offer the unique backdrop for the three proven components of the festival on Saturday, 28 September:
1. straightforward and honest Rock Music,
2. Motorcycle culture,
and 3. a good portion of New Heritage Lifestyle.
The evening before (Friday, 27 September), the weekend will open with a Pure&Crafted club night in the centre of Amsterdam. On Sunday, 29 September, the Taets Art & Event Park will once again be the meeting place for a relaxed breakfast together before heading from there to the starting point of this year's Distinguished Gentleman's Ride.
The confirmed bands (more names to be released soon).
If you're not strong, you need to be fast! At least when it comes to the English garage Punk Rock Band Bad Nerves: an infectious mixture at 78 rpm. Equally energetic are the Belgian garage punk "sons" from SONS, who give their sound a fine psychedelic and fluffy note that makes it impossible to keep still. Of course, Indian Askin don't need to be introduced anymore, because this very talented Amsterdam psychedelic Nu-Punk Quartet has been on the radio, on the concert stages and at music festivals for three years now and is now attracting more and more attention abroad. Just like the international band Swedish Death Candy. Not from Sweden, but from London, where the band members from Italy, England and South Korea have their homebase and from where they want to conquer the world with catchy, hard and fancy Psych-Rock.
Pure&Crafted: Music. Motorcycles. New Heritage.
Visitors to the Pure&Crafted Festival are connoisseurs who love their freedom and individuality. Also this year, they expect the three proven pillars Music, Motorcycles und New Heritage.
At Pure&Crafted, Music stands for Indie/ Alternative, Folk, Rock, Singer-Songwriters, melodic Punk Rock and related genres. In past editions, promising up-and-coming acts as well as internationally renowned bands such as Interpol, Refused and The Hives have been presented.
BMW Motorrad is the initiator and title sponsor of Pure&Crafted. That's why there are of course no wishes left unfulfilled in the area of Motorcycles. In the so-called Wheels Area of the festival, lovers of motorcycles, especially of extraordinary custom bikes, will get their money's worth and will be inspired by new – and also classic – models as well as search for high-quality motorcycle clothing, equipment and accessories. In addition, there will be the breathtaking Wall of Death shows, in which the famous Ken Fox troop from England will cast their spell over the audience.
New Heritage completes the overall package: after all, the impressive General Store at the festival is the ideal place for authentic fashion, favourites and handmade items. It offers high-quality, sustainable and durable products such as leather accessories, clothing and other must-have items from carefully selected manufacturers and the best brands on the scene.
Of course, Pure&Crafted is also home to Amsterdam's most popular food trucks. They offer a careful selection of delicious, traditionally prepared dishes and refined drinks, specially adapted to the festival. Tickets for Pure&Crafted are available for EUR 25.00 from now on (incl. service fees) on www.pureandcrafted.com/tickets