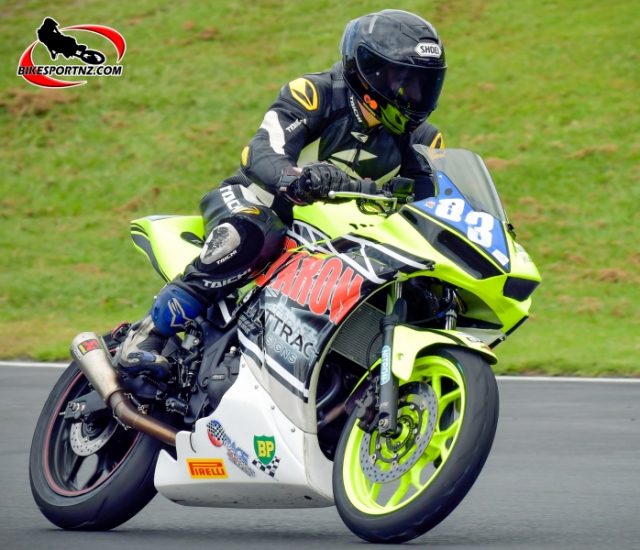 SUPERBIKE RACE WINNERS IMPOSSIBLE TO PREDICT
It has been gripping viewing right from the start and it's fair to expect more of the same entertainment in Taupo this weekend too.
Race winners in this season's New Zealand Superbike Championships have been impossible to forecast in a series that has so far produced so much of edge-of-the-seat dog-fighting. 
In the premier Superbikes class, the title hopes of Taupo's Scott Moir were buried two months ago, but he showed he was no quitter and he once again proved his trophy-winning potential at the third round of four in the nationals at Hampton Downs just over a week ago.
And he'll no doubt be a potent force at the fourth and final round on his home track in Taupo this coming weekend (March 17-18).
The 33-year-old won weekend overall in the superbike class at Hampton Downs, but there were actually three different winners in the premier class that weekend, making it almost impossible to predict who might win races at Taupo.
Moir's 2-1-3 score-card in the three Superbike races gave him the edge at Hampton Downs over series leader Sloan Frost, the Wellington man taking a "safe and sensible" approach to protect his points lead, while Glen Eden's Daniel Mettam, claimed the third step on the podium. 
Frost refused to be drawn into some of the intense battling that took place at Hampton Downs, "doing just what was required" to continue his relentless march towards the 2018 championship title.
That policy worked a treat too, because Frost therefore avoided tangling with trouble, while several of his key rivals each suffered disastrous crashes at the North Waikato circuit.
Frost had started the weekend a solid 24 points ahead of his nearest challenger, Whakatane Honda man Mitch Rees, and his 1-3-4 score-card over the three Superbike class races was surprisingly enough for him to boost to 47 points his advantage over Rees. 
Australian visitor Robbie Bugden (Yamaha) won the all-important third and final Superbike race of the weekend at Hampton Downs, the 15-lapper that also came with TT Trophy title honours.
Rees, Mettam, Bugden, Christchurch's Alastair Hoogenboezem (BMW), Rees' younger brother Damon Rees (Honda) and Lower Hutt's Jay Lawrence (Suzuki) each crashed out of a race at Hampton Downs, costing them dearly.
There is still plenty at stake at Taupo this weekend and perhaps Tauranga's Regan Phibbs (Biggles Racing Team Yamaha R3), is one of several riders who will have special reason to celebrate if he can hold it all together this Saturday and Sunday.
He leads the way in the Supersport 300 class and, if all goes to plan, will collect his first national title on Sunday afternoon. 
The 24-year-old accountant has a 33-point advantage over Christchurch's multi-time former national champion Dennis Charlett, but, as we have seen in other classes earlier this season, even a buffer that size can quickly disappear when things go wrong.
An example of that can be seen in the Supersport 600 class where Christchurch rider James Hoogenboezem saw his 10-point advantage change to a 31-point deficit as his Underground Brown Triumph team-mate and fellow Canterbury man Jake Lewis took over the championship lead at Hampton Downs.
"The margins between me and Dennis (Charlett) have been very close, but Taupo is one of my favourite tracks and I'm hoping to do well there," said Phibbs, confident that he can finish the job this weekend.   
Meanwhile, the points leaders in each of the other championship classes also look relatively safe, although the intensity of the racing at Hampton Downs would surely suggest that nothing is guaranteed in this sport and anything could still happen at Taupo's Bruce McLaren Motorsport Park this weekend.
Other class leaders after three of four rounds are: Hamilton's Jordan Burley (650 Pro Twins); Christchurch's Nick Cain (250cc Production); Huia's Nathanael Diprose (Superlites); Rodney's Blayes Heaven (125GP); Pukekohe's Thomas Newton (GIXXER Cup); and Auckland's Peter Goodwin and Kendal Dunlop (Sidecars). 
Words and photo by Andy McGechan