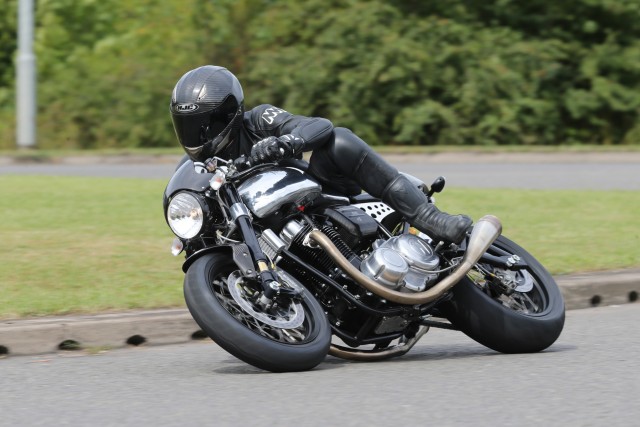 Exclusive Test – Norton Dominator SS
British Gentry
Words: Roland Brown Images: Phil Masters
Norton unveils the production version of its terrific hand-crafted and ultra-desirable Domiracer
Despite running a few minutes late in returning the Dominator SS, I couldn't resist one short, final detour. Norton's factory is located to the rear of Donington Hall, signposted to the right at a fork in the access road. But I aimed the bike left, instead: down the short, tree-shrouded drive that suddenly curved to give a view of the classically symmetrical Gothic stately home.
A pair of Union Jack flags fluttered from the roof. Norton boss Stuart Garner's Aston Martin – number plate SG V8 – was parked outside near the red carpet at the door. It was a magnificent, quintessentially British scene, surely made all the more stirring by the arrival of an equally spectacular Norton motorbike, sun glinting off the mirror finish of its shapely petrol tank.
I rode slowly up the drive, made a quick lap of the circular garden feature outside the Hall's front door, then gunned the Dominator's parallel twin engine to exit the way I'd come, the straight-through pipes bellowing a brief but deafening note. A couple of minutes later I was pulling up outside Norton's factory reception, handing back the SS to a mechanic – "We heard you coming" – and stepping off with my ears ringing, pulse racing and a huge grin on my face.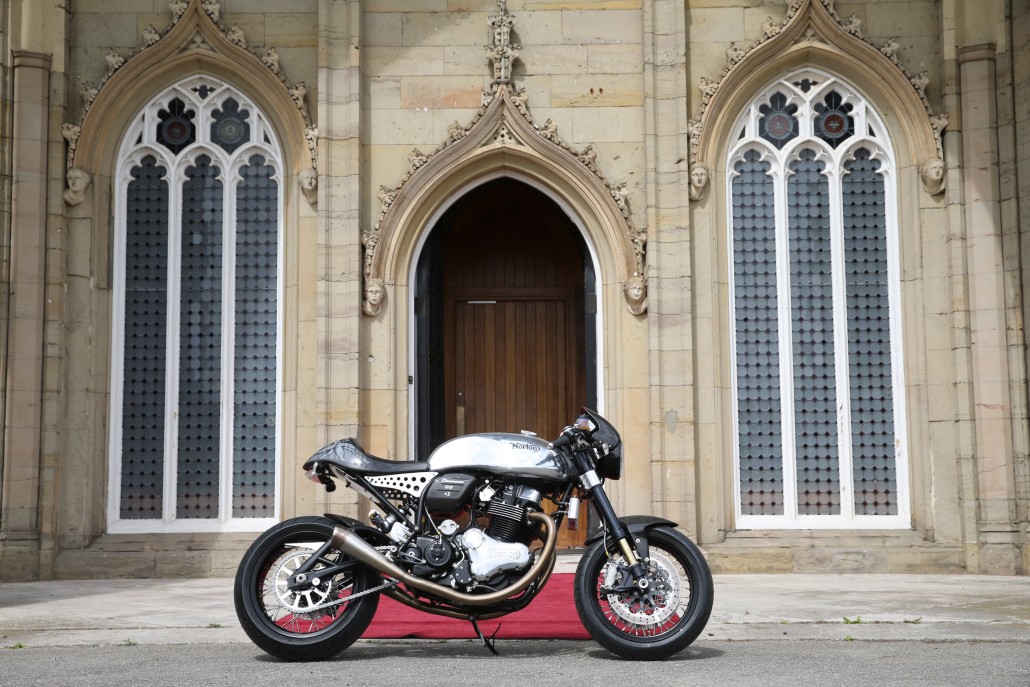 If the Dominator SS looks familiar, that's perhaps because it's closely based on the non street-legal Domiracer that made plenty of headlines on its unveiling last year. That original twin, the brainchild of Norton's engineering chief Simon Skinner, was a lovingly hand-crafted, intricately detailed sporting variant of the Commando 961. It was produced in a limited run of just 50 machines and sold out within a week despite a UK £25,000 price tag, with some owners paying the extra £2000 required to make it road legal (via single vehicle type approval).
Norton resisted requests to produce more Domiracers, but that bike has now given birth to a street-legal model, the Dominator, plus this even more exotic variant the Dominator SS, or Super Sport. Its name brings to mind the Dominator 650SS of the early Sixties: the handsome 646cc, Featherbed-framed parallel twin that remains one of Norton's most illustrious models, and was arguably the fastest and finest roadburner of its day.
Like the Domiracer, this Dominator SS is lean and minimalist, its centrepiece a shiny aluminium fuel tank. This in turn sits above a heavily finned and unmistakably Norton-shaped engine from which, on each side, emerges a single exhaust pipe that curves delightfully before ending at an intricately hand-welded megaphone.
The café racer's look is very different from that of the Commando on which it's based, although there's no change to the 961cc aircooled engine, which gets its capacity from long-stroke dimensions of 88 x 79mm. By contrast the frame, borrowed from the Domiracer, is completely different, with a diagonally mounted monoshock instead of the Commando's twin shocks. Its top tubes curve down at the rear in a style reminiscent of Norton's famous Featherbed frame.
Despite the similar look and design there are numerous differences between Domiracer and Dominator SS. "We felt the Domiracer was too nice to make just 50 but we didn't want to let down people who'd paid a lot of money for one," says Skinner. "The Dominator has the flyscreen, slightly bigger pipes, different side-panels and some other tweaks to reduce the price a bit and make it more suitable for mass production. When you're only making 50 units you can go over the top on the detail of the yokes and fancy mudguard brackets. We needed to make the Dominator more production-ready."
That's particularly true in the case of the standard Dominator, which differs in having a Commando-style painted tank instead of the SS's hand-rolled aluminium item. That polished finish is echoed in the SS's top yoke, and the mount for the pair of chrome-rimmed instruments. The more expensive model also gets billet alloy rearsets, as well as parts such as the drilled-for-lightness sidepanels that are shared with the standard model.
As with the Domiracer, the aim was to combine a hand-crafted design with advanced manufacturing techniques. "A craftsman in a shed might be able to make the lovely aluminium tank but he couldn't make the carbon-fibre parts or billet yokes," Skinner says. "Likewise Triumph or Ducati could make the carbon-fibre but they wouldn't consider a fuel tank that takes three days to make. So we've got a combination of components on the bike that are almost unique really, and most parts are made either here or locally."
The monochrome look is enhanced by the stubby carbon-fibre single seat, which holds the alloy oil tank cap in its nose and, on the SS only, is painted with a subtle Union Jack flag. There's more high-quality carbon in the airbox (complete with #1 numeral, in this first bike's case), mudguards and the flyscreen above the round headlight. Cylinder barrels and the wire-spoked wheels' aluminium rims are black, as are the frame and braced swing-arm. Even the Öhlins shock's spring is black instead of the normal yellow.
It's one of those rare bikes that you could spend hours simply admiring, but I didn't have time for that. I threw a leathered leg over the fairly low seat, its padding just a thin piece of foam, and leant forward to a pair of low, slim, angled-back clip-on handlebars. The ignition key sits below the pair of neat, black-faced dials. A press of the button brought the 961cc, pushrod motor to life with a deep, thunderous blast of sound (the SS also comes with homologated silencers) like something from a classic-race paddock.
The rearset pegs are fairly high, but the Dominator felt reasonably roomy as I trod into gear… then trod again to make sure. Selecting first could be slightly tricky, perhaps because this first SS – boss Garner's personal machine – had covered very few miles. But the beefy parallel twin had plenty of low-rev grunt, and was so low geared that it would happily have pulled away in second if requested.
It was also very sweetly fuelled, with a light throttle action and a very responsive feel. Despite the aggressive café-racer image there was no snatchiness or hesitation; just a strong, instant punch of acceleration, combined with a deliciously broad spread of torque. And, when I shut the throttle, with another wonderful sound as the exhaust spluttered and crackled.
That free-breathing pipe adds a few horsepower to the 80bhp at 6500rpm that the Commando delivers as standard. With the peak torque figure of 90Nm delivered at just over five grand there was more than enough acceleration for back-road fun. Once under way the box shifted sweetly, and the Domi always seemed to be ready to shoot forward when given a tweak of its throttle, helped by that low gearing that meant it was doing 5000rpm in top at 120km/h.
A bit of buzzing came through the rearsets and thinly padded seat as the tacho needle swept towards the eight-grand redline. This isn't a bike for much motorway use but it was fine when I reached a broad, curving main road, increasing its pace towards a top speed of just over 200km/h. And for back-road blasting it was ideal: quick enough to be exhilarating with the hedges rushing past on either side, its performance emphasised by the din and the wind pulling at my shoulders and neck despite the tiny carbon flyscreen.
Chassis performance was well up to the job, as you'd expect from a relatively light and simple bike with a descendent of the famous Featherbed holding it together. Those old Dominators didn't have the benefit of a beefy, well-braced swing-arm like that of the SS; or of top-quality Öhlins suspension at each end. The multi-adjustable USD forks and piggy-back TTX shock gave a respectably compliant ride. And when I thought the shock could use a touch more damping, it was easy to lean down and tweak the easily accessible knobs.
The blend of 17-inch front wheel and respectably sporty geometry gave sharp and accurate steering, too, making the Norton enjoyably agile on those occasionally bumpy Midlands back-roads. Big front discs and Brembo radial calipers gave fierce and controllable stopping power, though without ABS. The Dunlop Qualifiers gripped well, and there was enough ground clearance for hard cornering, although anyone contemplating track use should be aware that those sweeping downpipes are the first thing to scrape, possibly with front-tyre-unloading consequences.
The Dominator was great fun when ridden aggressively but the bonus with a bike like this is that you're still not doing crazy speeds, and it's involving at a more gentle pace. It's no town bike but even coped reasonably well with the occasional slower stretch, pobbling through a few villages while I attempted in vain to keep the noise down. Thankfully I got back to Donington Hall without waking the police, who might not have appreciated this outstanding but slightly anti-social example of local craftsmanship.
There were a couple of minor glitches along the way. The neat, machined alloy fuel cap leaked slightly after I'd stopped to top up the tank, when I also realised that the rear light assembly had vibrated loose. That's one traditional British-twin feature that owners wouldn't want after spending UK £24,500 on the Dominator SS, but the odd teething problem is possibly to be expected.
Hopefully Norton have sorted those issues because the limited run of 200 units of the SS is now being built, with almost all of them sold. But a bike like this is still available because the standard Dominator, which costs UK £19,950 and whose production will not be limited, can be upgraded almost to SS specification with the addition of the alloy tank and a loud exhaust.
Either way, the reborn Dominator is a magical motorcycle. There are plenty of faster, more efficient and more sensible bikes, many for considerably less money. But there are very few that look, sound and feel remotely as special as this stunning old-school café racer with which Norton's impressive revival goes up another gear.
Dominator – Norton's twin-cylinder tradition
The new Dominator continues a distinguished line of twin-cylinder Nortons of that name. The original Dominator was the 497cc Model 7, which became the firm's first post World War II parallel twin roadster when it was introduced in 1949, to compete with the Triumph Speed Twin that had revolutionised the motorcycle industry.
Designed by Bert Hopwood, the Model 7 produced 29bhp and had a top speed of about 150km/h. It was respectably light, earned a good reputation for reliability and the solid handling of its plunger-framed chassis. It was a success despite costing more than the equivalent Triumph.
The Model 7 was soon followed by a more glamorous model: the Dominator 88, which introduced the Featherbed frame that had been used with great success by Norton's single-cylinder Manx racebikes, ridden by stars including Harold Daniell and Geoff Duke. The Featherbed proved ideally suited to the twin-cylinder powerplant, and the Dominator 88's sweet handling and light weight helped make it a success.
In 1956 Norton enlarged the engine to 597cc to power the Dominator 99, but arguably the best known model with the name came in 1962: the Dominator 650SS. This was a stylish, silver-painted sports model with a 646cc engine that produced 49bhp with the help of a downdraft cylinder head, developed from the Domiracer production racer that had competed in the previous year's TT.
The Dominator 650SS was arguably the first Norton twin to combine competitive straight-line performance with the marque's traditional fine handling. It won several prestigious long-distance production races, and was voted Motor Cycle News machine of the year in 1962 and '63. It remained in production for over six years (before being replaced by the 750cc Commando), and is regarded as one of Norton's greatest ever bikes, so is a fitting inspiration for the new Dominator SS.
Norton Dominator SS
Engine type
Aircooled parallel twin
Valve arrangement
pushrod, two valves per cylinder
Displacement
961cc
Bore x stroke
88 x 79mm
Fuelling
Electronic fuel-injection
Maximum power
79bhp @ 6500rpm
Maximum torque
90N.m @ 5800rpm
Clutch
Wet multiplate
Transmission
5-speed
Front suspension
41mm Öhlins telescopic, adjustment for preload, compression and rebound damping
Rear suspension
Öhlins TTX shock, adjustment for preload, compression and rebound damping
Front brake
Twin 320mm discs, radial four-piston Brembo calipers
Rear brake
220mm Brembo disc, twin-piston caliper
Front tyre
120/70 x 17in Dunlop Qualifier
Rear tyre
180/55 x 17in Dunlop Qualifier
Dry weight
185kg approx