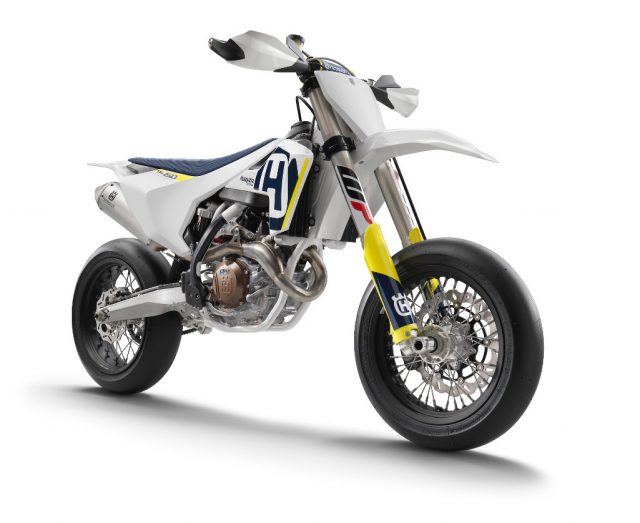 Husqvarna Motorcycles have unveiled their new 2018 Husqvarna FS 450 – an updated supermoto machine that carries Husqvarna's World Championship winning pedigree into a new era.
Featuring a set of high-tech components that have been tested on tracks all-around the world, the FS 450 puts out some serious performance out of the box, with 63hp pumping out of the single-cylinder SOHC engine. Sure, that doesn't sound like that much, but the bike itself weighs in at just 104.8kg on an empty gas tank, so it'll definitely have more than enough poke come your next track day.
Embodying the pure essence of a supermoto, the new FS 450 goes further than a decent power output. The updated MY18 engine receives an all-new slipper clutch developed by Swiss specialist Suter Industries which will help in preventing instability and wheel hopping when braking hard into a turn, but will also ensure maximum control for perfect supermoto-style drifting. Drifting is half the fun of supermoto racing isn't it?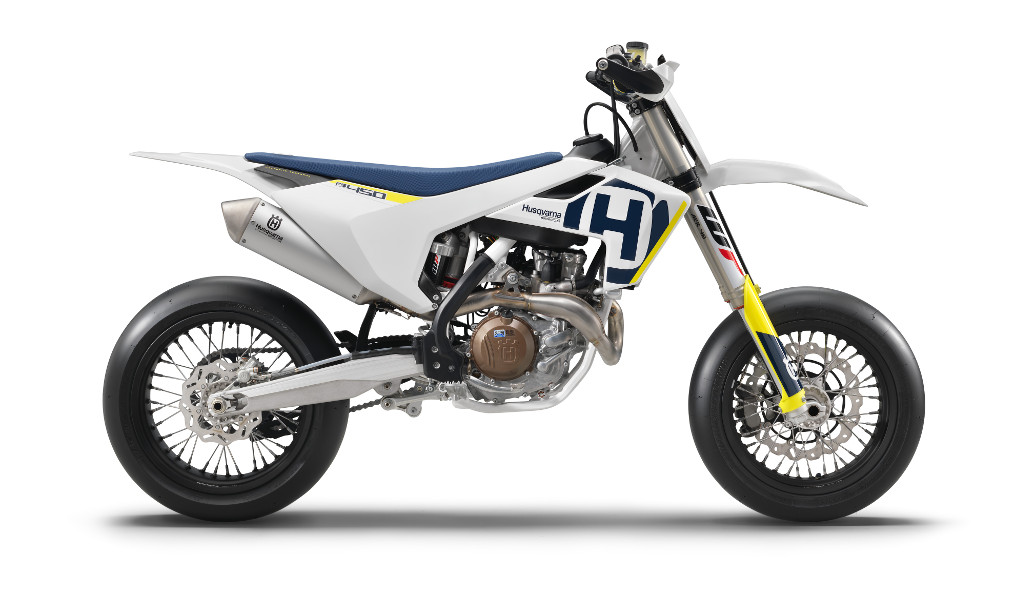 To make the most out of the engine's characteristics, the FS 450 now features a handlebar map switch which is optimised for easy operation, while it also activates the launch control feature. By limiting the amount of power to the rear wheel, the system improves traction and prevents loss of control under hard acceleration. Working together to ensure maximum performance are a 44 mm Keihin throttle body, an exhaust system with inbuilt resonance chamber and a precise 5-speed gearbox.
The true icing on the cake of the FS 450 is all in the chassis, with the engine nestled within a hydro-formed, laser-cut and robot-welded steel frame that has been specifically designed by WP Performance Systems with calculated parameters of longitudinal and torsional flex. Matched to the frame, and unique to Husqvarna models, the carbon composite subframe is made of 30 per cent carbon fibre making it both seriously light yet strong.
Using top-level supermoto competition as a base for further development, the FS 450 is equipped with a set of black 16.5-inch and 17-inch Alpina spoked wheels for front and rear. The top-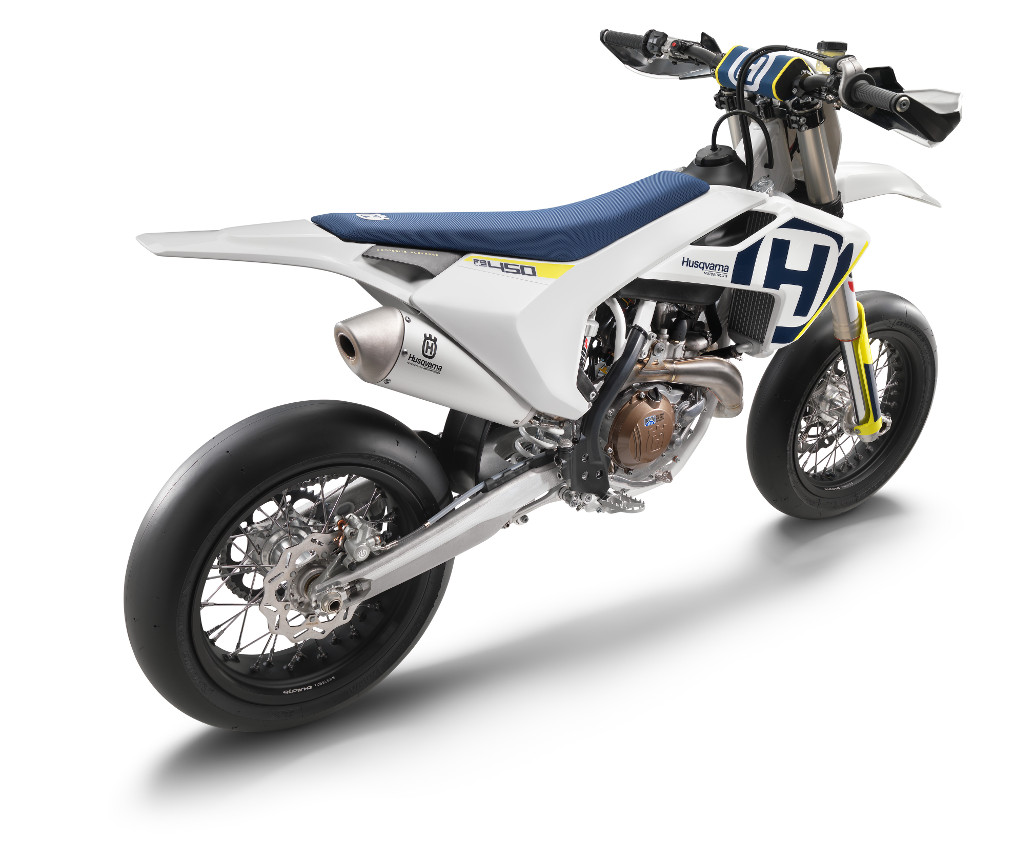 notch wheels are matched with Bridgestone 125/80 R420 and 165/65 R420 slick tyres for maximum grip, traction and agility. Manufactured to exacting standards, the ProTaper handlebars are second to none for function and style. Featuring class-leading fatigue resistance it comes with its ProTaper logos chemically applied and scratch and peel resistant. Exceptional stopping power is guaranteed by Brembo brakes, featuring a 310 mm front disc with a 4-piston radially mounted caliper for the front and a 220 mm disc for the rear wheels.
The FS 450 gains a renewed look for model year 2018 with a new graphics design, together with an extra grip seat cover. Complementing these changes, the FS 450 is further enhanced by a full range of clothing and accessories.
The new Husqvarna MY18 FS 450 machine will be available worldwide from July 2017 with KTM and Husqvarna New Zealand manager Patrick Stafford confirming a small number will make it to our shores.
"We will bring in a couple, as we do each year for this model – as a pure race bike, he told BRM. "Sales are pretty limited as the motard race scene is very poor these days compared to what it used to be."
Pricing is yet to be confirmed, but with all those improvements we'd pick it'll tip the price scales a little towards the pricier side of the equation. That said, for a bike so well suiting to all-out track fun, we're willing to bet there will be people out there more than happy to fork out for one.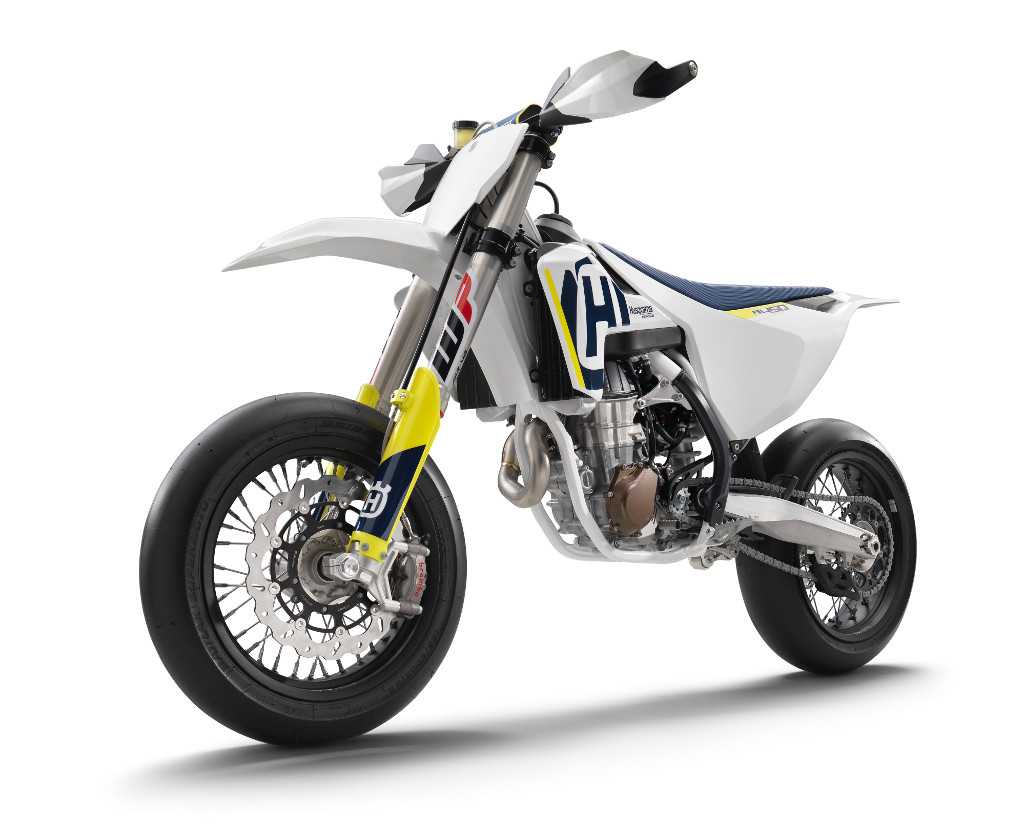 2018 Husqvarna FS 450 Highlights
Lightweight Chromoly frame
Innovative carbon rear subframe
Cast aluminium swingarm
Closed cartridge WP fork & CNC machined triple clamps
High tech EFI system & reliable electric start
New SUTER anti-slip clutch
Lightweight Li-Ion battery
Alpina Tubeless spoked wheels
Bridgestone slick tyres
Radial Brembo brake caliper
Functional bodywork
Standard map switch
Quality construction
New colours & seat cover