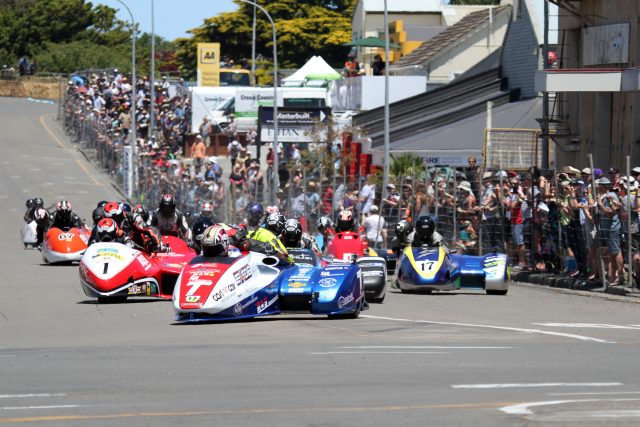 Multi-world champion sidecar driver Tim Reeves and passenger Mark Wilkes are making a special one-off appearance at Whanganui on Boxing Day.
The British pair are travelling halfway around the world to race at one place, on one day – around the world famous Cemetery Circuit.
Reeves finished second in the 2016 World Sidecar championship, although he won the title in 2005, 2006, 2007, 2012, and in 2014 when he also won the World F2 sidecar Trophy, which he successfully defended in 2015. Reeves has also won an Isle of Man Sidecar TT, in 2013.
In New Zealand Reeves was unbeaten in F1 Sidecars last year over three rounds of the Suzuki Series, however, Wilkes was injured before the final round at Whanganui so was replaced by kiwi Robbie Shorter. The Brits are keen to complete last year's challenge together.
Reeves says, "Mark was gutted he couldn't race at the Cemetery Circuit last year so it means a lot to both of us to be here to fulfill our 2015 challenge. We really wanted to finish what we started together last year and Carl Cox kindly offered us a deal to be able to come and do just that.
"The atmosphere and the warm welcome I received last year from all the organisers, spectators, and fans was too good to turn down a return here. I'd like to thank Allan and Julie Willacy, Carl Cox, Gavin Sokolich, and all my loyal sponsors back home for making this trip possible."
But the gloves have to come off on December 26 if they want to win, because the Brits are landing right in the middle of a huge Suzuki Series sidecar battle between the John Holden/Robbie Shorter combination, and the Barry Smith/Tracey Bryan duo. Both teams are equal with 94 points, and all three teams will want the same victory.
Two-time Isle of Man Sidecar TT winner and seventh in this year's World Sidecar championship, Holden, of Britain, is racing his Barnes Racing LCR Honda 600 F2 'outfit', while Barry Smith (Te Puke) and Tracey Bryan (Tauranga) are on a Carl Cox Motorsport Suzuki F2 sidecar, and neither want to come second to win the 2016 F1 Sidecar Suzuki Series.
Can Reeves and Wilkes complete their challenge on their world title-winning Carl Cox Motorsport LCR F1 machine during the two Collegiate Quality Inn F1 Sidecars races at Whanganui on Boxing Day?