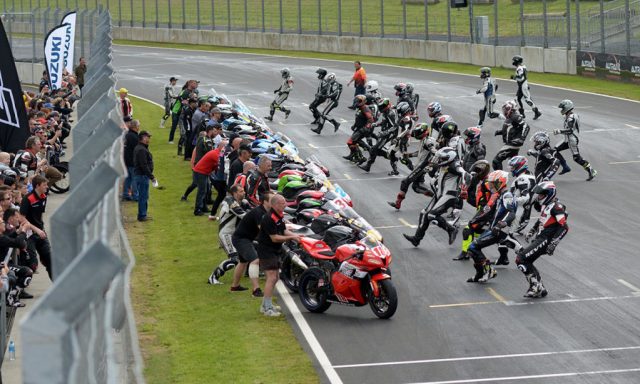 The third annual Motul 6 Hour is set to be best yet
With Round One of the AMCC Club Series successfully completed, Auckland Motorcycle Club now focus their attention on the forthcoming Motul 6 Hour.
Organised and promoted by Playday On Track Ltd, with operational support coming from AMCC, this will be the third running of the hugely popular 6 Hour enduro, competed for by teams of three riders and motorcycles running in relay fashion. Each rider is required to complete a specified amount of track time within the 6 Hour duration.
To be held this coming Sunday at Hampton Downs on the 2.7Km National Circuit, the event has captured the attention of a range of competitors; and the entry for the coming weekend suggests it could well be the most competitive yet.
First held in 2015, the winners were the experienced trio of Connor London, Daniel Mettam and Toby Summers. Covering 298 Laps (804 Km) in the 6 Hours, they finished two laps ahead of the Rees Family – Tony, Damon and Mitch.
Team Rees DNA came back in 2016, taking a slender 67 second victory over Toby Summers, Scott Moir and Aaron Hassan – both teams covering 301 Laps (812 Km) in the six hours.
The entry for Sunday features a host of talent.
Tony Rees/Mitch Rees/Jeremy Holmes form Team Rees Honda DNA for 2017, but they face some stern competition.
Team Suzuki NZ (Daniel Mettam, Sloan Frost, Scott Moir) are a massive threat; but M1 Motorsport (Toby Summers, Avalon Biddle, Alastair Hoogenboezem) and Blue Crew Yamaha NZ (Jamie Maindonald, Hayden Fitzgerald, Rogan Chandler), will all be thereabouts also.
And a glance across the rest of the entry highlights several other teams with more than enough ability to spring a surprise, in a race that will favour intelligent tyre management and strategy, as much as outright speed.
There is a brief Qualifying session from 9:00am – in which every team rider must qualify, and then the Motul 6 Hour will begin at 10:00am with the now traditional Le Mans start.