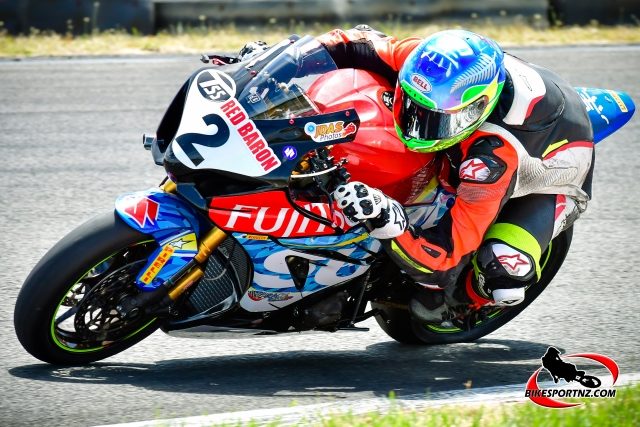 THE WHO'S WHO OF MOTORCYCLING TURNING UP AT THE MIKE PERO MOTOFEST
This weekend's Mike Pero MotoFest is going to be a sensational motorcycling experience, the likes of which has never been seen before in New Zealand.
The inaugural Mike Pero MotoFest (March 3-4) promises excellence on all fronts, with former champions (and perhaps future ones too), from across the entire motorcycling spectrum, all coming together for a spectacular two days of action at Hampton Downs and it will also the same weekend be hosting the third round of four in this year's New Zealand Superbike Championships.
The jam-packed weekend will be a unique Kiwi festival of motorcycling, with speed, power, poise, balance, daring and high-octane expression by the bucket-load.
With names such as American MotoGP icon Randy Mamola, English legend Steve Parrish, Australian international superbike idol Robbie Phillis and our own Kiwi superheroes – men such as superbike stars Aaron Slight, Graeme Crosby, Hugh Anderson, Stu Avant and nine-time former national superbike champion Andrew Stroud, alongside New Zealand's 1996 500cc motocross world champion Shayne King, among others – assembled for the event, it's going to be difficult for fans to know which way to look.
As part of the weekend's activities, Hamilton's Stroud will demonstrate the world-renowned Kiwi-invented Britten V1000 superbike.
Record eight-time former New Zealand moto trials champion and twice Australian moto trials champion Jake Whitaker, international X Games favourite Levi Sherwood and fellow Kiwi freestyle great Nick Franklin will also be among the "glitterati" expressing themselves at Hampton Downs, not to mention Whakatane's injured current national superbike champion Tony Rees, Wellington's 2016 superbike champion Sloan Frost, Christchurch's 2014 superbike champion Dennis Charlett and Australian five-time former New Zealand superbike champion Robbie Budgen, flying in especially from Brisbane.
Whitaker will command the spotlight in the Motul Stadium Moto Trial event, featuring alongside fellow Kiwi internationals such as Wellington's rising young star Nick Ball, seven-time former national moto trials champion Warren Laugesen, from Napier, and the always impressive Blake Fox, from Dunedin. 
The Hampton Downs event will feature the Franklin Farm freestyle motocross team, there to thrill the crowd with aerial action on the main Skid Pan, at the heart of the circuit's vast pit area, while the Kawasaki Public Trail Ride, which will be run on adjacent farmland, will give families and enthusiasts the chance to go for a ride and then enjoy all other aspects of the events – including the Star Insurance Bike Show and the Alpinestars Legends Dinner, which is being staged on Saturday night (March 3).
In addition, as we have already mentioned, the weekend also stands as round three in this season's New Zealand Superbike Championships, presented by DHL Express NZ Ltd, with a bulging programme of races to help decide national champions in half a dozen separate bike categories, including sidecars.
The superbike nationals are delicately poised, but it could be mission impossible now for anyone hoping to catch Wellington-based Frost in this year's New Zealand Superbike Championships title chase.
The trophy is not entirely out of the reach of Frost's rivals in the premier superbike class, but the task ahead for them certainly looks ominous, the Suzuki man a whopping 24 points in front, with the four-round series now ready to nudge past at the halfway stage at Hampton Downs. 
This weekend's the third round of four at Hampton Downs will be the perfect time for Frost's main challengers – Whakatane's Mitch Rees (Honda), Glen Eden's Daniel Mettam (Suzuki) and Christchurch's Alastair Hoogenboezem (BMW) – to begin their fight-back, while Bugden arrives to make his first appearance in this year's series and he's sure to be a real cat among the pigeons.
Besides all of this, with 25 points available for a race win and three superbike races on the programme for that weekend, Frost cannot afford to relax just yet. A crash, flat tyre or a mechanical failure could so easily wreck his campaign.
Re-joining the superbike action after a long break following injury will be the youngest of Tony Rees' two sons, the 23-year-old Damon Rees (brother of 25-year-old Mitch), and the 2017 national Supersport 600 champion will be keen to confirm he's just as potent on a 1000cc machine as his big brother.
The man who finished runner-up to Damon Rees in last year's Supersport 600 title chase, Wainuiomata's Shane Richardson, will make his only New Zealand appearance in the 2018 nationals this weekend, racing in the Supersport 600 class at Hampton Downs before he heads back to continue racing in the United States.
Other class leaders in the national series after the second round of four are Christchurch's James Hoogenboezem (Supersport 600 class); Tauranga's Regan Phibbs (Supersport 300); Hamilton's Jordan Burley (650 Pro Twins); Christchurch's Nick Cain (250 Production); Huia's Nathanael Diprose (Superlites); Rodney's Blayes Heaven (125GP); Pukekohe's Thomas Newton (GIXXER Cup), and Auckland's Peter Goodwin and Kendall Dunlop (Sidecars). 
The superbike championships will wrap up with the fourth and final round at Bruce McLaren Motorsport Park in Taupo on March 17-18.
But Hampton Downs is certainly be the place to be this weekend, a "Mecca of motorcycling" for what is expected to be one fantastic weekend of high intensity.
This extravaganza of motorcycling excellence features the elite of two-wheeled racing and riding exponents, the most precise of practitioners and most sublime of specialists from all the many exciting bike codes – superbikes, sidecars, classic bikes, moto trials, freestyle motocross, trail bike riding and more.
What more could you ask for?
If the Mike Pero MotoFest doesn't get your heart racing, then you probably need to check your pulse.
For information on tickets for the MotoFest weekend, hospitality packages, the legends dinner and camp sites, go to http://www.hamptondowns.com 
Words and photo by Andy McGechan