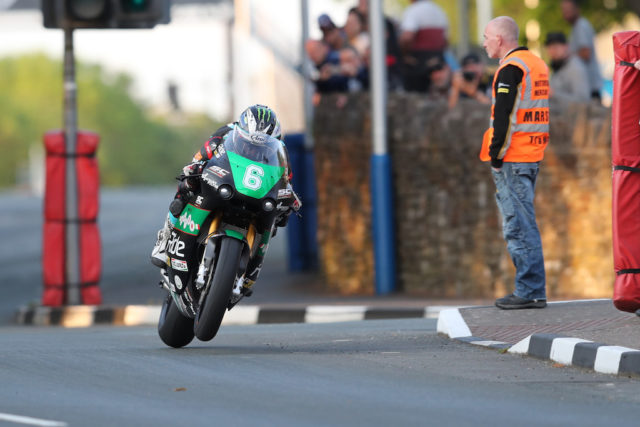 DUNLOP ON THE PACE IN BENNETTS LIGHTWEIGHT TT CLASS WHILE HARRISON TOPS THE MONSTER ENERGY SUPERSPORT BOARD
The first qualifying session for the 2018 Isle of Man TT Races, got underway in perfect conditions on Saturday evening.  Dean Harrison and Michael Dunlop topped the Supersport and Lightweight leaderboards having lapped at 125.797mph and 120.875mph respectively, the latter inside the class lap record, albeit unofficial to lay down an early marker for the Bennetts Lightweight TT Race on Wednesday 6th June.
The session was slightly delayed due to oil being cleared between Cronk ny Mona and Signpost and it was 6.25pm when Rider Liaison Officer Richard Quayle set off with newcomers Adam Lyon, David Jackson and Davey Todd for their escorted lap although Jackson only got as far as Ballig Bridge before stopping with a machine that was reported to be smoking.
At 6.53pm, the session proper started and Martin Jessopp (Riders Motorcycles Triumph) and Peter Hickman (Trooper Beer by Smiths Triumph) were first away, swiftly followed down Glencrutchery Road by Harrison (Silicone Engineering Kawasaki) and Michael Rutter (Paton), the latter the first of the Lightweight machines away.
Michael Dunlop (MD Racing Honda) and Conor Cummins and Ian Hutchinson (both Padgetts Racing Honda) were also away early in the Supersport class with Lintin (Dafabet Devitt Racing Kawasaki), Danny Webb (IEG/KMR Kawasaki) and Ian Lougher (Paton) going out on their Lightweight mounts. Also out on a Lightweight David Johnson was also out on a lightweight bike, the Aussie a late-replacement for Ian Hutchinson on the RST/KMR Kawasaki.
Cummins was first to complete a lap and he was fastest with 123.207mph swiftly followed across the line by Dunlop (122.607mph), Harrison (121.793) and James Hillier (121.356). However, late starter Dan Kneen slotted into second as he lapped at 122.700mph on the Jackson Racing Honda. Hutchinson eased his way back in with a lap of 118.030 but Gary Johnson was out of luck though and stopped at Crosby Crossroads.
Ivan Lintin was comfortably fastest in the Lightweight class at 118.196mph on the first lap followed by David Johnson (115.253), Rutter (114.684), Lougher (114.394) and Derek McGee (113.919). Joey Thompson was an early retirement at Ballacraine.
Second time around and Cummins upped the pace to an impressive 125.152mph with Harrison moving up to second on the timesheets with 124.587. He was closely followed by Hickman (124.313) and Kneen (124.319) with Hutchinson upping his speed slightly to 119.734.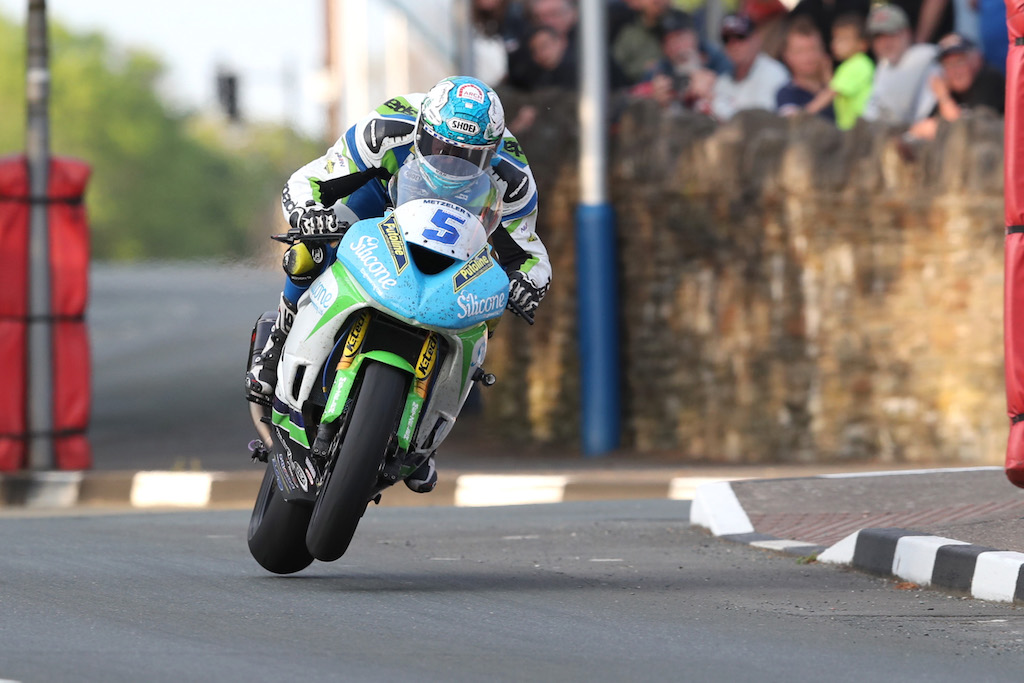 Meanwhile, in the Lightweight class David Johnson improved to 117.029mph no mean feat given this evening was the first time he'd sat on the bike with team-mate McGee going equally well at 117.571 and Italian Stefano Bonetti just behind on 117.119. Lougher and Webb had also lapped in excess of 116mph but Gary Johnson's woes continued as, having made it back to the paddock, he stopped at Quarter Bridge on the WK Moto.
At the head of the field Hillier improved his speed to 122.769mph on his third lap but Michael Dunlop went quicker at 123.715mph whilst Lintin (121.918) and William Dunlop (121.249) were also quickening their pace.
However, it was Harrison who was making all the headlines on his fourth lap and he flashed across the line at 125.797mph to go to the top of the leaderboard although Michael Dunlop was only half a second slower at 125.741mph. Kneen was another rider to post an impressive fourth lap as he improved to 124.703mph to go fourth quickest with Hutchinson setting his first 120mph+ lap of TT2018 with 121.327mph.
Lintin was also flying having gone back out on his Lightweight machine and his lap of 119.908mph put him some 23 seconds clear of second-placed McGee. The Southern Irishman was eventually bumped back down to third though as Michael Dunlop lapped at 118.952mph on the Paton. But Lintin left it late to go even quicker still at 120.660mph only for Michael Dunlop to upstage that with his 120.875mph lap, which was just inside James Hillier's lap record from 2015.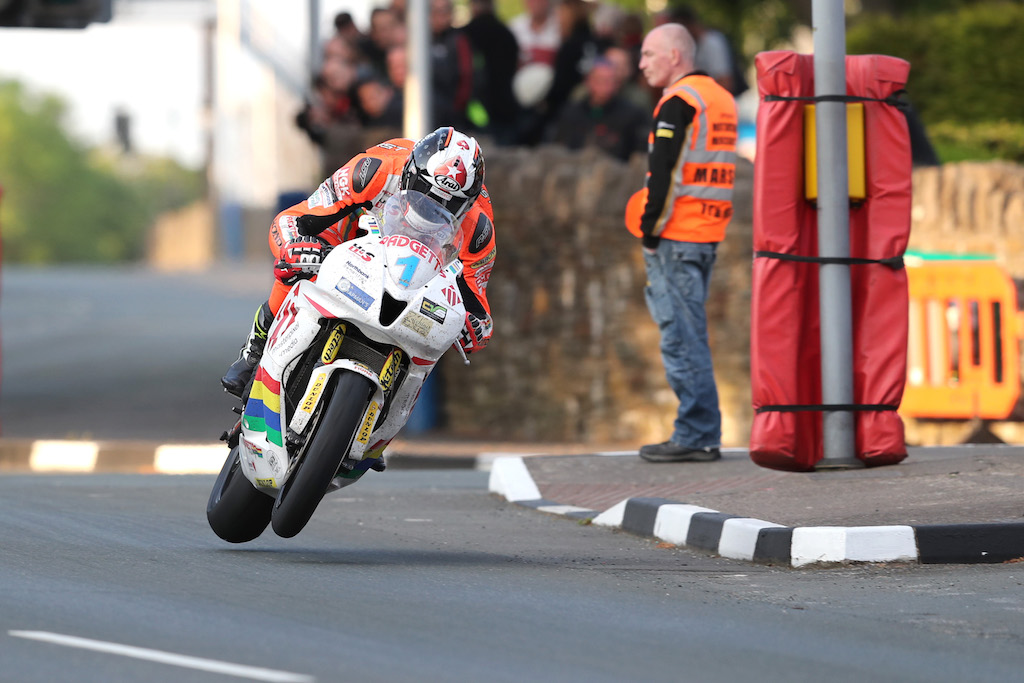 The newcomers also impressed during the course of the evening and although Lyon was initially the quickest at 114.793mph on his Honda Superbike, he was upstaged by Todd who posted a speed of 116.044mph on his Superstock mount. Not to be out done though, Lyon went quicker still, this time on his 600cc Yamaha at 116.45mph.
The sidecar newcomers also had their speed controlled lap at the head of the field with John Holden, Tony Baker and Dave Molyneux leading Francois Leblond/Marlene Couillard, John Saunders/James Saunders, Darryl Rayner/Wendy Campbell, Brian Alflatt/Aaron Gorman, Paul Leglise/Ben McBride, John Shipley/Andrew Haynes and Mike Roscher/Shaun Parker around.
Japan's Masayuki Yamanaka was reported to be off in the Supersport session at Whitegates but after being assessed at Ramsey Cottage Hospital and transferred by airmed to Nobles, he was reported to have sustained a minor ankle injury.
Monday's schedule with open up with the first appearance of the Superbikes and Superstock machines at 18.20 with Supersport and Newcomers except Lightweight also part of the session.  At 19.25 it will be the turn of the Supersport, Lightweight and Newcomers all classes before the sidecars open their qualifying programme at 20.00