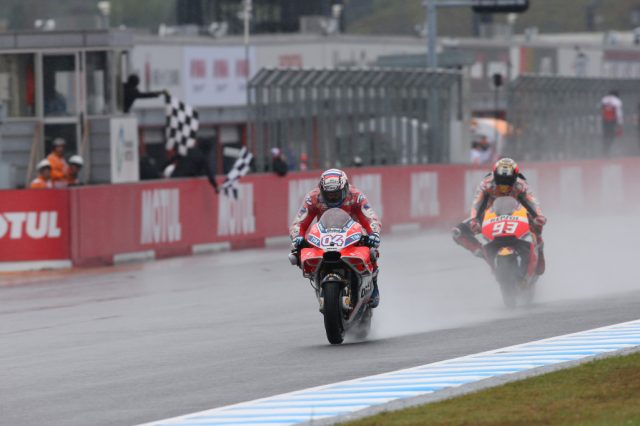 It may have been Andrea Dovizioso's day at Motegi over the weekend, with the Italian triumphing over the wet weather, but close in behind was Marc Marquez who took his 100th career podium and maintained his grip on the championship.
With the Japanese Grand Prix facing wet weather all weekend, the race was no exception and the tricky conditions made the epic duel between 2017 MotoGP Championship contenders Marc Marquez and Andrea Dovizioso even more dramatic.
The Italian and his Ducati prevailed over the Repsol Honda rider fighting to the last corner of the last lap after the pair closely chased and passed each other time and again after passing provisional race leader Danilo Petrucci on lap 13.
Marquez began the final lap out front but a small mistake at turn 8 – where he almost crashed out – allowing Dovizioso to close in and then take the lead. Marquez tried one final attack braking late into the last corner but he exited a little wide and Dovizioso won the drag race to the finish line by 0.249s.
"I didn't have a good feeling with the bike but I never gave up, Doviszioso said. Not even when I was losing ground, and this made all the difference. Marc was really quick and he tried right until the end, but there were some places where I could attack and he also made a small mistake on the last lap which gave me a chance to catch him again and try and pass him at Turn 11. I knew that he was going to attack me in the final two corners but I was prepared for this, I closed the door on him and he had to go a bit wide to pass me. It was absolutely vital to win here and I'm really so pleased for the whole team and for the championship."
"It was an amazing race with the two guys fighting for the Championship fighting for the win, Marquez said post race. "Today there was a lot of water on track and for some reason I was struggling a little more than expected. I tried to push and be smooth but Andrea was very fast too for the entire race. Entering the last lap, I knew I had only a very small advantage ahead but then I made a small mistake in turn eight, well, quite a big mistake actually, and he caught me. After he passed he was very strong on the brakes and I wasn't able to match him. In the last corner I tried again but it was not possible to pass him again. Today he did an incredible race and won but anyway I'm happy with our result as I was expecting him to be very very fast here. We scored some good points and made a good show for the fans so it's ok".
Marquez's second place signals his 100th career podium from 165 starts (the younger rider ever to achieve this milestone), and his 61st in the premier-class. He retains an 11-point lead in the Championship over Andrea Dovizioso with three rounds remaining in the championship. Round 16 at Phillip Island takes place Sunday October 22nd.