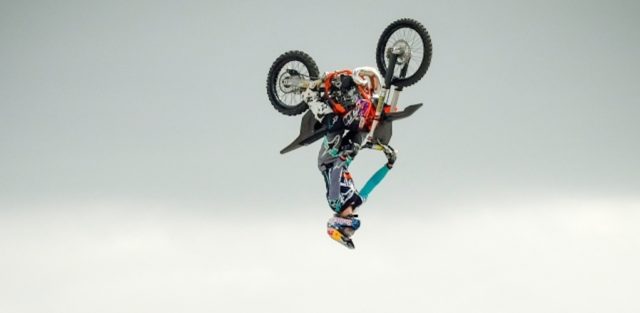 Manawatu's Levi Sherwood may still be sidelined with injury, but that simply means there will be more time for fans to press the flesh with their hero at this year's Mike Pero MotoFest.
The two-day spectacular at Hampton Downs, just north of Huntly, on March 2-3 will feature all things related to motorbikes and, even though this year he can't take his bike and soar above the fans in the manner that he did last season, Kiwi freestyle motocross sensation Sherwood will still command plenty of attention in his event ambassador role.
The Palmerston North-based rider is itching to get back into action and anticipates he'll be part of the Nitro Circus tour of New Zealand later in March. He just won't be quite ready to take any risks at all until then.
"I broke my left ankle and heel bones back in June last year and it's been a long recovery. I'll be signing autographs and chatting with fans at MotoFest and it won't be long after that when I will be back in action," the 27-year-old confirmed.
Sherwood aims to be competing in the United States in 2020 but in two weekends time, he will be at MotoFest!
Last year Sherwood set the skies alight with some daring freestyle jumping on Hampton Down's main skidpan. This year he will be available to fans in the Star Insurance Legends garage in between his Shiny Side Up commitments.
This year's Mike Pero MotoFest promises excellence on all fronts, with well-respected identities from all segments of the motorcycle sporting world coming together for a spectacular two days of action.
Kiwi MotoGP commentator Simon Crafar has also been confirmed as a featured guest at the 2019 Mike Pero MotoFest event, appearing alongside Australian MotoGP and World Superbikes identity Chris Vermeulen, former British champion and team manager Steve Parrish, Australian hero Kevin Magee, Kiwi former World Superbike Championship contender Aaron Slight and fellow New Zealand legends Andrew Stroud, Graeme Crosby and Richard Scott.
The 2019 Mike Pero Moto Fest will share track time with this year's New Zealand Superbike Championships contenders, the third round of five in this year's series being run on the track over the same weekend.
Ten separate bike classes, from superbikes to sidecars, will take to the track to contest national titles. The prestigious NZTT titles will also be fought out on the Sunday afternoon.
The Hampton Downs event will also again feature the Mike Pero Shoei GP, Post Classic racing, the Motul Moto Trials Challenge, Legends Track Sessions, Kawasaki Trail Ride and also include the Star Insurance Bike Show and the Alpinestars Legends Dinner, which is being staged on Saturday night (March 2). For the first time, ACC's Shiny Side Up Bike Fest will also be running in conjunction with MotoFest.
For more information on the Mike Pero MotoFest weekend, go to http://www.hamptondowns.com
Words and Photo by Andy McGechan