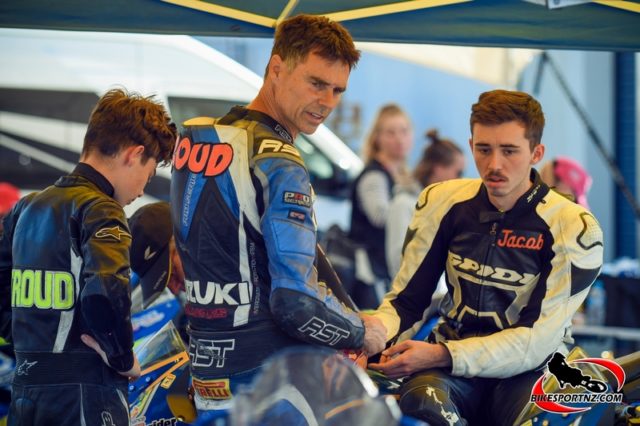 Waikato motorcycling hero Andrew Stroud knows a thing or two about racing bikes, probably just as much as he does about raising a family.
And this weekend's Mike Pero MotoFest extravaganza at Hampton Downs Motorsport Park, halfway between Huntly and Mercer, will allow him the opportunity to indulge in both passions.
The 52-year-old father-of-10 will be busier than most at the third annual Mike Pero MotoFest on Saturday and Sunday, March 7-8, the record nine-time former national superbike champion there to take the world-famous Kiwi-invented Britten motorcycle for a few demonstration laps, as well as competing on a borrowed Ducati 851 in the inaugural Motul NZ Classic Grand Prix.
"This is the same specification bike that I had to face up to when I raced the Britten at Daytona in 1992. This is the same bike that American Doug Polen ride to win the world superbike championship that year.
"This is dependent on whether I can fit everything in. I will also be demonstrating the Britten and signing posters as well."
In addition to that, Stroud will be occupied working as mentor, coach and pit crew for two of his sons racing at MotoFest, both of them already current New Zealand road-racing champions.
The 2020 edition of MotoFest will again feature the third round of five in the New Zealand Superbike Championships (NZSBK), and Andrew Stroud will be working tirelessly to assist his 21-year-old son Jacob and 17-year-old son Jesse, both young men fully involved in their respective championship campaigns.
Defending national Supersport 300 champion Jacob Stroud (KTM RC390) races again in that class and defending national GIXXER Cup champion Jesse Stroud will also be in action at Hampton Downs, piloting his Suzuki GSX150F in that dynamic class.
"I'll be their sounding board, guide and mechanic for the weekend … I'll be everything really," laughed Andrew Stroud. "It will be my job to get them and myself out on track with fuel, tyres and brakes.
"Of course it's a real thrill for me to see them involved in this sport that I love, something I've dedicated most of my life to. I guess it's a natural progression really. I certainly haven't had to push them along.
"With father and sons together and all of us racing, it's good bonding for us. I will be joining Jesse on the track in the GIXXER Cup class, just as I did in the Suzuki International Series (in December). I will also ride a Ninja 400, lining up to race with Jesse on that as well.
"Jesse and I attended a track day at Hampton Downs recently and rode around there together. These 150cc GIXXER bikes may not be terribly fast in a straight line, but the cornering speed is actually as fast as a superbike."
It will be an extremely busy time for the Stroud family because Jacob and Jesse will also be racing in the Pro Twins class at MotoFest.
Another of Stroud's sons, 20-year-old Caleb, clocked the fastest speed around Hampton Downs in the GIXXER Cup class last year, so the Stroud name is well and truly on the record books there, not to mention Andrew Stroud's title-winning rides there before he retired from fulltime racing in 2016.
This third annual MotoFest extravaganza promises excellence in all departments, with Star Insurance again sponsoring the Legends Garage, while manufacturer and trade displays will also excite the large crowds expected.
MotoFest will certainly tick all the boxes with bike enthusiasts if the 2020 edition can match last season's glorious MotoFest.
Who can forget MotoFest 2019 welcoming guests such as English author, commentator and former British champion Steve Parrish; American MotoGP star Randy Mamola; Kiwi former GP winner and current MotoGP commentator Simon Crafar; Australian road-race hero Kevin Magee, Australia's 2003 World Supersport Champion Chris Vermeulen and Kiwi superheroes Aaron Slight, Stu Avant, Hugh Anderson, Gary Goodfellow, Mike Pero and Richard Scott, among others.
Several of these characters will be back, of course, as will the current crop of younger men and women who will be battling for glory in the national superbike championships, riders such as visiting Australian Lachlan Epis, Glen Eden's current national superbike champion Daniel Mettam, Christchurch's Alastair Hoogenboezem, Whakatane's Mitch Rees, Wellington's two-time former national champion Sloan Frost, two-time Suzuki Series winner Scott Moir, from Taupo, and Rangiora-based Kiwi international and reigning national Supersport 600 champion Avalon Biddle, to name a few.
The NZSBK series features seven separate bike classes, from superbikes to sidecars. The prestigious NZTT title will also be contested on Sunday afternoon.