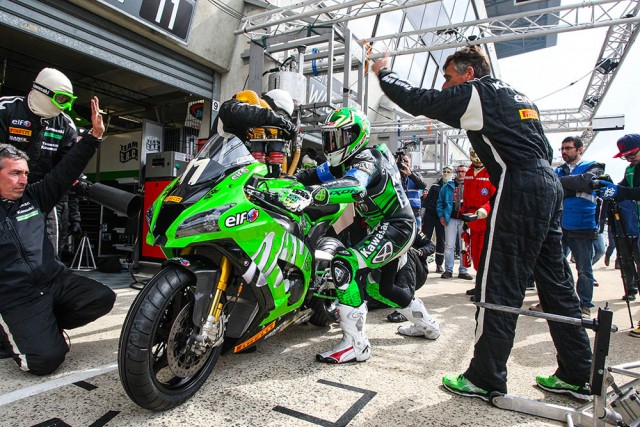 Team Kawasaki SRC dominated the 24 Heures Motos. Gregory Leblanc, Matthieu Lagrive and Fabien Foret were in full command of the race, with a 9-lap lead over April Moto Motors Events and F.C.C. TSR Honda.
After leading the race for 680 laps, Team Kawasaki completed a clean sweep. Gilles Stafler's squad picked up the winner's 40 points plus the 20 bonus points awarded to the leader in the standings at the 8-hour and 16-hour mark. The win spotlights the qualities of the new ZX-10R, and has got the team off to a flying start in the FIM EWC world endurance championship.
After some tricky test sessions in the rain, the ZX_10R#11 started the race with a minor crash involving Gregory Leblanc on a still-damp and treacherous track, but that was Kawasaki SRC's only scare. During the first two hours, Gregory Leblanc beat the fastest lap record 12 times.
Throughout the night, despite the freezing cold weather, the Kawasaki SRC was the quickest bike on the track, and the handovers went like clockwork. As the hours slipped by, Gregory Leblanc, Matthieu Lagrive and Fabien Foret established a comfortable lead, and were 9 laps ahead by the early hours. "Our Pirelli tyres work particularly well on a cold track," says Gilles Stafler by way of explanation.
This is Gregory Leblanc's fifth win at the 24 Heures Motos; he has equalled the record held by Alex Viera. And Kawasaki has now notched up a record number of wins at the 24 Heures Motos. Two other Kawasaki bikes finished in the Top 10: AM Moto Racing Compétition finished 7th, and Racing Team Sarazin was 9th at the finish line.
Bolliger Switzerland Team was also a key player in the race. After starting out 9th from the grid, Horst Saiger, Michael Savary and Gianluca Vizzielo ran a superb race up to 2nd position in the early hours. Gearbox failure forced them to withdraw around 9.30am. Kawasaki Louit Moto 33 Traqueur was in the running for a Superstock win, but was forced to retire during the night due to electrical problems.
Gilles Stafler, team manager of Kawasaki SRC
"We couldn't have hoped for a better start with the new ZX-10R. Now we'll have to get back to work. We still need to fine-tune the electronics; we're only using 75 to 80%."
Gregory Leblanc, Kawasaki SRC rider
"I really want to thank Pirelli, because they gave us the tyres we needed to tackle very cold track conditions. We had grip even at night."
Matthieu Lagrive, Kawasaki SRC rider
"I'm obviously feeling emotional because after racing a few seasons, it's my first win at the 24 Heures."
Fabien Foret, Kawasaki SRC rider
"Two great teammates, a good bike and the right tyres: that was the recipe for victory."