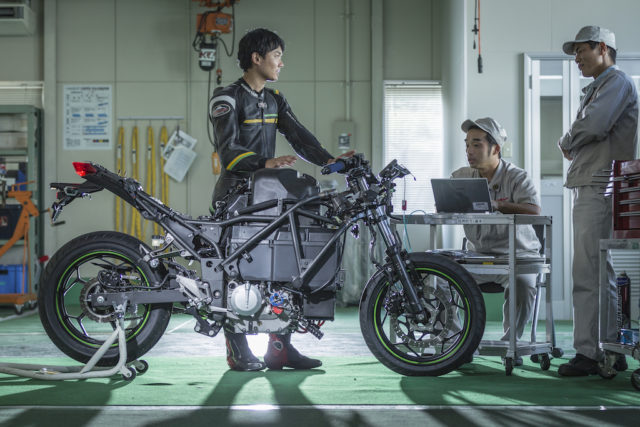 The annual EICMA show in Milan witnessed a media event hosted by Kawasaki at which six new machines for the 2020 model year were highlighted by Yuji Horiuchi – President of Kawasaki Heavy Industries Motorcycle & Engine Company. In addition, Mr Horiuchi unveiled an Electric Vehicle (EV) concept and explained its background.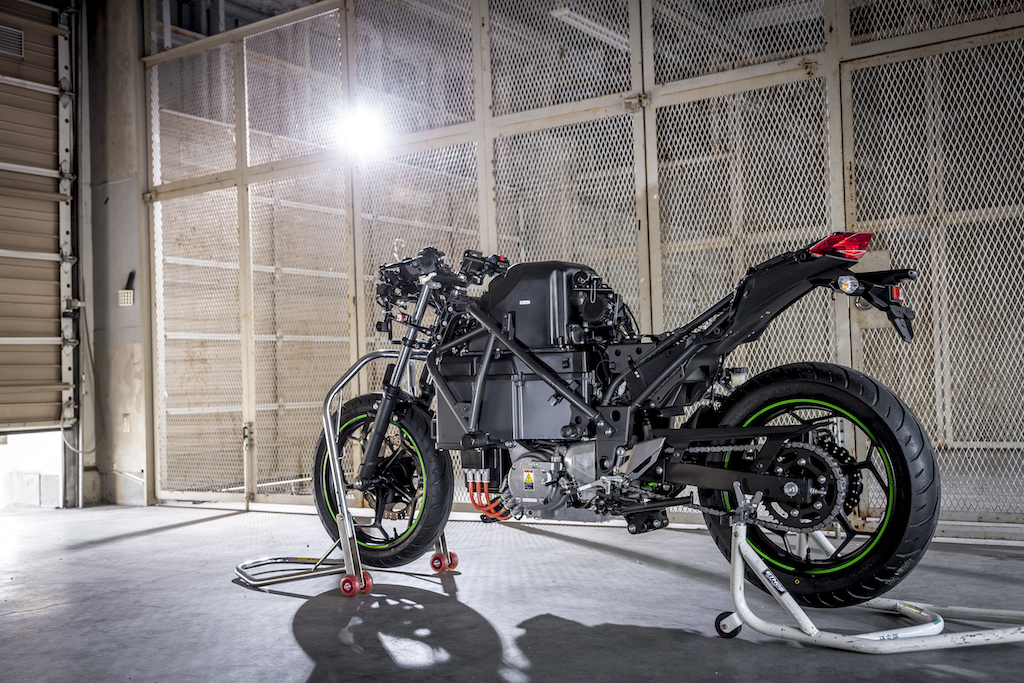 Revealing that Kawasaki had been conducting EV research for many years, Mr Horiuchi noted that KHI research had so far been based on a mid-capacity style machine with more "rider features" than current EV machines in the market. Possessing the equivalent of 20kw for acceleration on demand and a cruising output akin to 10kw, the EV project has been tested extensively at the Kawasaki owned Autopolis track in southern Japan as well as in real life urban environments.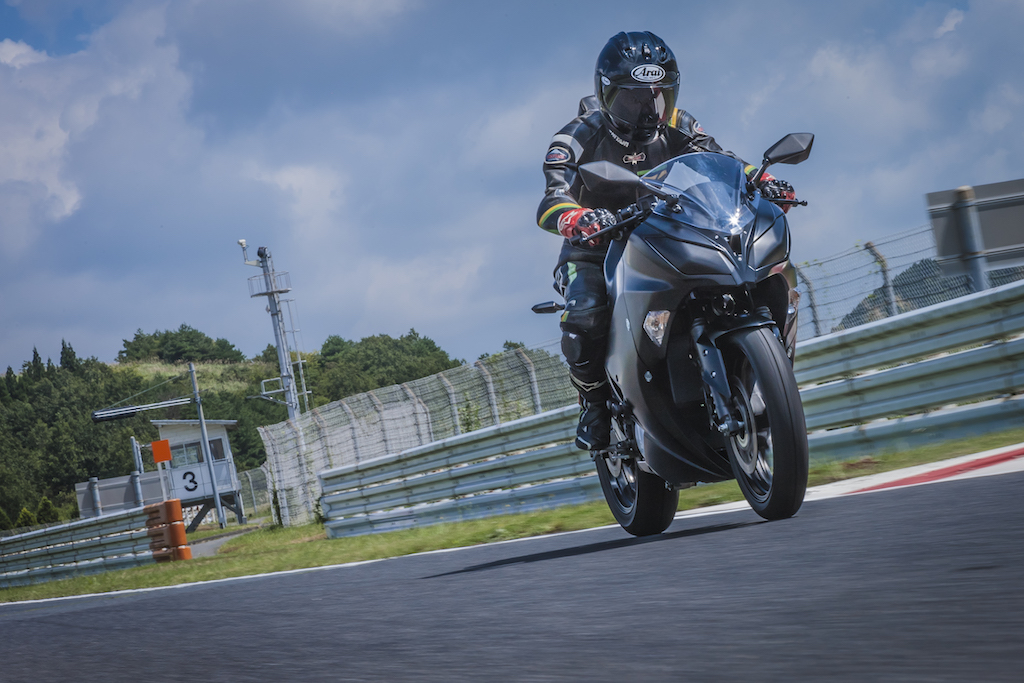 He continued; "We have focused on the riding sensation during road testing combining an electric power source – which enables high levels of flexibility in torque and power delivery – with gear-shifting capability.
The result is a machine delivering good rider feeling in line with our overall mission of Rideology". A compact machine with a size similar to a Ninja 650, the EV bike uses familiar middle-weight Kawasaki road bike suspension and brakes plus the same trellis type chassis technology as used on many Ninja and Z family machines.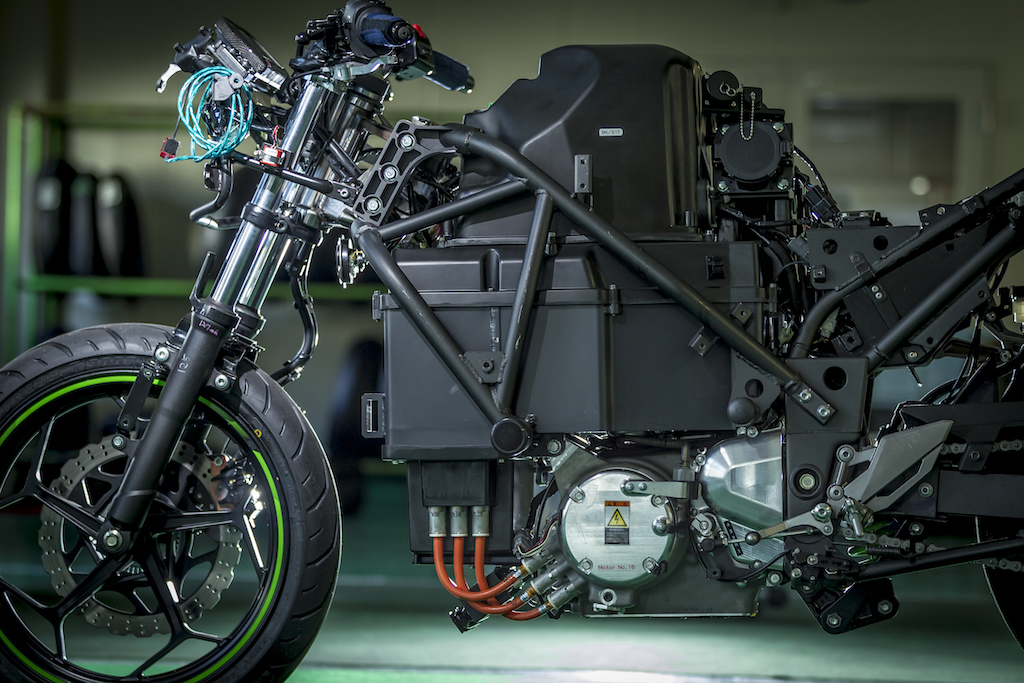 At the core of the 219kg vehicle is a battery pack rechargeable via a quick CHAdeMo style charging system or a conventional 100-240V domestic supply. In this way, the EV machine follows current convention but the Kawasaki "fun to ride" Rideology approach dictated further thinking.
The result is an electric-powered two-wheeler with a range of approximately 100km with attributes from a conventional machine such as a clutch and four speed gearbox. In this way, it would be expected for the vehicle to be attractive to the current profile of Kawasaki owner and to fulfil Kawasaki's Rideology philosophy.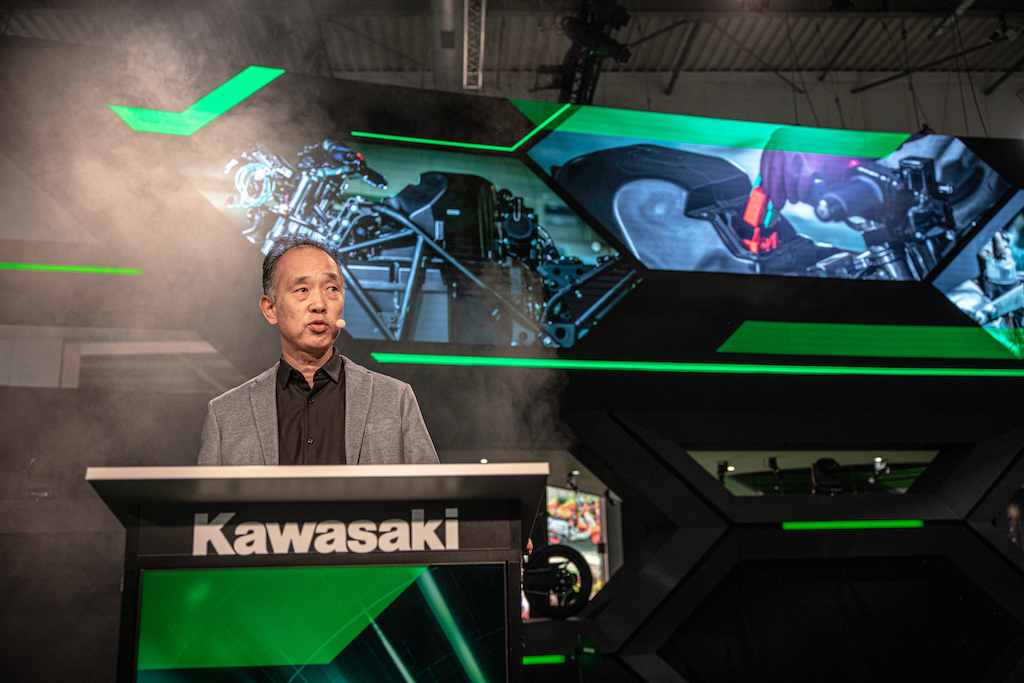 Mooted as simply a research project, KHI has stated clearly that there are no plans to add an EV bike to its range in the near future. However, Mr Horiuchi did conclude by intriguing media guests at the press conference with a promise that Kawasaki "are finding many more avenues to explore to expand the excitement of control on two wheels."
Words and Photos: Kawasaki Press Service