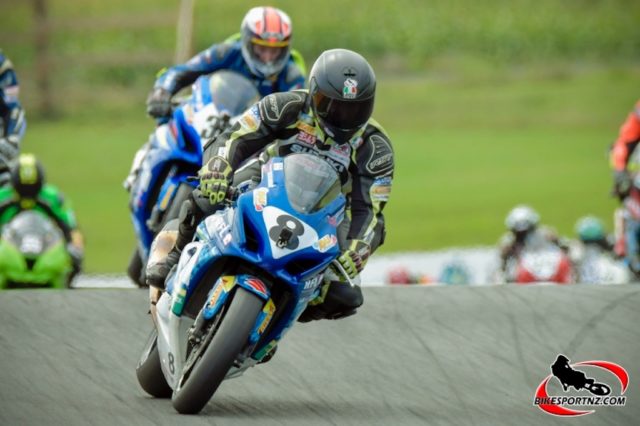 There will be something for everyone at the third round of five in this season's New Zealand Superbike Championships this weekend.
The racing at Hampton Downs Motorsport Park, just north of Huntly, this coming Saturday and Sunday (March 2-3) will appeal to all those who appreciate motorcycle racing and motorbikes in general.
A festival atmosphere is promised as, once again, the Mike Pero MotoFest will be running right alongside it at the same venue over the two days.
This second annual MotoFest extravaganza promises excellence on all fronts, with well-respected identities from all segments of the motorcycle sporting world coming together for a spectacular two days of action.
Kiwi MotoGP commentator Simon Crafar has also been confirmed as a featured guest at the 2019 Mike Pero MotoFest event, appearing alongside Australian MotoGP and World Superbikes identity Chris Vermeulen, former British champion and team manager Steve Parrish, Australian hero Kevin Magee, Kiwi former World Superbike Championship contender Aaron Slight and fellow New Zealand legends Andrew Stroud, Graeme Crosby and Richard Scott.
But, even with all these sports stars commanding fan attention, much of the focus is expected to go on the New Zealand Superbike Championship battles.
Taupo's Scott Moir came on strong at round two of the superbike nationals at Timaru's Levels International Raceway at the start of January, giving him the outright lead in the glamour 1000cc superbike class as this event wrapped up the South Island phase of the competition.
Moir and Wellington's defending national superbike champion Sloan Frost finished respectively first and second in each of the three superbike races at Timaru and will be expected to be among the frontrunners at Hampton Downs this weekend too.
Whakatane's Damon Rees had dominated the 1000cc superbike class at the opening round of the series at Ruapuna, on the outskirts of Christchurch, just one week before the event at Levels, but it was Moir all the way at Timaru.
Christchurch's Alastair Hoogenboezem is second in the superbike class standings after Timaru, 17 points behind Moir, with Frost improving at Timaru from eighth in the table after round one to now settle in at third in the rankings.
Rees crashed out of the first of three superbike races at Timaru and this caused him to slip back from first to fourth in the standings, albeit just three points behind Frost, and he will be charging hard to regain lost ground this coming weekend.
In the Supersport 600 class, Manukau's Toby Summers heads the standings.
Summers ended up as the most dominant individual in this class at Timaru, winning three of the four Supersport 600 races. He crashed out of his other race, but still had enough points to top the podium.
Second in the standings in this class after round two is Rangiora's Avalon Biddle, while Tapanui's Seth Devereux is a close third in the standings.
Other class leaders heading into this weekend are Palmerston North's Jacob Stroud (Supersport 300 class); Papamoa's Leon Jacobs (250 Production class); Jacob Stroud and Chris Huddleston first equal (in Superlites); Christchurch's Andrew McLaughlin (650 Pro Twins); Australia's Yanni Shaw (125 GP); Hamilton's Jesse Stroud (GIXXER Cup) and Christchurch's Dennis Charlett and Will Clim (sidecars).
Motorcycling New Zealand road-racing co-commissioner Grant Ramage said the weekend was "one not to be missed".
"It's wide open in all the championship classes at the moment – with no clear title winners yet – so it's going to be a huge weekend, especially with all the other motorcycling attractions at the venue. It will be a Who's Who of motorcycling and a must-visit event."
After the weekend's national championship racing at Hampton Downs, the series continues on at Manfeild, in Feilding, on March 30-31, before wrapping up at Taupo on April 6-7.
MotoFest will also feature the Mike Pero Shoei GP, Post Classic racing, the Motul Moto Trials Challenge, Legends Track Sessions, Kawasaki Trail Ride and also include the Star Insurance Bike Show and the Alpinestars Legends Dinner, which is being staged on Saturday night (March 2). For the first time, ACC's Shiny Side Up Bike Fest will also be running in conjunction with MotoFest.
The 2019 New Zealand Superbike Championships are supported by DHL Express New Zealand Ltd (DHL), Suzuki New Zealand, Yamaha Motor New Zealand, Carl Cox Motorsport, ICG Print, Honda New Zealand, Pirelli, Resene Automotive and Light Industrial, CTAS, MX Timing, BikeRider magazine, Trust Aoraki and Timaru District Council. Suzuki also supports the GIXXER Cup.
2019 NZ Superbike Championships calendar:
Round 1 – January 5-6, Mike Pero Motorsport Park, Christchurch;
Round 2 – January 12-13, Levels International Raceway, Timaru;
Round 3 – March 2-3, Hampton Downs Motorsport Park, North Waikato, Mike Pero MotoFest;
Round 4 – March 30-31, Circuit Chris Amon, Manfeild;
Round 5 – April 6-7, Bruce McLaren Motorsport Park, Taupo.
Words and Photo by Andy McGechan