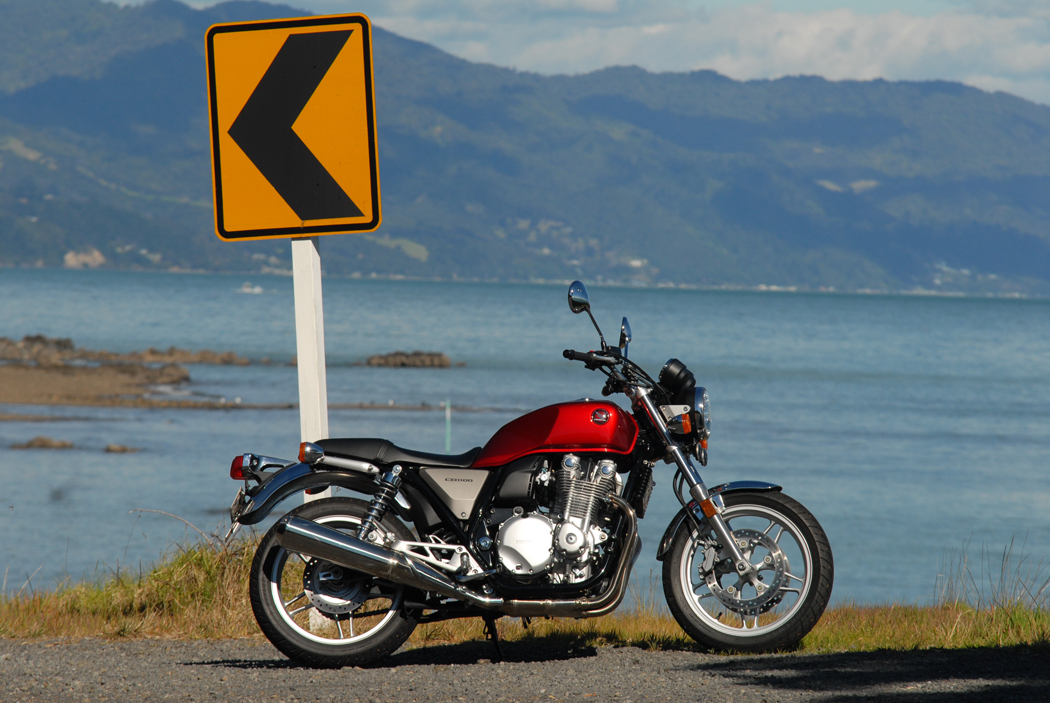 Time-Warp
Words: Kev | Photos: Paul
Looking for a classic Japanese superbike but don't want to pick up a spanner? Want Efi, decent brakes but with all the style of the big iron from back in the day? Now you can with the retro-styled CB1100 from Honda…
At first glance, I thought I could just about whip the lights off the CB1100, throw some race number boards on and slip quietly into the Pre '82 Post Classic field. The fact that the Honda still retains the tall skinny tyres, ironically, would give the game away, as it's almost too authentic! Apart from the beautifully sorted fuel-injection, this motorcycle holds firm to the bikes it imitates, as in the superbikes of the 1978-1982 range, complete with air-cooling (with an oil-cooler to assist), a central camchain and period-correct twin shocks and forks that are the right way up for the day. The gearbox only contains five options, although the stock arriving next year will have the six-speed transmission. There are a few things that show that making an air-cooled in-line four comply with the PC department is a challenge in its own right; like the cunning finned inserts that hold the sparkplugs and the oil-cooler, there to keep the combustion zone from blowing through its thermal ceiling. The conservative state of tune and mild (by modern standards) compression ratio of 9.5:1 does the rest.
Un-fogging those rose-tinted round glasses
For the record, the 1982 CB900 had a compression ratio of 8.8:1, put out 95hp at 9000rpm and produced 76Nm of torque at 7500rpm. So the 90hp at 7500rpm and 93Nm at 5000rpm the new CB1100 produces shows where the engineers were headed – mid-range.
Weighing in at a sturdy wet but not fuelled 248kg, almost identical to its illustrious ancestor, the spec-sheet was looking even more like it would fit in with the original's. The speedo only has digits up to 220km/h and you'd need a chasing storm or long decline to actually reach that figure, fitting in with the myth-busting of the old legends. The Honda's speedo is much more accurate than the clocks of old (referred to as 'gauges' for good reason), and in reality, the Z1000/GS1000/CB900 (which this bike has obvious styling links to) brigade never could reach some of the numbers that were rumoured to have been 'seen' back then. You can get them to do in excess of 240km/h, as happens in the racing classes for them now, but that involves big-bore kits, cams, big carbs and a whole bunch of other modifications, not to mention ripping 30-40kg off. The good old days were never really that good with the 'Aye, them were the day's lad' filter removed. Even the suspension, while hardly the latest and greatest, is so much better than the pogo-sticks we used to get around on that a side-by-side comparison would be patently cruel and unfair to the old beasts.
If you want to cruise around on an old-school UJM (universal Japanese motorcycle) that looks like a restored classic, this does it better than the bikes it mimics. Not faster, lighter or more exciting, it's just smoother, better handling, more comfortable, more economical and comes with a new bike warranty and decent brakes…
Easy Rider
The CB1100 is more capable than I gave it credit for after the first few kays. It feels mild, and it is, but it's also torquey and efficient making better progress than the first impression suggests. The smoothness and the fact that it's way too quiet don't make you think 'classic superbike' at all. The restrictive exhaust also makes it run short of puff up top, effectively ending play at around 190km/h although it will squeeze out a little over 200km/h if such a demand was made. It's in the mid-range that the Honda is a gem, even lower if you are in cruise mode. Silently cruising through a 60km/h zone in top is no problem, accelerating smoothly away in top, should you choose not to snick a lower gear and getting more assertive over five grand – even sounding angry over about seven on the classic looking clocks. Again, they look the part, with the central row of idiot lights replaced with a small digital display. It's an easy ride, not needing huge amounts of shifting through the smooth gearbox and letting you enjoy surprisingly capable handling and generous clearance.
Heading around the Coromandel Peninsular, it was the Honda's sure-footed cornering that made me realise I was about to eat my words about old fashioned skinny wheels and twin shocks. You'd think I'd have known better, but it was nice to be proven wrong and I found the light steering making for a relaxing but pretty brisk clip through some of my favourite stretches. The brakes are strong and have good feel, letting the Honda be ridden assertively with no fade, despite weighing a chunk more than a modern sportsbike or naked bike of the modern style. The suspension, while being on the soft side, coped well. The whole deal sits on the road well, with a planted feel that refuses to get upset. The CB1100 also flatly refuses to transmit the square-edged bumps to the rider, soaking the hits up well.
With decent cornering clearance and a willingness to swish around the bends, the CB1100 provides a timeless riding experience. Smooth and comfortable as well as non-threatening and capable, all it really needs is a decent exhaust. With a long stroke of 73.5mm and a bore of 67.2mm, even the sound will be reminiscent of an earlier time, quite distinct to the tone of the over-square proportions of 'modern' in-line fours.

Where does it fit?
It's no secret that cruisers are on the rise – just look next time you head for a weekend ride. For many, they are ideal. For some, the performance of a cruiser is plenty but they may not want the sheer size or maybe want a different style. This is where the CB1100 shines. It doesn't blow your mind with sizzling performance but it does offer decent handling, an upright riding position, low seat height (not cruiser low though) and has braking ability to burn. It's like the cruiser you can have when you don't want a cruiser. If the friends you ride with are a mixed bag, as in different types of bikes, the CB1100 might just be that middle ground. It's more comfy than a hard-edged race rep and corners better than a feet-forward cruiser. It's not likely to date fast either, since it looks like an escapee from a bygone era anyway.
It's just one of those pleasant yet capable bikes that would really look after a rider coming back to bikes. It doesn't try to bite you if you give it a bit too much welly yet doesn't leave you feeling deflated when you urge it into action either. At the speeds most people go most of the time, the CB1100 is perfectly at home. If that's not enough for you, all good – the CB isn't going to do it for you. I can envision many more senior riders (who remember when the style wasn't retro…), and those who like the retro theme, adding up the Honda's strong points and thinking seriously about its appeal. To add to that list, the paint and general finish are all class, right down to the Comstar-esque wheels, which are lighter, nicer and easier to clean than the originals that only CB owners actually said they liked (and I suspect many were lying). The Honda CB1100 really is more authentically old-school than the average in this popular category – and the retro theme has stood the test of time, staking its claim as a style, not a fad.
For many motorcycles, being described as nice, pleasant or simply enjoyable would be insulting. But here's a bike that is all of those things and more, but somehow those 'harsh' words don't seem out of place.