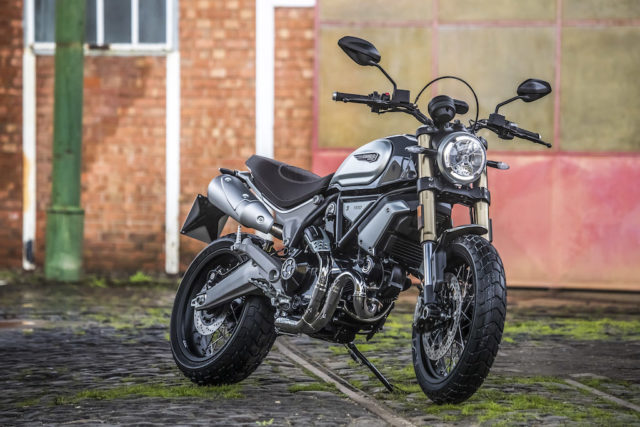 We interrupted Roland's Lisbon lunch to let him loose on Ducati's Scrambler Special, to find out what the designers had hatched
Words: Roland Pics: Milagro
Evolution works in a complicated way at Ducati – especially in the joyful corner of the Bologna factory where Scramblers are built. In one sense, the new 1100 is a natural development, despite moving away from the original Scrambler's entry-level brief. This bigger model follows the 803cc Scramblers and 399cc Scrambler Sixty2 to expand the range across three capacity classes, echoing the Scrambler 250, 350 and 450 singles of the early Seventies.
Yet while the Scrambler 1100 Special that I'm riding along a picturesque coast road near Lisbon looks as though it's clearly related to its 803 and 399cc siblings – and its name and relaxed character confirm the link – there's enough of a familiar feel about the air-cooled V-twin to confirm that its lineage stretches back a lot further than to 2015, when the new-generation Scrambler was launched.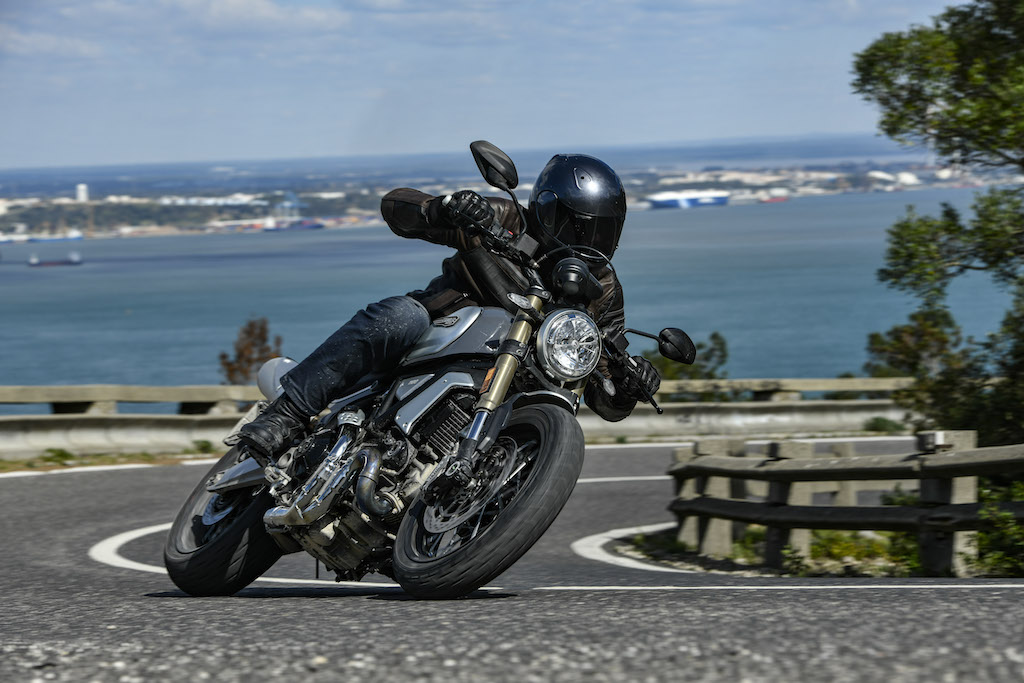 This bike's 1079cc capacity and format of SOHC, two-valves-per-cylinder, V-twin in a tubular steel trellis frame, are the ones Ducati used for many years with the Monster 1100 and 1100 EVO. They also formed the basis of the Hypermotard 1100 models, before both families were revamped with a new range of liquid-cooled models several years ago.
So, while in one sense the 1100 Special is a mid-sized Scrambler that has grown up and filled out a bit, at heart it's perhaps more of a Monster 1100 – brought back to life with a fresh Seventies wardrobe of tie-dyed tee-shirts and flares, and given something relaxing to smoke to replace its bare-chested Monster aggression with a calmer, more laid-back character.
Just how much more chilled the Scrambler is can be gauged by a glance at its maximum power output of 86bhp at 7500rpm. That's only 13bhp up on the figure of the 803cc Scramblers, which produce 73bhp; and is 14bhp down on the 100bhp that the Monster 1100 EVO made on its launch seven years ago.
Not that this means the Scrambler is a backward step for Ducati. On the contrary, its retro image is a little misleading, because it's more sophisticated than any previous air-cooled Ducati. Its new injection system features ride-by-wire throttle control and gives three riding modes, labelled Active, Journey and City. It has a four-level traction control system, governed by an IMU that also allows Bosch's cornering ABS.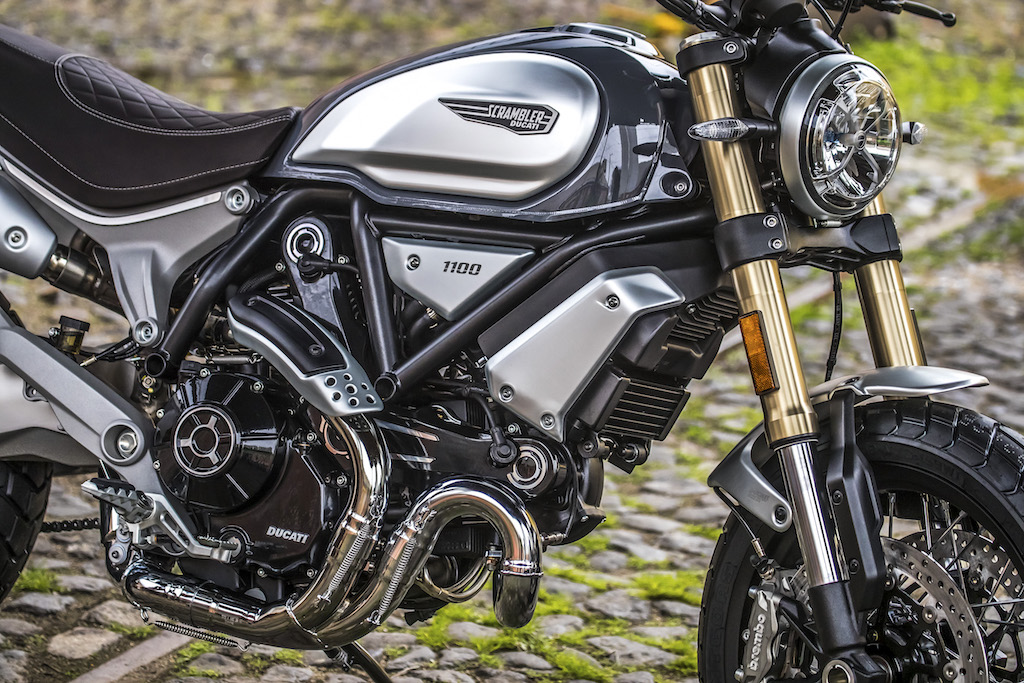 Although the basic engine format is familiar, the 90-degree Desmo V-twin is almost all new. Softer cams and a slightly lower compression ratio help reduce peak output, while giving strong midrange output and a smooth low-rev response. The black-finished cases are neatly machined but the biggest visual difference from the smaller-engined Scramblers is the 1100's high-level exhaust system, whose thick downpipes meet and run under the engine before rising up to end in a pair of fat silencers.
Those downpipes are chromed on the Scrambler 1100 Specials that we're riding on the launch. The Special is one of three models, along with the basic Scrambler 1100 and the 1100 Sport, which has Öhlins suspension. The standard model and Special have fully adjustable 45mm Marzocchi forks, and a Kayaba shock that's adjustable for preload and rebound damping.
The Special is also distinguished by its grey paintwork, aluminium mudguards, black wire-spoked wheels, and brown seat. All three models use the same frame, which combines a traditional tubular steel main section with a new cast aluminium rear subframe. They also share wheel diameters of 18in front, 17in rear; and Pirelli's MT60 RS tyres, plus a Brembo brake set-up of 320mm front discs and four-pot radial Monobloc calipers.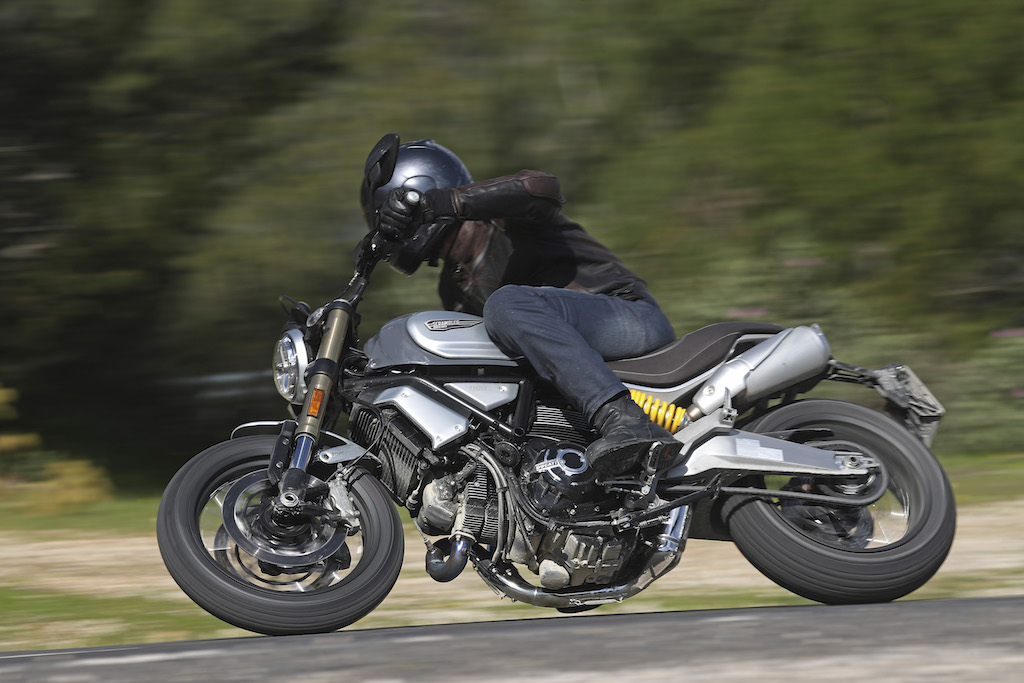 One of Ducati's aims was to make the Scrambler 1100 physically larger and more comfortable than the 803cc models. That's confirmed when you throw a leg over a broad, thick seat that is still low enough, at 810mm, to let most riders get both feet flat on the ground. The view across the rounded tank (which at 15 litres holds 1.5 litres more than the 803cc Scrambler) is of a simple digital instrument panel, and the front brake hose looping over it in slightly curious fashion.
The slightly pulled-back, one-piece handlebar gives a riding position that felt very natural to me, although some shorter riders found it a bit of a stretch. I was glad of the handlebar's width not long after we'd set off from the launch base near Lisbon, as the leverage helped keep the bike pointing straight ahead on a blustery day as we rode over the suspension bridge that crosses the River Tagus to the south of the Portuguese capital.
In some ways, the city is a Scrambler's natural habitat, and the Ducati had done a decent job of cutting through the traffic. At 211kg wet, the Special is 25kg heavier than a typical 803cc Scrambler (and 5kg up on the other 1100s) but felt respectably light and manoeuvrable, helped by a generous steering lock which made tight turns very easy.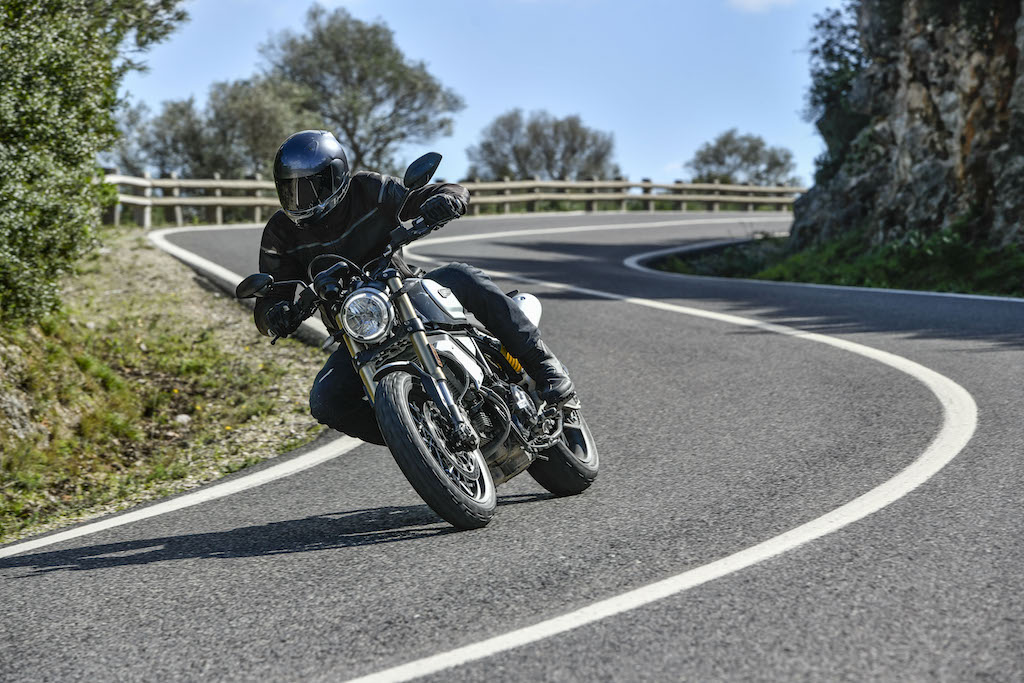 The twin-spark V-twin feels admirably refined at low revs and the hydraulic clutch's action is reasonably light. I found the six-speed box reliably positive, too, although a couple of riders complained of occasional false neutrals. The lack of a quickshifter almost seems like an oversight these days; perhaps Ducati think a shifter would be too sporty for the Scrambler.
Heading south on the broad A2 and then the narrower, twistier N377 towards the coast, it was clear that the Scrambler was created with relaxed cruising rather than speed and excitement in mind. Throttle response was crisp in either Active or the slightly softer Journey (City is softer still, cutting the maximum to 75bhp), which are easily toggled via a button on the left bar. But there was little of the slightly raw, wheelie-happy enthusiasm that I recall from the Monster and Hypermotard 1100s.
The Desmo lump's flexibility meant that twisting the light-action throttle resulted in a fairly strong response when the small tacho bar was showing well below the 4750rpm at which the torque maximum of 88Nm is produced. But although the V-twin stayed pretty smooth at higher revs, power died away towards the top end, so there wasn't much encouragement to keep revving towards the 10,000rpm maximum mark.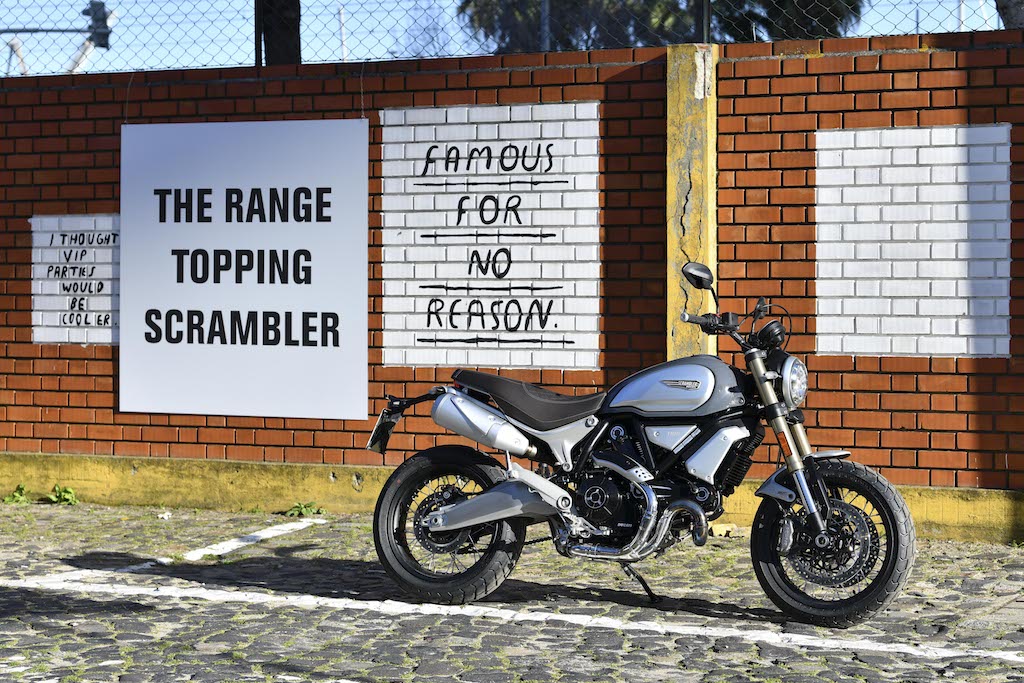 That made the Scrambler pleasant rather than particularly exciting to ride, but was in keeping with a bike who's near-upright riding position was fine at up to 130km/h on a chilly day, but would soon have become tiresome nearer the top speed of about 210km/h. Far better to throttle back a bit, take things easier and enjoy the engine's lazy V-twin beat and the rumble and occasional crackle from those high-level silencers, which added to the entertainment.
Chassis performance was generally good. Those wide bars and fairly sporty geometry (24.5º of rake and 111mm of trail) helped make up for the fairly long wheelbase, and for that 18in front wheel, whose 120/70-section tyre is wider than the smaller Scramblers'. The 1100 handled well on the smooth N379 that runs along the coast near Setúbal, flicking effortlessly into turns and holding its line accurately, those chunky Pirellis finding plenty of grip even when the surface was damp.
There was plenty of ground clearance, despite footrests that are sufficiently low to give plenty of legroom. I found the Ducati pretty comfortable although its suspension – which had been firmed-up slightly for the launch with some extra preload – wasn't particularly compliant, despite providing what should have been a generous 150mm of travel at each end. On bumpier roads, the front end in particular, felt harsh. One light rider found the bars shaking on bumpy sections until fork preload was returned to standard.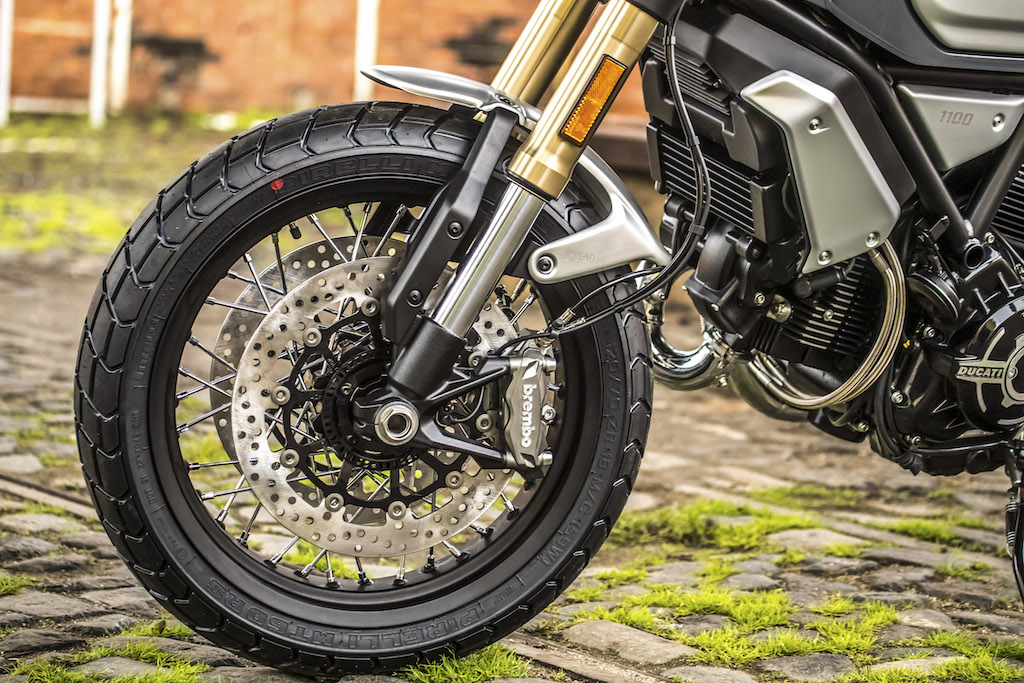 At least Brembo's twin-disc front end gave plenty of stopping power, and is a distinct improvement over the smaller Scramblers' single disc, even if you don't get round to activating the cornering ABS. The sophisticated traction control was also worth having, especially on wet roads; other distinctly non-Seventies features include a USB socket under the seat.
Practicality seemed generally okay for a naked bike. The broad seat is well-padded for both rider and pillion, though there's not much for the latter to hold. A likely fuel average of about 7l/100km (the dial has a fuel gauge but no consumption info) would give a realistic range of 200km or more. The switchgear, mirrors and self-cancelling indicators all worked as intended.
Hopefully most 1100 Special owners will enjoy polishing their bikes as well as riding them, because the cut-down mudguards ensured that both bike and rider soon got filthy on damp roads. Then again, the Scrambler 1100 isn't designed for practicality, any more than it is for performance. It's aimed at providing "fun, iconic style, simplicity and self-expression". And it doesn't come particularly cheap.
Heading back over the big bridge into Lisbon after an enjoyable if not memorably exciting ride, I couldn't help wondering whether I'd have had more fun on a modern Monster (the 821 is more powerful and less expensive), or even an old Monster 1100. Then I reread my launch report of the 1100 EVO, and discovered that I'd criticised it because its aggressive riding position was uncomfortable, its suspension lacked adjustability and its tank was too small.
The Scrambler 1100 Special improves on all those points and adds a more relaxed, rider-friendly character as well as its attractive retro look. If that's what you want from a naked Ducati, this latest V-twin might just be the answer – even if, beneath the Scrambler name and Seventies image, it's essentially a big, soft air-cooled Monster in disguise.
The Scrambler 1100 family
Ducati's grown-up Scrambler comes in three varieties, each with the same powerplant and frame but with some different bodywork and cycle parts. The standard Scrambler 1100 has black or yellow paintwork with a black seat, cast wheels, and slightly higher bars than the other two models.
The 1100 Special, as tested, comes only in grey paint and brown seat, with aluminium mudguards and brushed-aluminium swing-arm, and costs roughly ten per cent more. The Scrambler 1100 Sport has black paint with yellow stripes, Öhlins forks and shock, cast wheels with machined spokes, and is more expensive again.
Claudio Fonti, Scrambler Project Manager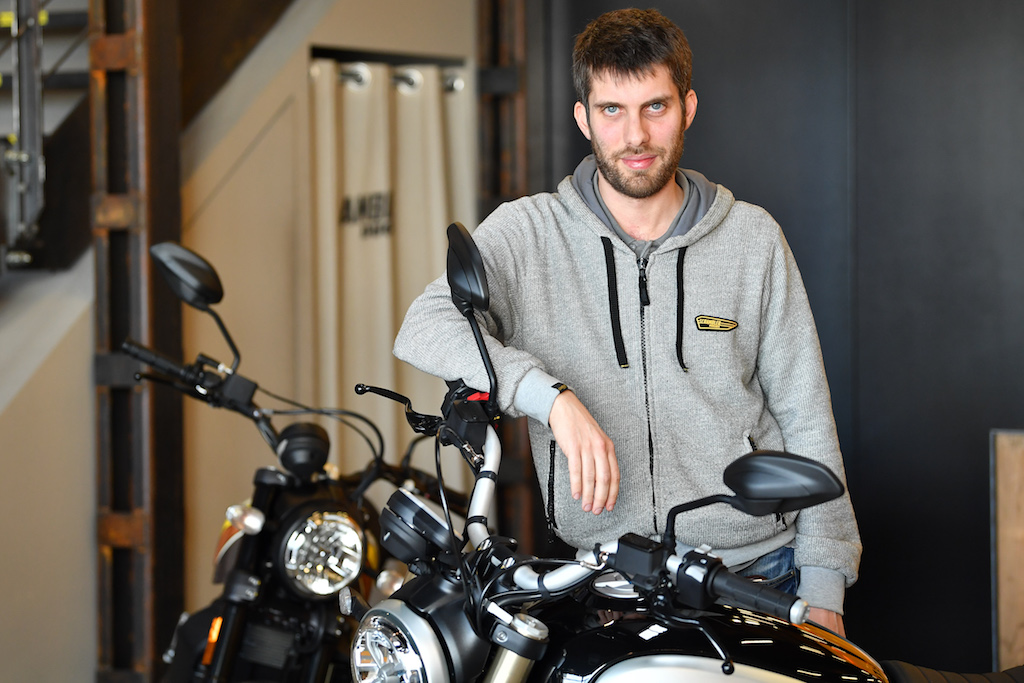 "The first target for this project was to get an engine with very smooth behaviour, because our aim was to make a bike that was not at all intimidating for anyone. We increased the power compared to the 800, but not very much because it's not necessary for this type of bike. With what we have, it's quite enough to have a fun ride.
"Our target rider is anyone who rejects the Scrambler 800 because it's too small or doesn't have enough performance. And also, Scrambler owners who bought the 800 when they were beginners, and are now ready for more performance. They could still be quite inexperienced, because this bike's level of electronics allows anyone to manage it without difficulty.
"We decided to separate the main frame from the rear subframe. The cast aluminium subframe has a special finish, which is one of several details we took care of to make the Scrambler a precious product. It's mainly for style reasons, but also allows the rider to customise the bike, because they can easily remove the subframe to make some special components.
"This bike is very different to the Monster – less sporty. The Monster is essentially a naked sports bike, but the Scrambler 1100 is a bike for every day. It's designed for carefree use. It allows its rider to have fun because it has very good handling, but at the same time, the riding position and the shape of the seat give very good comfort for short or medium range travelling."
DUCATI SCRAMBLER 1100 SPECIAL SPECS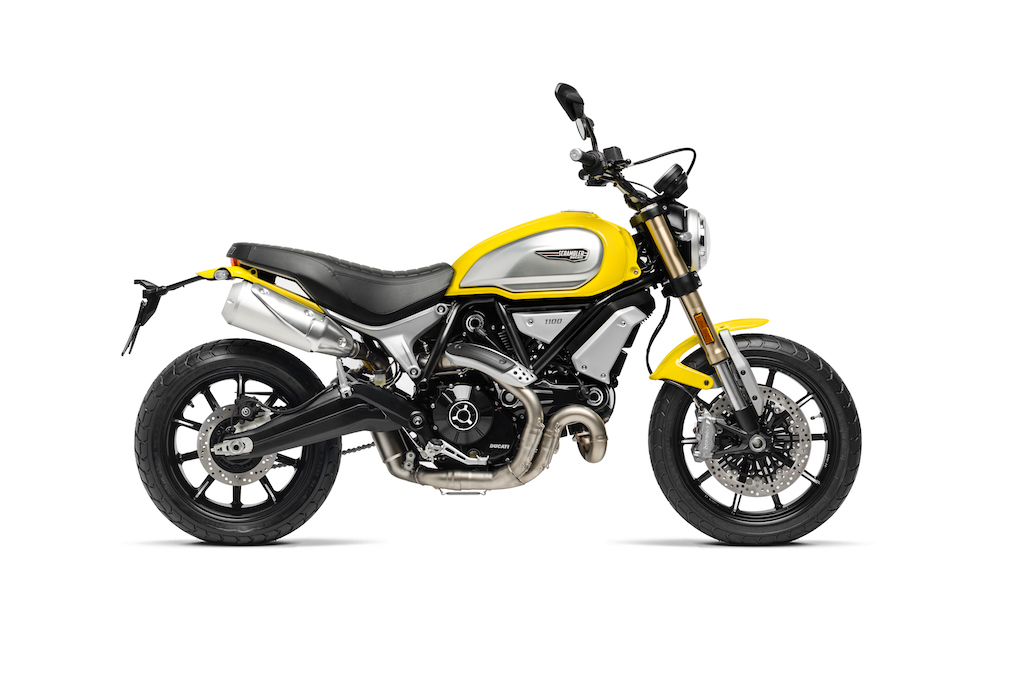 Engine type
Air-cooled 90-degree V-twin
Valve arrangement
SOHC, Desmo, two valves per cylinder
Displacement
1079cc
Bore x stroke
98 x 71.5mm
Compression ratio
11.3:1
Fuelling
Electronic fuel-injection, 55mm throttle body
Maximum power
86bhp at 7500rpm
Maximum torque
88Nm at 4750rpm
Clutch
Wet multiplate
Transmission
6-speed
Front suspension
43mm inverted telescopic Marzocchi, 150mm travel, adjustments for preload, compression and rebound damping
Rear suspension
One Kayaba damper, 15mm wheel travel, adjustments for preload and rebound damping
Front brake
2, four-piston Brembo radial M4.32 Monobloc calipers, 320mm discs
Rear brake
Single-piston Brembo caliper, 245mm disc
Front tyre
120/80 x 18in Pirelli MT60 RS
Rear tyre
180/55 x 17in Pirelli MT60 RS
Rake/trail
24.5º/111mm
Wheelbase
1514mm
Seat height
810mm
Fuel capacity
15 litres
Weight
211kg wet (194kg dry)