Words By Michael Wincott 
Round Four of the British National Superstock 1000 Championship headed to Oulton Park Circuit, 19th-20th September, built onto the natural contours of the countryside, Oulton Parks combination of beautiful scenery and close racing make it the one of the most picturesque and challenging circuits to learn in the UK.
MSV, the owners of Oulton Park had hoped that this would be the first opportunity for spectators to attend an elite motorcycling sporting event, but unfortunately due to a change in the law, Round Four was to be contested behind closed doors.
Prior to the race weekend, Rees had attended a track day at Oulton Park, which took place in wet conditions, "Going into the round, I knew where I was going, but that's about it!" commented Rees.
Free Practice 1 took place in ideal conditions and got off to a frantic start with all riders taking to the track. Rees completed thirteen laps in total, setting a lap time of 1.41.265, finishing the session in 22nd position. Free Practice 1 was dominated by Chrissy Rouse who set a time of 1.37.696, 0.700 seconds faster than the second place rider.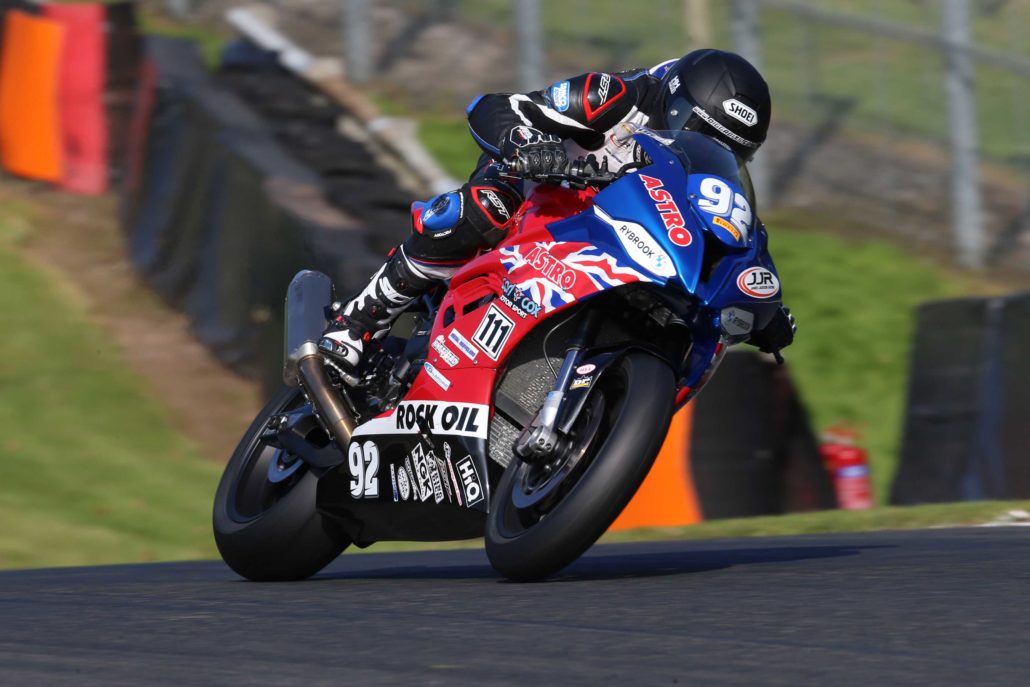 Free Practice 2 saw Rees complete a total of thirteen laps, with improved dry track time knowledge Rees set a time of 1.40.558 an improvement of 0.677 from the morning session. Rees ended Free Practice 2 in 25th position, 3.345 second off the fastists lap set by Chrissy Rouse.
Saturday was a busy day for Rees with Qualifying being held in the morning and the first 14 lap race being held later in the afternoon.
Qualifying was held under clear skies with Rees setting his fastest lap of 1.39.025 on his eighth circulation, an improvement of 1.5 seconds on his Free Practice Two time. Rees would start Race 1 from 17th position on the grid alongside championship leader Tom Neave in 16th.
Pole position would go to Chrissy Rouse who managed to bag his first pole of the season with a time of 1.37.015.
Fellow Kiwi, Shane Richardson qualified 11th, with a lap time of 1.38.386.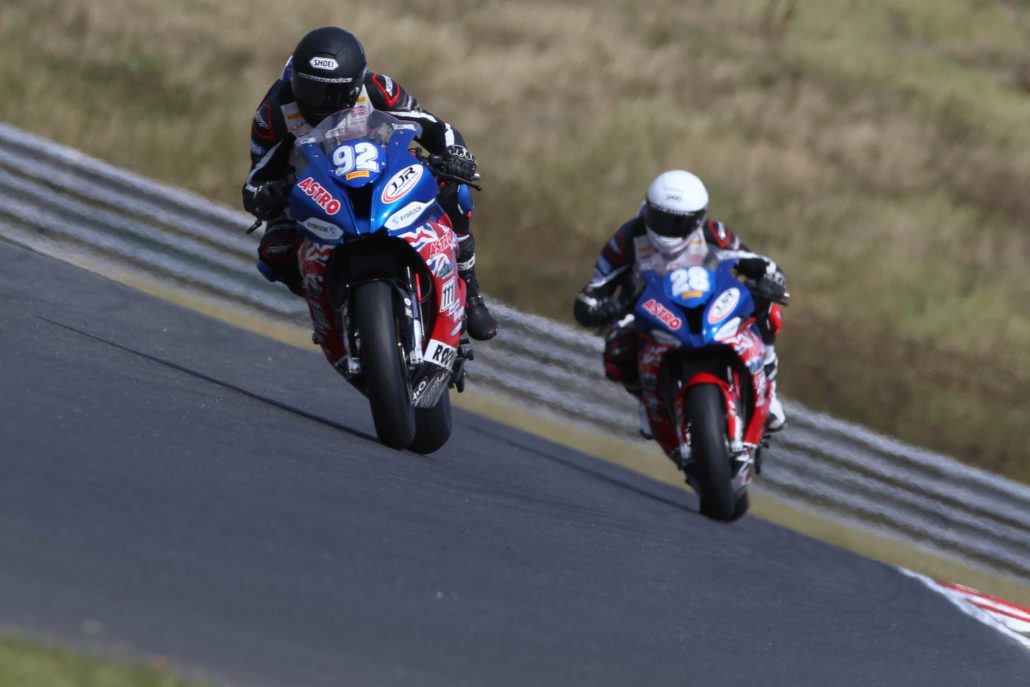 Race 1 got off to a quick start with Rouse grabbing the hole-shot, ahead of Rollo and Kent, by the end of the opening lap Rees had managed to hold on to his starting position and was following TT race winner Dean Harrison. Lap three would see Harrison crash out promoting Rees to 16th position.
By lap seven Rees was in a four-way battle for 15th with Luke Jones, Davey Todd and Luke Hopkins. Lewis Rollo would take the win by 4.8 seconds and claim his first victory in the British Superstock 1000 Championship. After a tough race Rees would finish in 17th position just 0.222 behind 16th place finisher Todd. With his first non score of the season Rees slipped from 3rd to 5th in the Championship, just 3pts behind 3rd position Tim Neave. After a strong ride and finishing 2nd, Chrissy Rouse would become the new championship leader.
Rees' team mate, Shane Richardson on the other Astro JJRacing BMW, finished in 13th position just 0.084 behind 12th place David Allingham.
Race 2 took place Sunday afternoon over 14 laps in beautiful Cheshire sunshine. The grid was determined by the fastest lap in Saturday's race which would see Rees starting from 19th position.
Lewis Rollo who got the best start ahead of Rouse and Brayden Elliott into the first corner, Rees managed to move up one position to 18th off the line and by time they had completed the opening lap Rees had managed to pass four more riders and was now in a points scoring position in 14th. At the end of lap three Rees was on the move, moving up to 13th position just 0.700 seconds behind five in a week TT winner Ian Hutchinson in 12th. As the race reached its midpoint
Rees had dropped back to 14th position and was in a three way battle for 13th with David Allingham and Luke Jones. A crash for Danny Kent at Knickerbrook, as well as passing David Allingham on lap seven saw Rees move up to 12th. By the start of the penultimate lap Rees had passed Luke Jones for 11th, which he would hold till the finish. Shane Richardson would finish in thirteen position just 0.272 behind Rees.
With his improved track knowledge as well as making a few changes in morning warm up Rees managed to set his best lap of the weekend during Race 2, 1.38.302 an improvement of 2.963 seconds from Free Practice 1.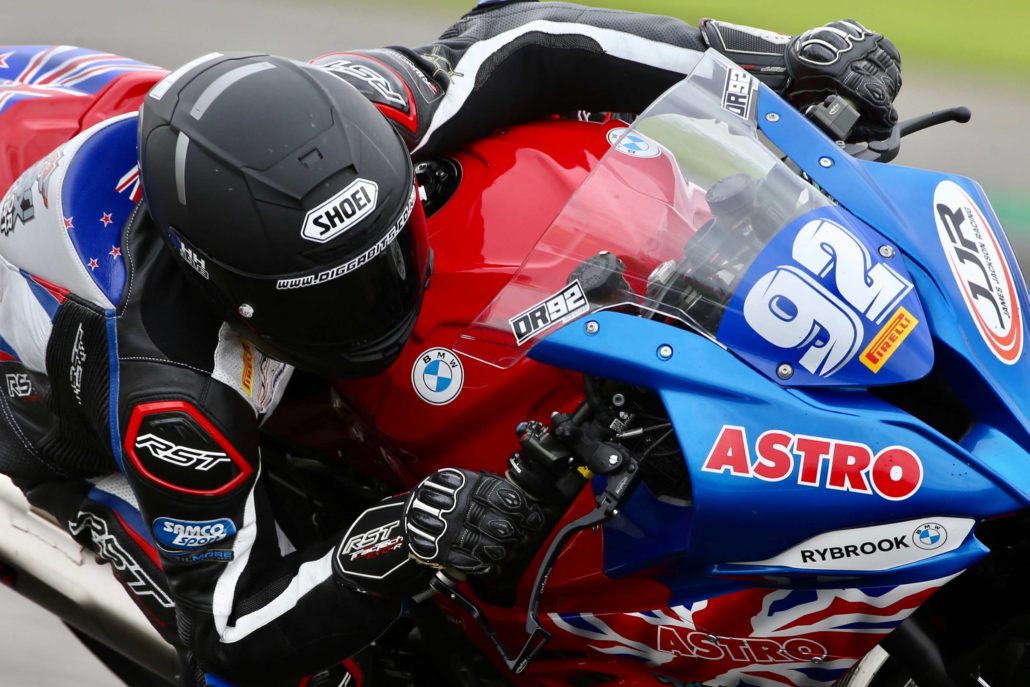 Commenting on his first racing experience at Oulton Park, Rees reiterated, "The toughest thing definitely had to be the technicality of the track. It's very blind and undulating. This means that it's not a straightforward track to learn, you really need to take your time with it." 
After a challenging weekend, Rees is remaining positive and upbeat about his first season racing in the UK saying, "The season had gotten off to a far better start than I think anyone expected, I was pretty disheartened by my Qualifying and Race 1 results. But, I'm a fighter and always want to improve so I chose not to give up and took what I can from it… and I had to remind myself that I'm a rookie, racing at a track I had never raced at before!"
After Four rounds Rees is in 6th position in the National British Superstock 1000 Championship sitting on 71pts, just 18pts in 3rd position.
After a poor weekend for Tom Neave, and with Chrissy Rouse having a fantastic round at Oulton Park, Rouse he has emerged the new British National Superstock 1000 Championship leader on 141pts.
Round Five of the British Superstock 1000 Championship will return to Donington Park, where Rees was successful earlier in the year, over the weekend of 3rd and 4th September. Live timing and coverage can be found on the BSB Website