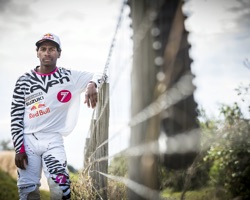 [av_one_half first]
[av_textblock size=" font_color=" color=" custom_class="]
Bubba Is Out
Yoshimura Suzuki learned Monday that the FIM appeal by James Stewart that might have allowed him to begin racing the upcoming 2015 Lucas Oil Pro Motocross Championship has been denied. Instead the suspension will remain in place until August 11, 2015. Stewart says he will now focus on his return to competition.
As they have through the entire process, Yoshimura Suzuki Factory Racing will continue to support Stewart and look forward to his return to competition.
Yoshimura Suzuki team manager Mike Webb said the appeal process has been frustrating and costly. There were several delays requested by the FIM throughout the appeal process.
"It was an incredibly frustrating process and disappointing decision, but we'll have James on board with the team for 2016 and beyond and we look forward to his return. We have a few warm-up events later this year and then we'll be back in full force for the 2016 Supercross season."
Even though it's been a trying time, not only for the delays, but also for not knowing the outcome of his appeal, Stewart said at least he can now look forward to putting this behind him and is looking forward to racing again.
"It's extremely disappointing that my appeal was denied," Stewart said. "But I'm glad this is over and now I can turn my full attention back to preparing for the few events I'll be competing in this year and coming back strong for 2016.
"I thank Yoshimura Suzuki, my sponsors and all the fans who have given me a ton of support through all of this. The one thing this time off has done is made me realize how much I miss racing, so it's going to be a great day for me when I get to see that gate drop again."
Stewart plans to defend his Red Bull Straight Rhythm title later this year and is also slated to contest the Monster Energy Cup in October.
Photo by Garth Milan/Red Bull Content Pool
[/av_textblock]
[/av_one_half][av_one_half]
[av_image src='http://brmco.wwwssr7.supercp.com/wp-content/uploads/2015/05/James_Stewart.jpg' attachment='2032′ attachment_size='full' align='center' animation='no-animation' styling=" hover=" link='lightbox' target=" caption=" font_size=" appearance=" overlay_opacity='0.4′ overlay_color='#000000′ overlay_text_color='#ffffff' custom_class="][/av_image]
[/av_one_half]