Based on the supremely good S1000RR, the BMW HP4 Race takes everything that the S1000RR is, and cranks it up beyond 11.
Words: Roland Brown Photos: Markus Jahn and Daniel Kraus
You know the BMW you've come to test is seriously special when the warm-up act is an S1000RR on slicks. And especially when even that long-time superbike yardstick has been outclassed by the time you've exited the Estoril circuit's curved pit-lane for the first time, aboard a snarly, burbling racebike that feels so outrageously light, taut and agile that it is clearly an altogether different level of motorcycle.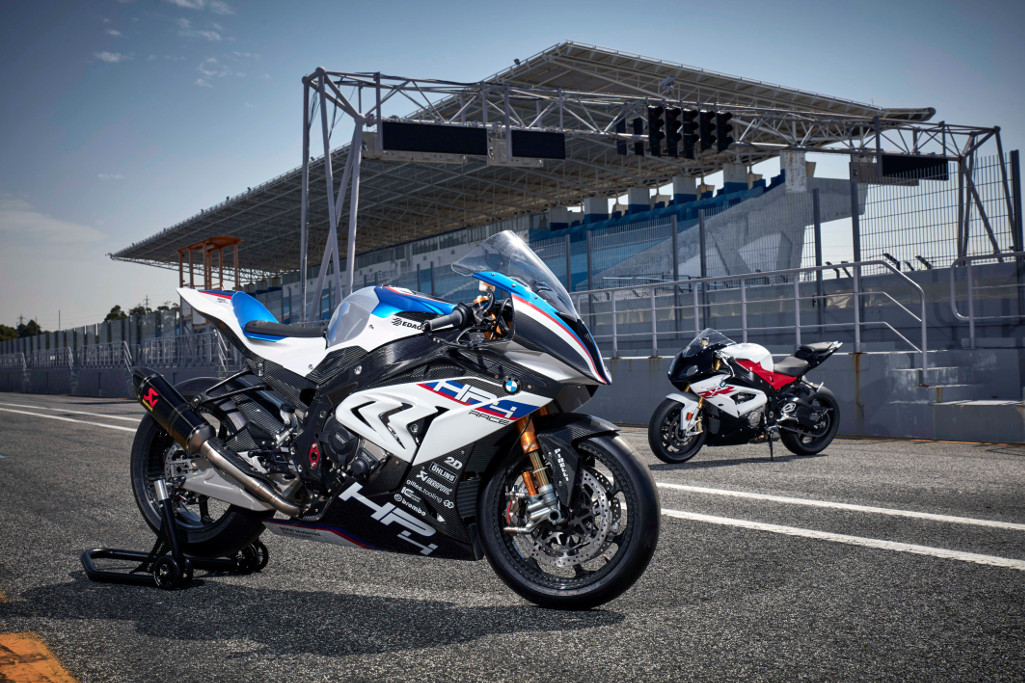 A couple of minutes later that feeling is very much reinforced as the HP4 Race screams down the Portuguese circuit's long pit straight, its race-spec 16-valve engine hurling it forward with ferocious force. That's until I sit up and brake, well into top gear at maybe 280km/h – and far too early, thanks to the majestic performance of factory-quality Brembo brakes and Öhlins forks, which combine to give phenomenal levels of stopping power and cornering feel.
Yes, the HP4 Race is staggeringly fast and hugely thrilling to ride, as you would expect from a bike that costs €80,000, will be produced in a limited run of 750 units, has a Superbike race engine, and at 171.4kg with a full tank is over 35kg lighter than the S1000RR. And which achieves that remarkable weight figure by combining a carbon-fibre frame and wheels with cycle parts taken from the highest levels of racing.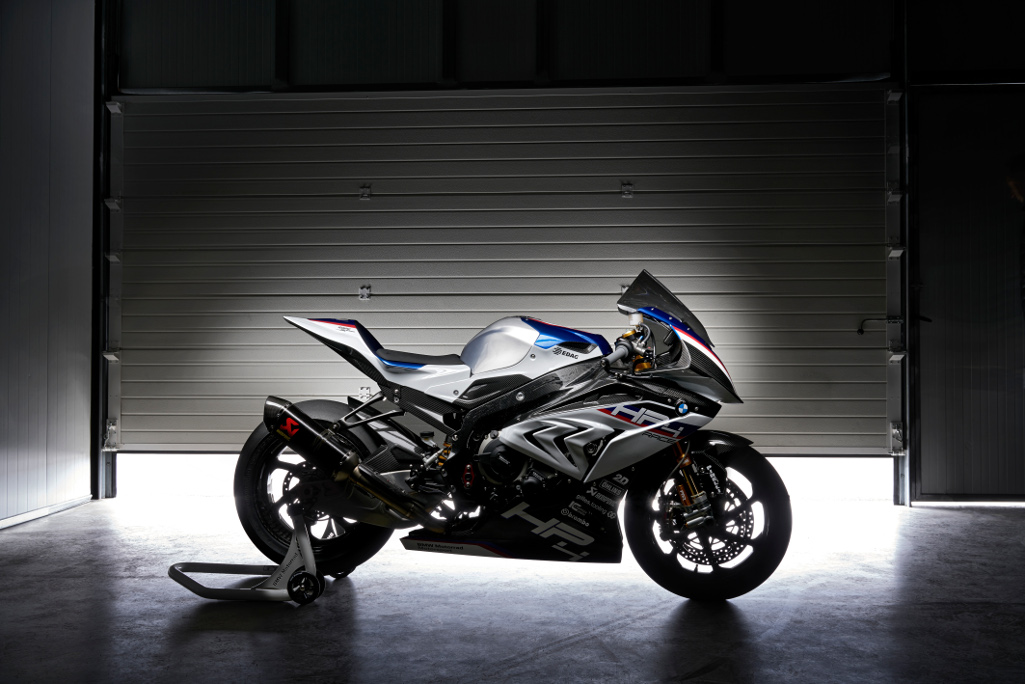 But what makes the HP4 Race hugely significant – rather than an arguably irrelevant bike that most motorcyclists will never see, let alone ride – isn't any of that stuff at all. This BMW would be just as light and fast if those carbon parts were produced in the traditional fashion: laboriously hand-made over several days, with the inevitable expense and slight variations that result from that process, and which ensure that such components could never be produced economically in high numbers.
Instead, its frame and wheels were machine produced by a process called Resin Transfer Moulding, which takes just two hours and means that each unit is essentially identical, just like its roughly 40 per cent heavier aluminium equivalent. Given that the cost of the raw materials is comparable to that of aluminium, this raises the intriguing prospect of carbon-framed bikes being mass-produced in the near future – a potentially game-changing development for motorcycle design.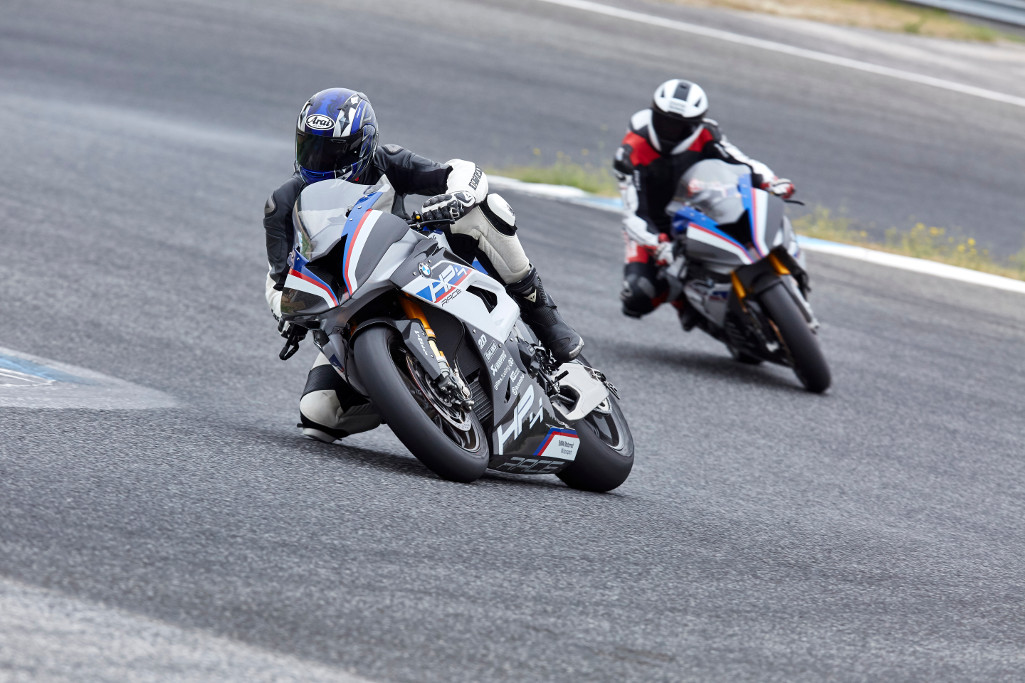 That's especially true because light weight is not carbon's only asset, at least when it is created via the process that BMW developed for the electric i3 and hybrid i8 cars (which required light chassis to help compensate for the weight of their batteries). The firm's engineers discovered that the RTM process very closely matched their computer calculations regarding rigidity, allowing precise fine-tuning of chassis performance.
BMW's extensive stress-testing also showed the carbon parts to be significantly tougher and more corrosion resistant than aluminium. All of which suggests that within a few years carbon-fibre chassis could begin to take over, in much the same way that aluminium did from steel in the mid-Eighties with bikes including Suzuki's RG500 and GSX-R750. And not necessarily just with super-sports bikes, either.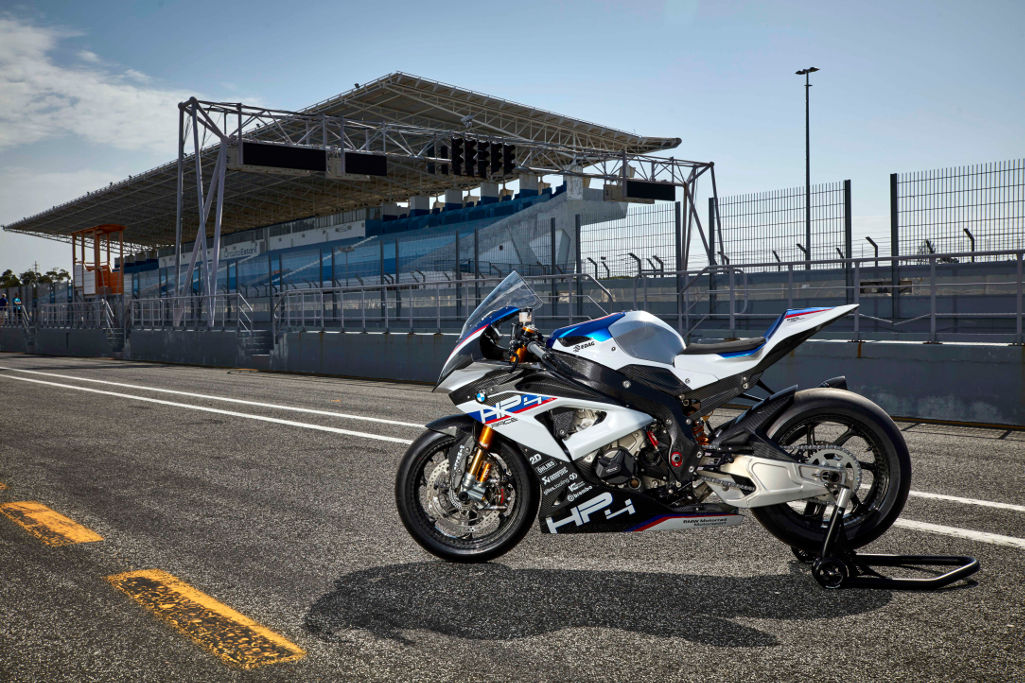 For now, the HP4 Race is not merely sporty but a track-only weapon, designed to showcase BMW's ultimate performance and carbon-fibre technology. "Three years ago we started talking about creating a professional version of the S1000RR and it was clear that if you just bolt on exclusive components it's just like tuning; it's not real innovation," says Christian Gonschor, the former factory Superbike engineer who led the HP4 Race project.
The timing was ideal because a group of BMW engineers were looking for a way to apply the new-generation carbon production process, learned with the i3 and i8, to a motorcycle. "We mixed the idea of a racing bike together with this technology and decided to change the main frame and wheels from aluminium to carbon-fibre," says Gonschor. "The history of carbon-fibre frames in motorcycles started with Cagiva in the Eighties, but this was a big challenge. I was very excited to use this technology."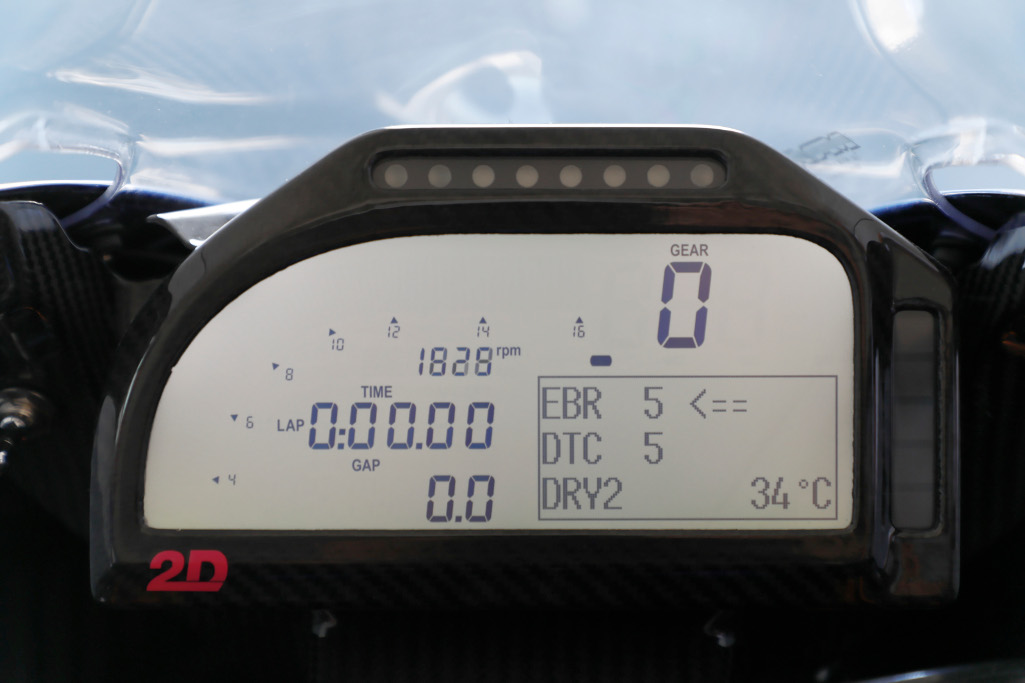 If the HP4 Race's chassis is revolutionary, its 999cc powerplant is well tested: a derivative of the units produced for world championship level racing. "It has the crankshaft of the Superbike and the valve train of the endurance engine, to make it less extreme and reach more mileage," says Gonschor. Maximum power output is 212bhp at 13,900rpm, 16bhp up on the S1000RR and less than 5bhp down on the full Superbike-spec race engine. The suitably high-level electronic system features 15 levels of traction control and engine braking, plus five for wheelie control, all programmable for each gear in the close-ratio box.
The potential for chassis tuning is similarly huge. Frame inserts allow fine-tuning of rake, trail and swing-arm pivot. Shock length and linkage can also be adjusted, and that's before you get to the myriad of settings for the Öhlins FGR300 forks – as recently supplied to factory WSBK teams – and similarly exotic TTX36 GP rear unit. Plus, the rearsets are adjustable, and you can change seat height via the self-supporting carbon rear subframe's alternative mounting points.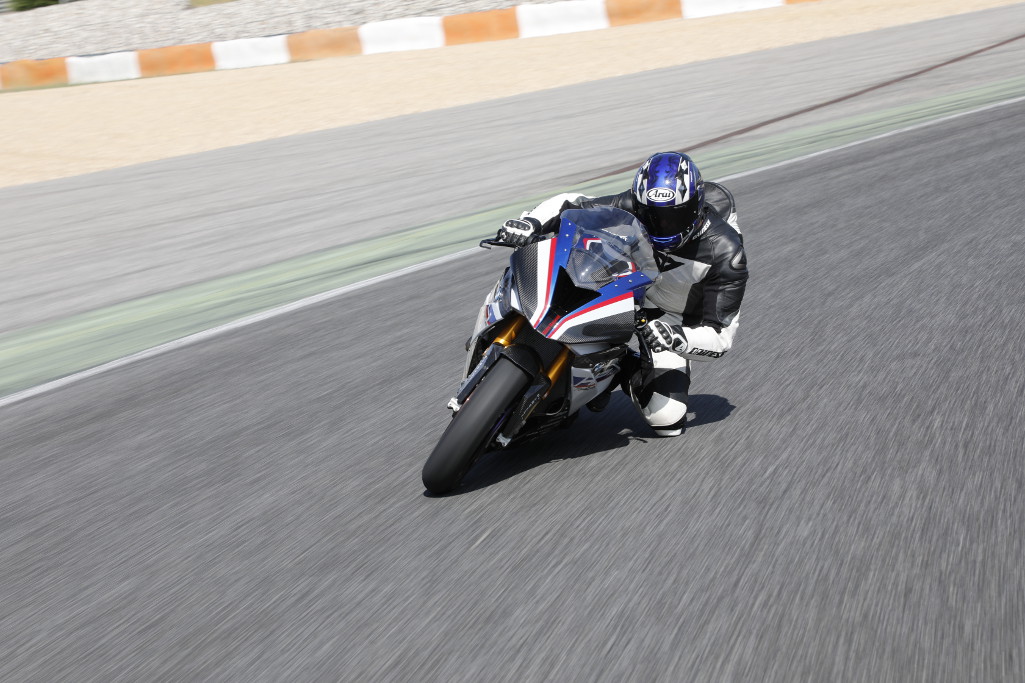 It could all be intimidating but the BMW was remarkably easy just to get on and ride. My view over the carbon-covered aluminium tank was of a large digital dashboard, a milled top yoke with small plaque showing which of the 750 bikes this is (000/750 for the five pre-series launch machines), and clip-ons with racer-style coloured buttons. On the left bar, press blue to select traction control or engine braking, then green for up and red for down. On the right, it's red for kill-switch, black for the starter and pit-lane limiter, and blue to toggle through the four engine presets: Wet, Intermediate, Dry 1 and Dry 2.
Even in Intermediate mode to relearn the track, the BMW felt staggeringly fast and deliciously precise. The engine was immense, pulling crisply from surprisingly low revs, then almost ripping the bars from my hands as it gathered torque through the midrange, going through the close-ratio box almost as fast as I could click gears even with help of the flawless two-way shifter.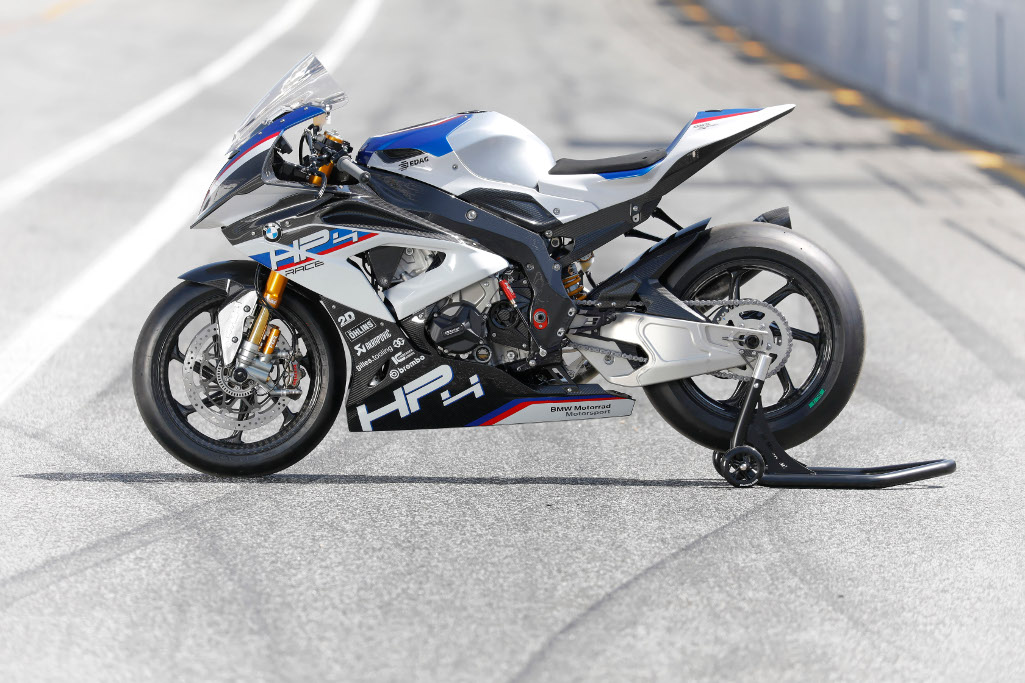 On the Dry 1 mode the power delivery was slightly sharper but the BMW still combined its brutal power with wonderfully refined throttle response that helped make the bike very easy to ride for such a thoroughbred. The traction control cut the ignition with an audible stutter in the Akrapovic exhaust can's note, especially exiting the slower turns. On the pit straight I jabbed the red button to fine-tune it although at that speed there wasn't much time to glance down and check the dashboard…
Thankfully the brakes and suspension were every bit as impressive, the latter even without needing adjustment to cope with my heavier than average weight. The Brembos are as used in WSBK and even MotoGP, featuring nickel-plated calipers and titanium pistons. Into the slightly downhill first turn it was an effort to withstand the force that they generated, in combination with Pirelli's Diablo SC2 slick. Yet the BMW remained superbly stable as I eased off the anchor and flicked into the sharp right-hander with the merest nudge of the clip-ons.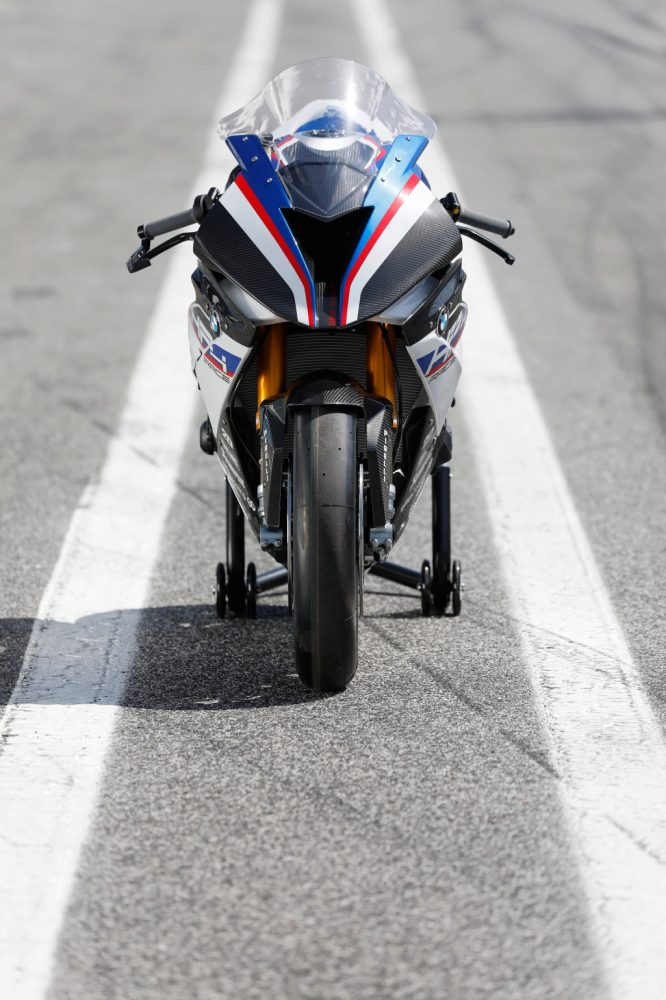 The section that highlighted the chassis most vividly was the ultra-tight chicane towards the end of the lap, which flip-flops uphill into a long right-hander. Most bikes feel cumbersome here and even the slick-shod S1000RR had twitched slightly as it changed direction. The HP4 Race danced left-right with breathtaking ease and precision, composing itself almost instantly before leaping off at thrilling speed despite still being cranked hard over, its exhaust note stuttering slightly as the traction control did its stuff.
Guess that's what happens when you combine world-class suspension with finely controlled chassis rigidity and unprecedentedly light weight. The carbon frame is 40 per cent lighter than its aluminium equivalent (7.8kg to 11.8kg); the wheels are 30 per cent lighter and generate 40 per cent less gyroscopic force. Only the swing-arm remains a race-spec aluminium item, because it requires numerous metal inserts so switching to carbon construction would have been less worthwhile.
It was easy to understand why BMW's development rider and former GP ace Jürgen Fuchs lapped this track almost three seconds quicker on the HP4 Race than on the slick-shod S1000RR. He'd also lapped Jerez roughly a second quicker on it than on a leading RR from the German IDM Superbike series. "A main aim of this project was to make the bike work well for a wide range of riders," he said. That has been achieved. I even found the bike relatively roomy, despite not having the chance to adjust the seat and footrests for my height.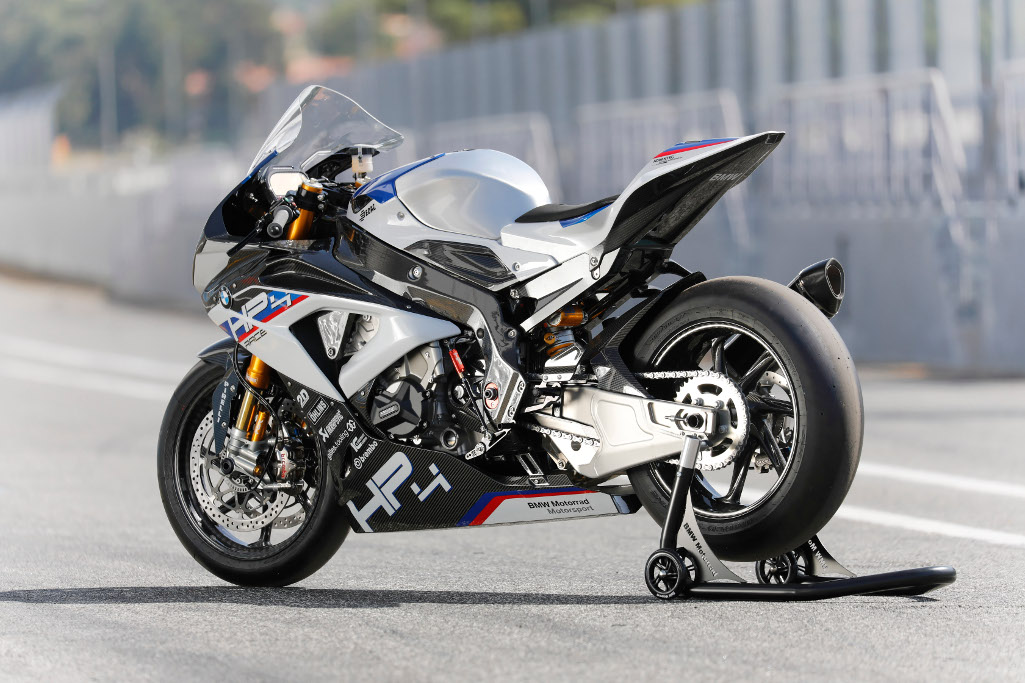 BMW's limited-edition track missile certainly promises thrilling speed and competitive performance for anyone with the necessary €80,000, whether they're planning occasional track days or to enter the Macau Grand Prix or Senior TT. But it is as the machine that paves the way for much less expensive, volume-produced models with carbon-fibre chassis that the HP4 Race will surely be remembered.
It will be fascinating to see how soon, and in what form, this technology arrives on the street – and how quickly other manufacturers join in. BMW, who have produced over 80,000 units of the i3 and i8, are understandably keeping their cards close to their chest. "The reason we made 750 units of the HP4 Race is that it's a special bike – the fastest, most exclusive bike that BMW Motorrad has ever made," says Rudi Schneider, head of the firm's multi-cylinder platform, which includes K-series sixes as well as the S-series fours.
Five years ago, the original HP4 pioneered semi-active suspension: a technology initially developed by BMW's car division and now an option on two-wheeled models ranging from the S1000XR to the R1200RT. Could the HP4 Race herald a similarly rapid expansion, perhaps starting within a few years with a carbon-framed S1000RR? "Today I cannot say, but what I can say is that we have made the step to industrialise the carbon frame, and that is the most important step," says Schneider. "We couldn't build 10,000 frames like this today, but this will be the next step. Now we can think what comes in the future."
BMW HP4 Race Specs
| | |
| --- | --- |
| Engine type            | Liquid-cooled transverse four |
| Valve arrangement         | DOHC, 16 valves |
| Displacement      | 999cc |
| Bore x stroke  | 80 x 49.7mm |
| Compression ratio   | 13.7-13.9:1 |
| Fuelling     | Programmable fuel-injection, 48mm diameter throttle valves |
| Maximum power   | 212bhp @ 13,900rpm |
| Maximum torque                     | 120Nm @ 10,000rpm |
| Clutch  | Wet multiplate slipper |
| Transmission  | 6-speed close-ratio, two-way quick-shifter |
| Front suspension       | Öhlins FGR 300 usd telescopic, 120mm spring travel, adjustment of preload, compression and rebound damping |
| Rear suspension                                   | Single Öhlins TTX 36 GP shock, 130mm spring travel, adjustment of preload, compression and rebound damping |
| Front brake                              | 2, Brembo GP4-PR radial Monobloc four-piston calipers, 320mm discs |
| Rear brake | Brembo four-piston caliper, 220mm disc |
| Front wheel  | 3.50 x 17-inch; carbon-fibre |
| Rear wheel   | 6.00 x 17in; forged aluminium |
| Front tyre   | 120/70 x 17in Pirelli Diablo Superbike slick SC2 |
| Rear tyre        | 200/60 x 17in Pirelli Diablo Superbike slick SC2 |
| Rake/trail    | 24.5 degrees (+ or – 0.5 or 1 degree)/102.5mm (adjustable 95-112mm) |
| Wheelbase | 1440mm |
| Seat height   | 816/831/846mm |
| Fuel capacity  | 17.5 litres |
| Wet weight                               | 171.4kg with tank 90 per cent full (146kg dry) |