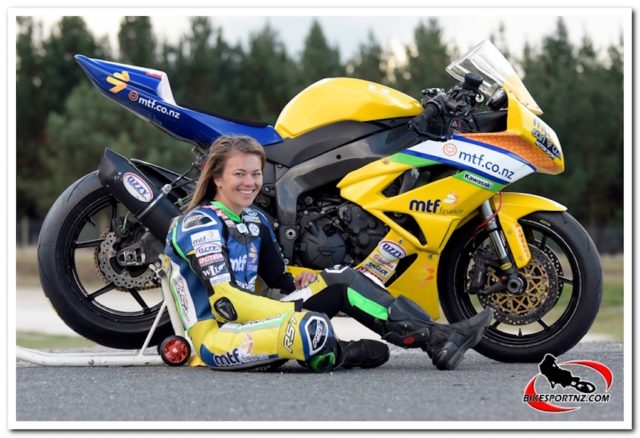 Canterbury's Avalon Biddle created history when she wrapped up the New Zealand Supersport 600 title in Taupo on Sunday, the first female to win this coveted Kiwi motorcycling crown.
The 26-year-old racer from Rangiora has previously won major trophies in New Zealand and abroad too, but this perhaps ranks as among her most cherished.
It was a landmark win when she snatched victory in the New Zealand TT Championship Trophy race at the third round of five in this season's New Zealand Superbike Championships at Hampton Downs last month and her momentum continued on with her claiming the national Supersport 600 title at the final round of the series at Taupo's Bruce Mclaren Motorsport Park on Saturday and Sunday.
Biddle (MTF Finance Kawasaki ZX6R) had started the weekend at Taupo a commanding 29 points ahead of her main rival for the title, Manukau's Toby Summers (Carl Cox Motorsport Kawasaki ZX6R) – the dynamic duo totally dominant in the class – and there was a heart-stopping moment for Biddle when she crashed out of the first of her three Supersport 600 races on Saturday afternoon.
Fortunately for her – and unfortunately for Summers – he also crashed in an unrelated incident in the same corner.
With neither of them scoring points in that outing it meant the margin between them remained intact and so Sunday's two 600cc races would decide the outcome.
Further misfortune for Summers occurred in race two with another non-finish – that race being red-flagged twice and eventually declared a non-scoring race – and so Biddle was crowned champion with a race to spare.
Biddle and Summers had been so far in front of the other riders this season that none of this affected the overall outcome and Summers was still able to finish the season runner-up, with Te Awamutu's David Hall winning the final race of the weekend and clinching the third podium spot for the series.
"I never expected this today. After being taken out in the first corner of the first race here at Taupo and not scoring any points and then the next race being red-flagged twice and nobody scoring any points… it was just lucky that I had such a points buffer to start the day," said Biddle.
"When I first started racing 600s I never thought I'd ever be in this position."
"I wasn't thinking so much about creating history. I just wanted to win for all the people who have supported me for so long, Cheryl and Phil London from WIL Sports, Kawasaki New Zealand and MTF Finance have backed me and I wanted to reward them. I have respected and looked up to guys who have won this in the past, riders such as Craig Shirriffs, Sam Smith and my partner Jake (Lewis) too.
"There was so much going on this weekend. We were really well prepared with two bikes ready to go and my mechanic Ozzy (Feilding's Chris Osborne) is probably the hardest working man in the paddock and I'm thankful to him. I had good speed this year too, with four out of five pole positions won. It all came together for me."
She said she intends to race in Australia later this year, with "plans to be announced… watch this space".
Other class winners after the weekend's final round of the series at Taupo were Glen Eden's Daniel Mettam (Superbikes); Palmerston North's Jacob Stroud (Supersport 300 class); Papamoa's Leon Jacobs (250 Production class); Jacob Stroud (Superlites); Whangamata's Ben Rosendaal (650 Pro Twins); Australia's Yanni Shaw (125 GP); Hamilton's Jesse Stroud (GIXXER Cup) and Taupo's Andy Scrivener and Tina McKeown (sidecars).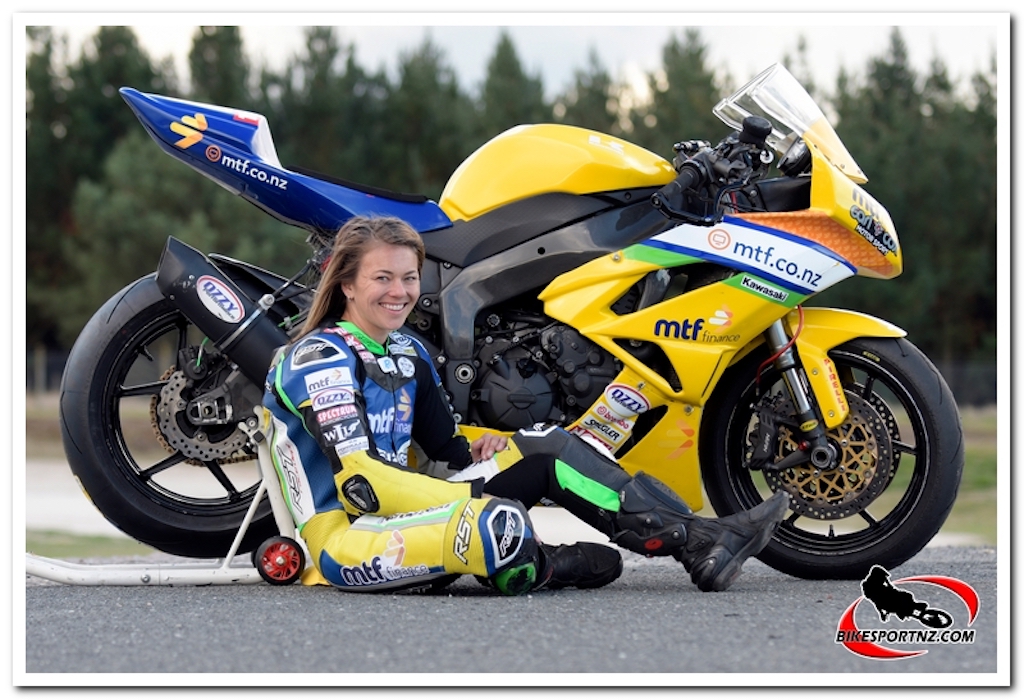 Words and Photo: Andy McGechan