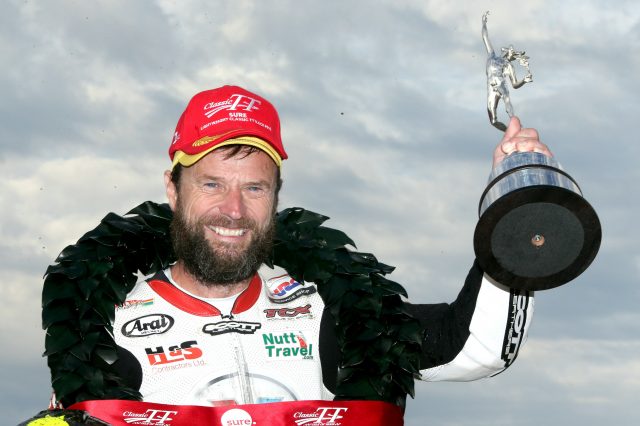 The clock was well and truly turned back with the return of 250cc two strokes to the TT Mountain Course for the first time since 2002. In a stunning race Bruce Anstey posted the fastest ever Lightweight Mountain Course lap on his way to winning the inaugural Sure Lightweight Classic TT Race, the second race of the day at the 2016 Classic TT presented by Bennetts. The team, and Bruce, now has the distinction of holding both two stroke records, following the success with the YZR 500 two stroke Yamaha last year.
Anstey later revealed in the winner's enclosure how much he'd enjoyed the race:
"I thought I've just got to make sure that I get away from Ian (Lougher) so he doesn't see me. I enjoyed that – it's so good to be back on a 250 it's such a pleasure.  Once I got on the last lap I just cruised.  They fire up pretty easy so I wasn't too nervous in the pits.  Enjoyed it all the way but I'm the one that's seizing up now.  The bike was so easy to ride I just had to keep the corner speed going from white line to white line."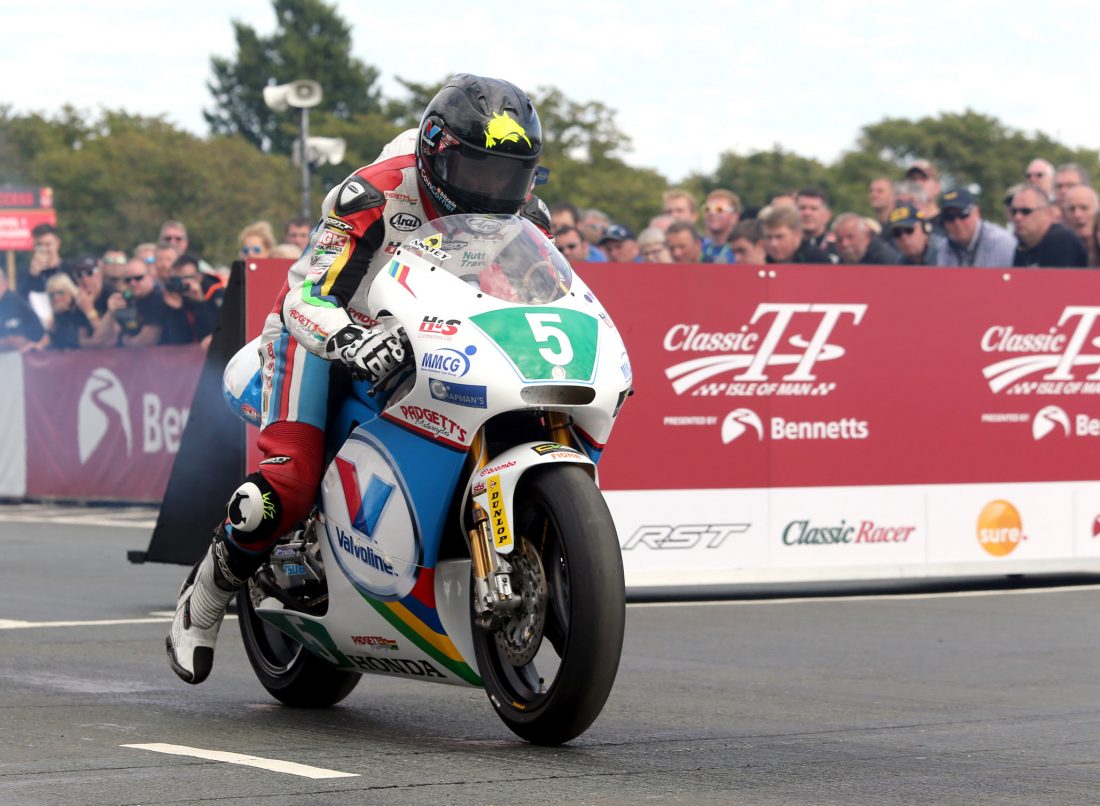 After the race, Valvoline Racing by Padgetts Motorcycles Team Manager Clive Padgett declared his admiration for the New Zealander:
"What a man – he can ride a motorbike. That was phenomenal. The lap record wasn't something we aimed for I'm but chuffed to have it."  The Batley based dealership boss also apologised to John McGuinness for beating his fastest time.
Appropriately Charlie Williams, who won five 250cc TT Races and achieved a further 3 podiums, started the race which got underway on time at 4.15pm.
Dan Cooper, the former 125 British champion, who was due to get away first, failed in a belated attempt to post a qualifying lap earlier in the afternoon and didn't start. Michael Rutter on the Ducati was also absent from the start line, which meant that the much anticipated Valvoline Racing by Padgetts Motorcycles Honda 250 ridden by Bruce Anstey was first away.  It was particularly poignant for Anstey, who won the last 250 two-stroke race at the TT in 2002.
Anstey was immediately on the pace and was first to Glen Helen, establishing a lead of almost 2 seconds from Ian Lougher, riding the Laylaw Racing Yamaha, at the first checkpoint with Ryan Kneen on CBG contractors Yamaha in third place less than a second further back.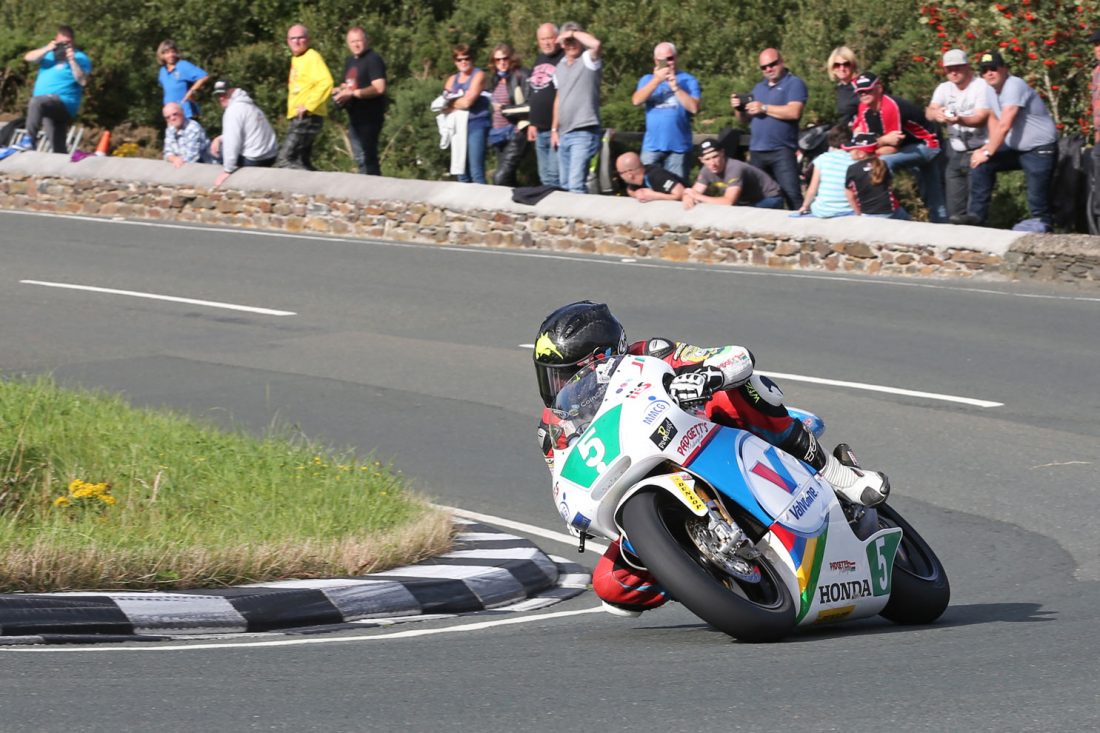 However, news came through shortly after that Kneen had retired at Douglas Road Corner leaving Phil Harvey on the CSC Racing Honda to move up to third place at Ballaugh Bridge. Tom Snow was also an early retirement at Union Mills.
Meanwhile at the front of the field, Anstey was in total control with a lead of almost ten seconds from Lougher by Ramsey with Phil Harvey a further 23 seconds back in third.  Charles Rhys Hardisty, riding the REPS Motorcycles 250 Yamaha and Welshman Paul Owen on the Team 98 Honda completed the top five.
That remained the order at the end of the opening lap with Anstey's 117.170/ 19:19.242) giving him a commanding lead of over 16 seconds from Lougher (115.486/ 19:36.147) with Harvey third in 111.937/ 20:13.437. Dan Kneen, who was running well in sixth, retired at 'The Nook', just before the Grandstand.
Anstey really threw down the gauntlet on the second lap and by Ramsey he held a lead of over 37 seconds from Lougher.  All eyes were on the clock at the Grandstand and even thought he was slowing for the pits, the Kiwi still broke John McGuinness's outright Lightweight TT lap record of 118.29 (19:08.200) set in 1999, posting a new fastest lap of 118.774 (19:03.876).
Lougher maintained his second place with Harvey continuing to hold third place but Owen moved up into fourth ahead of fellow Wesh rider Rhys-Hardisty on the second lap.
There was no change at the front of the field where Anstey extended his lead over Lougher to over a minute by Glen Helen and his third lap of 112.207/ 20:10.511 gave him an unassailable lead of over 1 minute ten seconds heading into the final lap.
Anstey was able to ride conservatively on the last lap and duly clinched the first Lightweight Classic TT Race with a lap of 116.012/ 19:30.808, which gave him an overall race time of 115.982/ 1:18.04.437. Lougher finished runner up in 114.409/ 1:19..08.846, over two minutes ahead of Phil Harvey with Paul Owen a further ten seconds back in fourth ahead of his fellow Welshman Charles Rhys Hardisty who completed the top five with 109.310/ 1:22.50.368.  Rhys Hardisty had the consolation of finishing as the leading privateer.