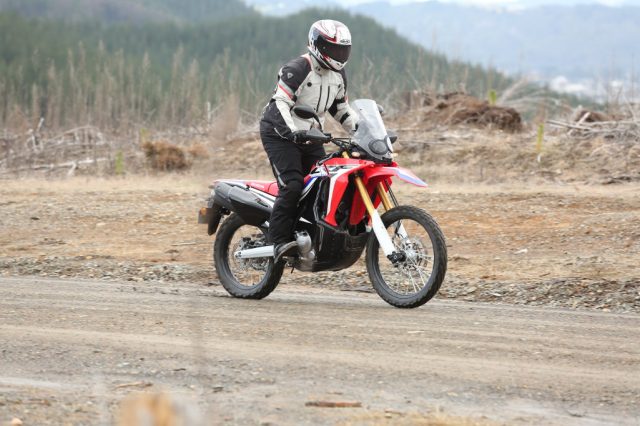 After developing a minor obsession with rally spec machinery after an interview with rally racer Lyndon Poskitt, to say Mat was fizzing at the chance to ride Honda's cool new CRF250L Rally is a bit of an understatement…
Words: Mat Pics: Paul and Kerry
It's not often I get super excited about the prospect of riding a small capacity four-stroke nowadays, but there is somewhat of an X-Factor to the 2017 Honda CRF250L Rally. Maybe it is the Rally Raid inspired design, which takes its cues from the HRC campaigned CRF450 Rally that, if not for an unfortunate team-wide penalty, would have broken KTM's Dakar winning streak this year. Maybe it is to do with the remarkable fuel economy from the 250cc single-cylinder engine, which can reputedly get a meagre 3.3L/100km. Or maybe, maybe it is the shear potential of this little machine, which is so far, the most adventurous of the 2017 contingent of small capacity adventure machines to land on our shores. Whatever the reason, I've been looking forward to this little machine for nigh on ten months since it first was announced at the 2016 EICMA show.
The nitty gritty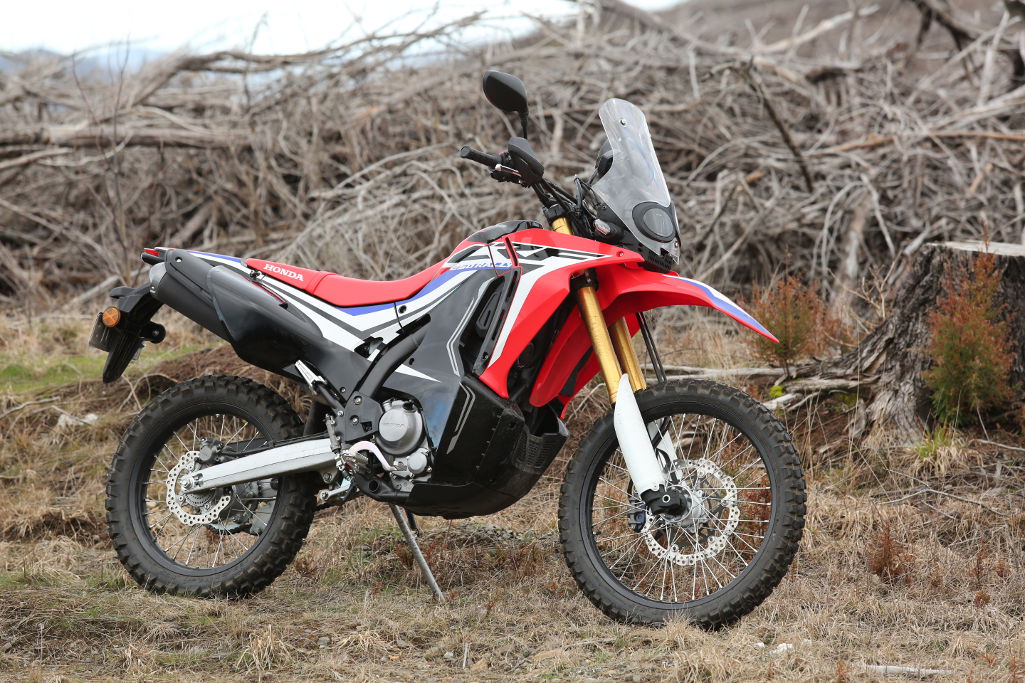 The CRF250L Rally, when you strip away the rally replica plastics and larger 10.2-litre fuel tank, is essentially a CRF250L wearing high heels. But those changes have given the Rally much more appeal than the standard 250L, as well as a little bit more in the height department thanks to longer travel suspension, which in turn means you'll need to be adept at swinging a leg up to mount its 894mm high seat. Once planted, however, the suspension sags down and with a narrow trail-style seat, getting a foot down isn't so much of an issue. The only height related annoyance I found was the long kick stand, which was tricky to deploy at times due to its length.
While it would have made sense in an actual competition sense to have based the 250 Rally off the CRF250R motocrosser, or the larger capacity 450 even, the highly strung powerplants of the real dirt bikes just don't have what it takes in the real world where we have to get to the trail as well as handle what's on it. The 250L was a far more suitable base for what the Honda engineers had in mind for this machine, easy commuting with a tractable engine that can let you have a bit of fun off road. Honda have ensured this by engineering the little motor to only need servicing every 12,000km – you can't get that kind of service interval out of an MX bike!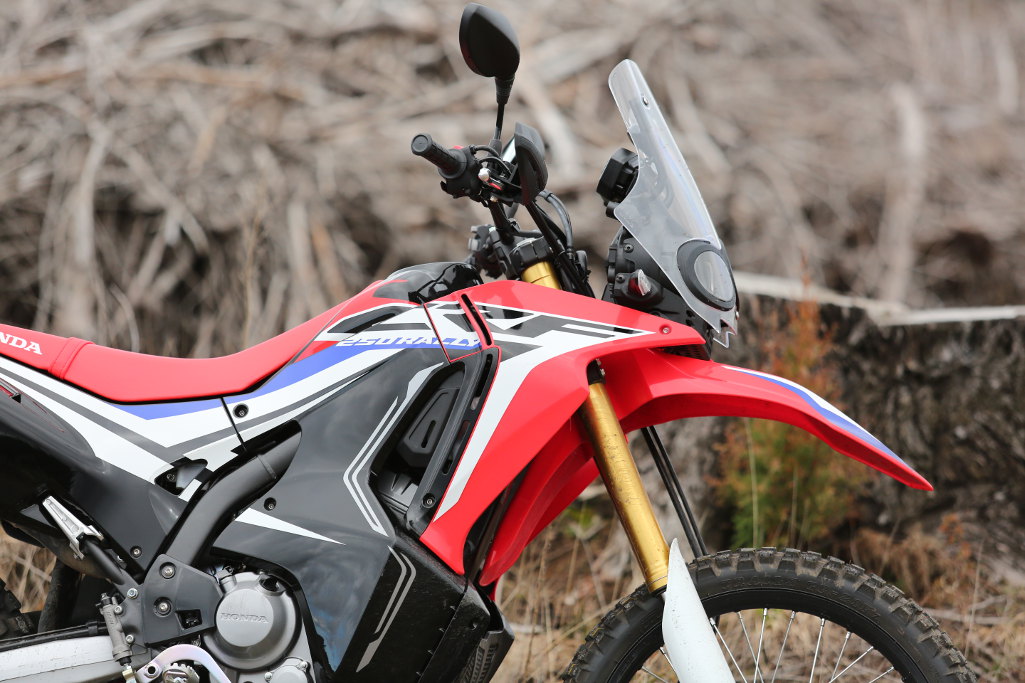 Sure, Honda now do a 300cc engine which features in the CBR300 (tested in BRM #158) that they could have used instead, and to be honest it may cost them a few sales (some people just can't get over displacement). But with that said, the 250 is a reliable little motor that has been proven worldwide and is now putting out more power than the 2016 engine with 24hp at 8,500rpm. With that much "grunt", you're not going to be winning any races with it (unless it's a slow race) but it'll go forever while sipping gas at a constant 110km/h, and has enough beans to keep you entertained on the loose stuff.
That's where I made a beeline for one my first ride, incorporating one of the few gravel roads I know well enough to hit in the dark on my route home. With twin LED headlights, lighting isn't an issue with the 250L Rally, with the beams putting out enough to give you confidence riding at night. Pulling up to the start of the gravel, I pulled over and disengaged the rear ABS on the Rally, which much like it's larger capacity stablemate – the CRF1000L Africa Twin – can be switched off at the rear wheel with a switch located up by the windscreen for those times when you want to be able to lock the rear wheel up under brakes. With this done, it was time to point the Rally towards the gravel and see what the little Honda could do.
Like A Puppy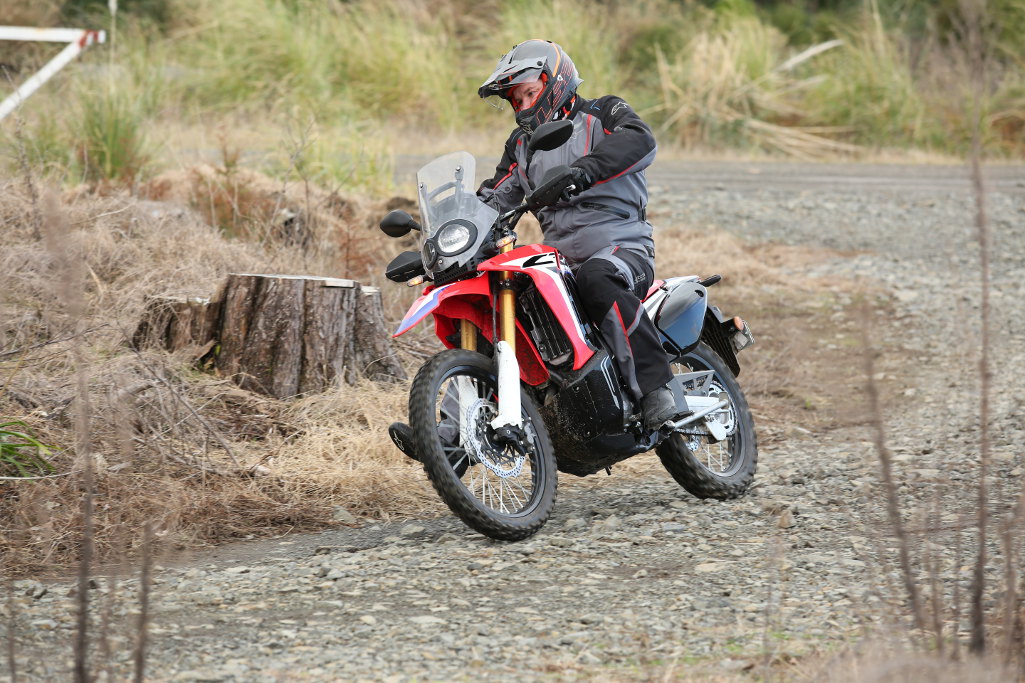 Honda have designed the Rally to be the entry-level adventurer of the family and it's got some real capability despite its modest, Thai-built origins. It's like a puppy, always wanting to please you by giving you it's all. The IRS OE tyres are a bit of a mystery to me, but on the road they hold on far better than their knobbly appearance would have you believe. Linking corners out on the open road was a breeze, and knowing you can hold the throttle to the stopper all day long and it will keep going only encourages you to ride the little bike as fast as possible. I soon had myself thinking of that age-old idiom of the bike world, it's more fun to ride a slow bike fast than a fast bike slow, and the 250 Rally is the epitome of that.
Then again, when the road surface gets loose, you can soon find yourself going much faster than necessary which is where the decent brakes come in. With a 290mm disc and twin piston caliper up front, and a single piston out back which can have its ABS disabled, you've got plenty of stopping power to pull the lightweight Honda up. It's a great bike for developing that progressive braking technique you're taught in the Ride Forever courses, too, as the soft forks dive a lot with a sudden application of the front brake, but with a bit of finesse you can really dial that back.
Surprisingly, on the gravel the Rally really comes alive, with the 24hp/22Nm power combo that is less than exciting on the open road actually being enough to spin the 18-inch rear wheel with a handful of throttle. Being able to lock the rear brake and slide the rear on the loose stuff is an advantage compared to those machines with permanent ABS, and despite its low power output, I was surprised to find the Rally really can be a fun bike. It didn't take long before my eyes were sweeping the side roads looking for my next gravelly adventure!
A machine of potential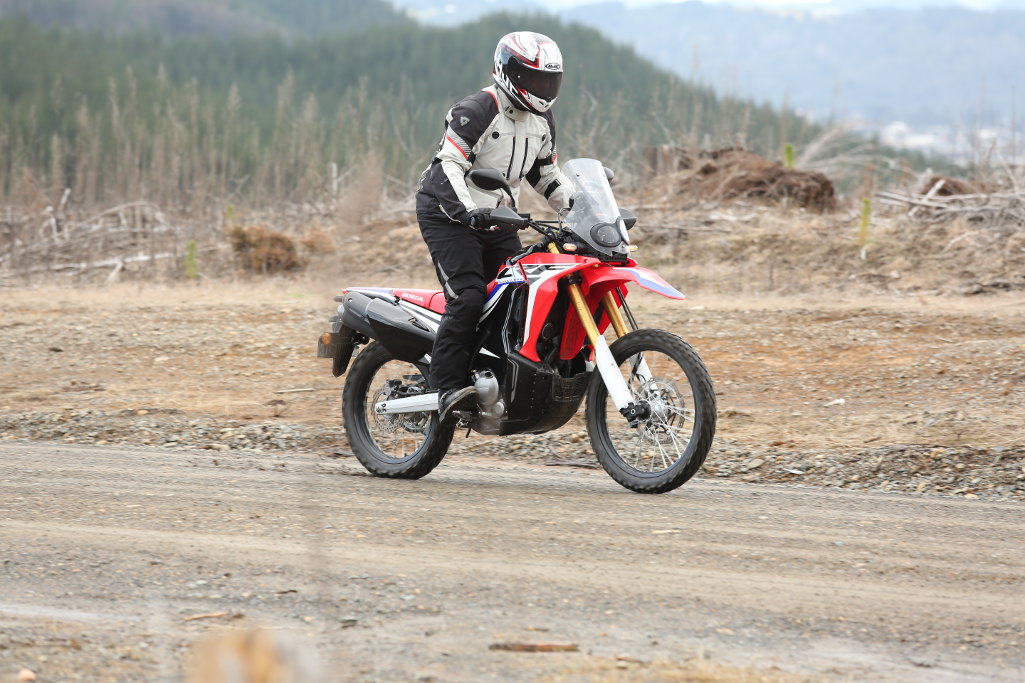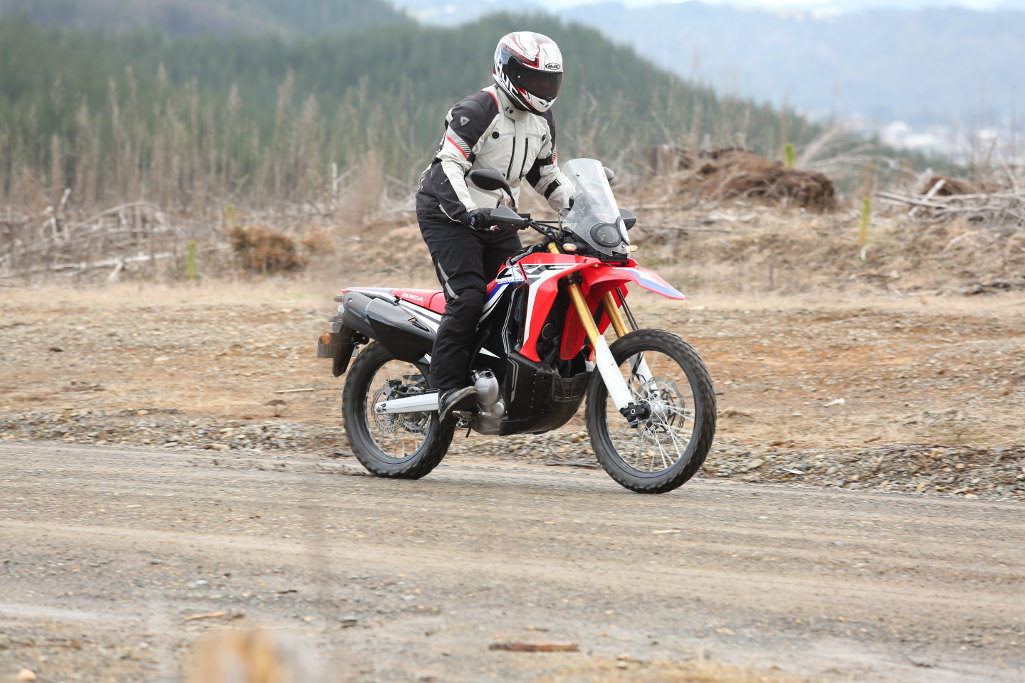 No bike is perfect, and if I was able to convince importers Blue Wing Honda to let me keep this little lost Dakar puppy (please Honda, can I?), I'd make a few minor changes to help it out in the durability stakes. Firstly, I'd remove the grab strap from the seat, as it manages to dig in right across my backside on longer rides. Secondly, I'd swap out the factory handle bar for something more dirt oriented with a little more rise and slap on some actual Barkbusters in lieu of the factory plastic wind breakers and look at a slightly sturdier belly pan.
Lastly, I'd crank up the preload on the rear shock as it noticeably bottoms out in the factory position with my 99kilo frame aboard. Other than that, I'd strap a 5-litre Jerry can to the back and hit the road less travelled and see where I end up. Sure, it will never be the fire breathing Rally Racer that it took its design inspiration from, but this is after all a bike built for fun, not racing. And even in stock form, I'm sure it'll make a lot of owners happy with what it is capable of. In fact, I'd go as far to say Honda may have another cult bike in the making on their hands.
2017 Honda CRF250L Rally Specifications
Price: $8,690 + ORC
ENGINE
Type Liquid-cooled, Single, DOHC
Engine Displacement 249.6cc
Bore x Stroke 76 x 55mm
Compression Ratio 10.7:1
Max. Power Output 24 HP (18.2kW) @ 8500rpm
Max. Torque 22.6Nm @ 6750rpm
FUEL SYSTEM
Carburation PGM-FI
Fuel Tank Capacity 10.2-Litres
Fuel Consumption 3.3L/100km
DRIVETRAIN
Clutch Type Wet multiplate hydraulic
Transmission Type 6-speed
Final Drive Chain
CHASSIS
Frame Type Steel Twin Tube
Dimensions (LxWxH) 2210 x 900 x 1425mm
Wheelbase 1455mm
Caster Angle 28.1 degrees
Trail 114mm
Seat Height 894mm
Ground Clearance 269mm
Kerb Weight 157kg
SUSPENSION
Type Front 43mm Telescopic Upside down Fork
Type Rear Prolink
WHEELS
Rim Size Front 21-inch
Rim Size Rear 18-inch
Tyres Front 3.00-21 51P
Tyres Rear 120/80-18M/C 62P
BRAKES
Brakes Front Single 296mm disc with twin-piston Nissin caliper
Brakes Rear Single 220mm disc with single-piston Nissin Caliper
ABS System Type 2 channel
INSTRUMENTS & ELECTRICS
Instruments Digital
Headlight LED
Taillight Bulb