Marc Marquez pulled off an incredible save to retain the MotoGP World Championship title in the final race of the season in Valencia.
At 24-years old, Marquez is now the youngest ever rider to win four premier-class World Championship titles and six World Championships over all, during a period of only ten years at the top of the sport.
Marquez has now equalled Jim Redman and Geoff Duke's tally of 6 World Titles in his career.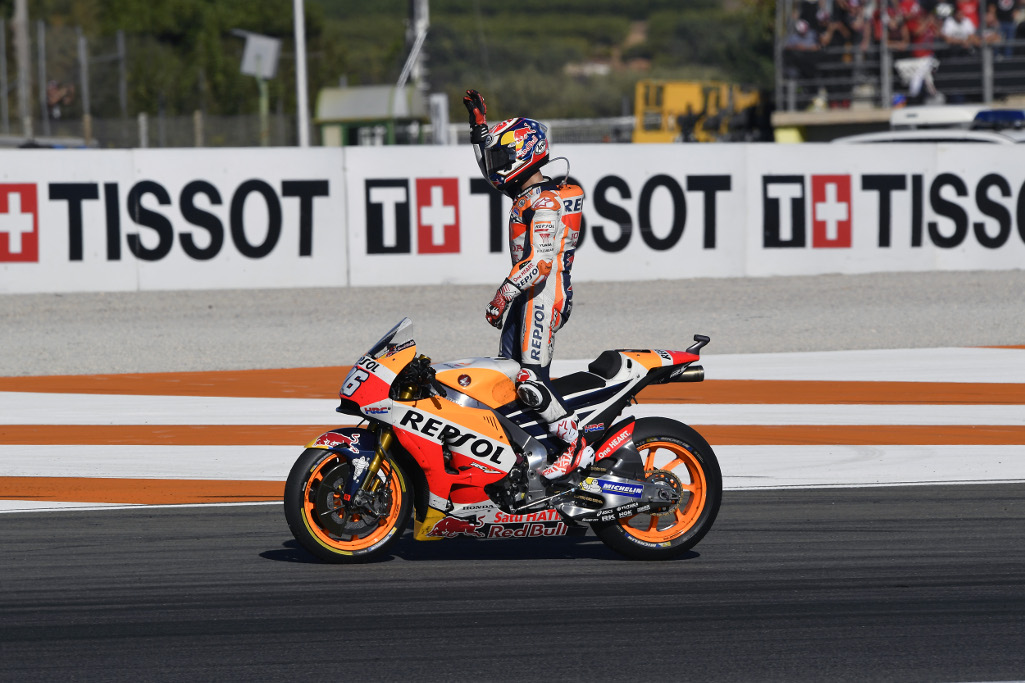 Marquez's teammate, Dani Pedrosa, rode away with the win, with Marquez himself stealing the final podium spot behind Johann Zarco after the Frenchman had lead for much of the race.
Marc stuck to him for 20 laps and then made the pass, but he immediately ran wide in turn 1 and almost crashed, running into the gravel and making one of is signature incredible saves. In the process Marquez dropped to fifth behind Zarco, Pedrosa, Jorge Lorenzo and title contender Andrea Dovizioso.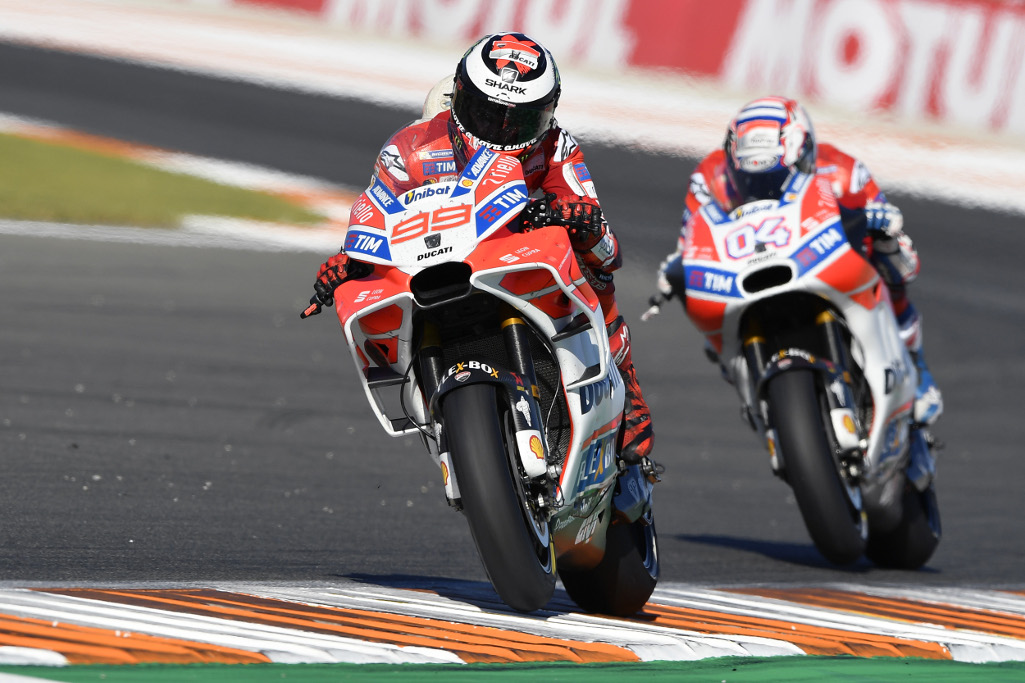 Dovi needed to win the race to steal the championship away from Marquez, but a stubborn Lorenzo wouldn't let him climb up the pecking order despite the Ducati team in the pits signalling the Spaniard to let the Italian pass.
"At the start I thought I could pass Jorge but there were some points where I was losing and others were I was gaining, Dovizioso said. In the end staying behind him helped me ride in a smoother way, so it was positive he was in front of me."
However both Ducati riders crashed out of contention on lap 25, in essence gifting the championship to Marquez who only needed to finish in the top 10 to secure the title.
Pedrosa, who had been closely chasing Zarco for much of the race, engaged the Frenchman in a battle for the win and finally passed him on the last lap to take the win.
"Today we had a chance because we got a good start and the setup was working well, so we took it, Pedrosa said. The track wasn't easy as front grip wasn't perfect, and in fact we saw a lot of crashes in the race. I was just behind Marc when he made that save and it was incredible. The smoke, the noise, the speed—wow, impressive! I realized that the track had a limit, maybe because the rear had more grip, which pushed the front. Anyway, I tried to manage the front grip, but then in the last three laps I gave it everything to pass Johann. He was so good into the corners but finally I passed him on the last lap, he continued.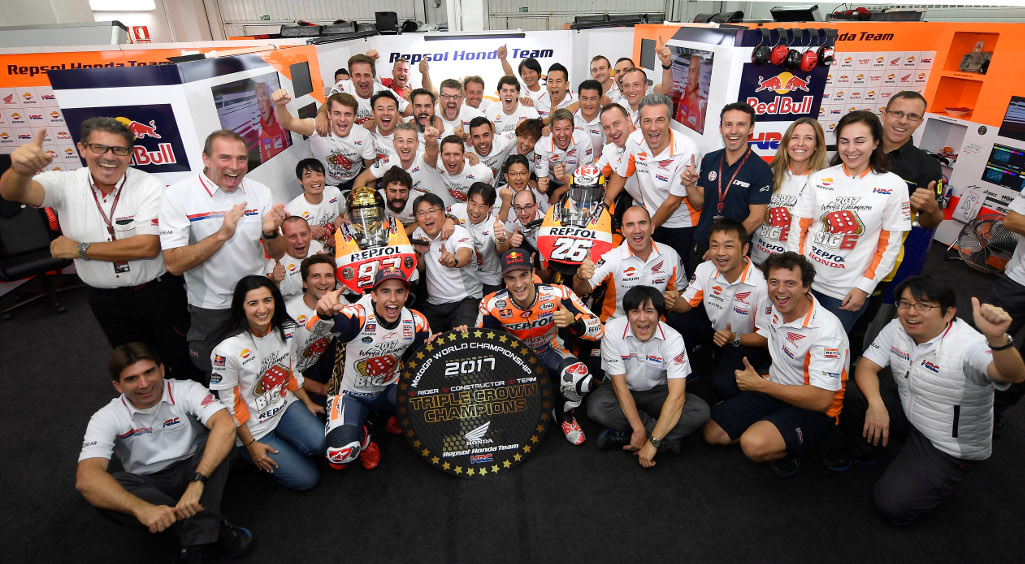 "I'm living a dream, Marquez said of his sixth title. 'Six Titles' are big words. The truth is that I'm incredibly happy because we worked so much this year, and today the race was incredibly tense and exciting—a bit 'Marquez Style.' I made a mistake, but I also made my best save of the year. From that moment on, I just tried to finish the race in a good position. I'm sorry that Andrea didn't finish the race, as he deserved to do so. He had an incredible season and I would have liked to have him on the podium with me today. The key to the year has been our mentality. In our world it's very important to remain positive and motivated during the difficult moments. Some things happened to us at the beginning of the season but when we found the way to sort things out, everything went better. Congratulations to Honda and the entire team for the Triple Crown. It's an amazing achievement. Winning the Title at the last race of the season in front of our fans is one of the best things possible, really special. Now I want to enjoy this with my entire team and my family, and after that we'll start to work for next year."

MotoGP Round 18 results
| | | | | | | | |
| --- | --- | --- | --- | --- | --- | --- | --- |
| 1 | PEDROSA Dani | 26 | SPA | 25 | Repsol Honda Team | Honda | 46'08.125 |
| 2 | ZARCO Johann | 5 | FRA | 20 | Monster Yamaha Tech 3 | Yamaha | 0.337 |
| 3 | MARQUEZ Marc | 93 | SPA | 16 | Repsol Honda Team | Honda | 10.861 |
| 4 | RINS Alex | 42 | SPA | 13 | Team Suzuki Ecstar | Suzuki | 13.567 |
| 5 | ROSSI Valentino | 46 | ITA | 11 | Movistar Yamaha MotoGP | Yamaha | 13.817 |
| 6 | IANNONE Andrea | 29 | ITA | 10 | Team Suzuki Ecstar | Suzuki | 14.516 |
| 7 | MILLER Jack | 43 | AUS | 9 | EG 0,0 Marc VDS | Honda | 17.087 |
| 8 | CRUTCHLOW Cal | 35 | GBR | 8 | LCR Honda | Honda | 17.230 |
| 9 | PIRRO Michele | 51 | ITA | 7 | Ducati Test Team | Ducati | 25.942 |
| 10 | RABAT Tito | 53 | SPA | 6 | EG 0,0 Marc VDS | Honda | 27.020 |