As the smallest of the Duke range, you could be forgiven for thinking the 200 would lack the charisma of the bigger capacity model. Well, you'd be wrong…
Words: Kerry Pics: Paul
Whilst picking up the Duke 200 from KTM Head Office in the North Shore of Auckland, I was told I was really going to enjoy this bike, as it was a 'very cool and fun bike to ride'.
To be honest, I was a little sceptical to say the least. A previous ride on a LAMS KTM with a hard saddle had left a distant but 'firm' memory with me and I wasn't looking forward to having the same experience. But after only 20minutes into my ride I had a complete change of opinion. This model was indeed the cool and fun bike that I had been lead to believe.
Our test ride began on a beautiful Saturday morning where Paul and I both prepared ourselves with respective bikes to ride. Now Paul was sporting something completely different, a Harley Road King, which was perhaps the reason we managed to attract several confused looks from other riders on our journey as the unlikely pair rolled by.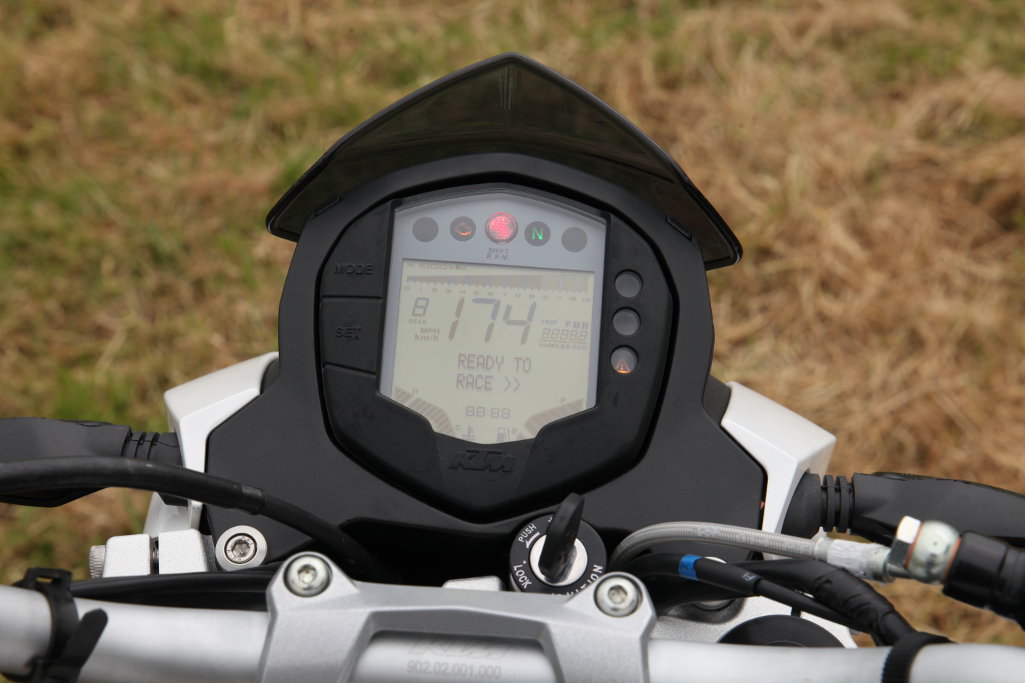 Now the KTM had a number of positive aspects for me as a learner. The first being it was nice and light and easy to manoeuvre in and out of the garage. With its smaller size, this bike would be fantastic around town, as nipping in and out of places and parking up is a breeze.
The seating position was comfortable and relaxed to begin with at least, although about an hour in the saddle was getting a tad hard and letting me know that I had been on it long enough. With that said, its not a touring bike so wouldn't be a major issue.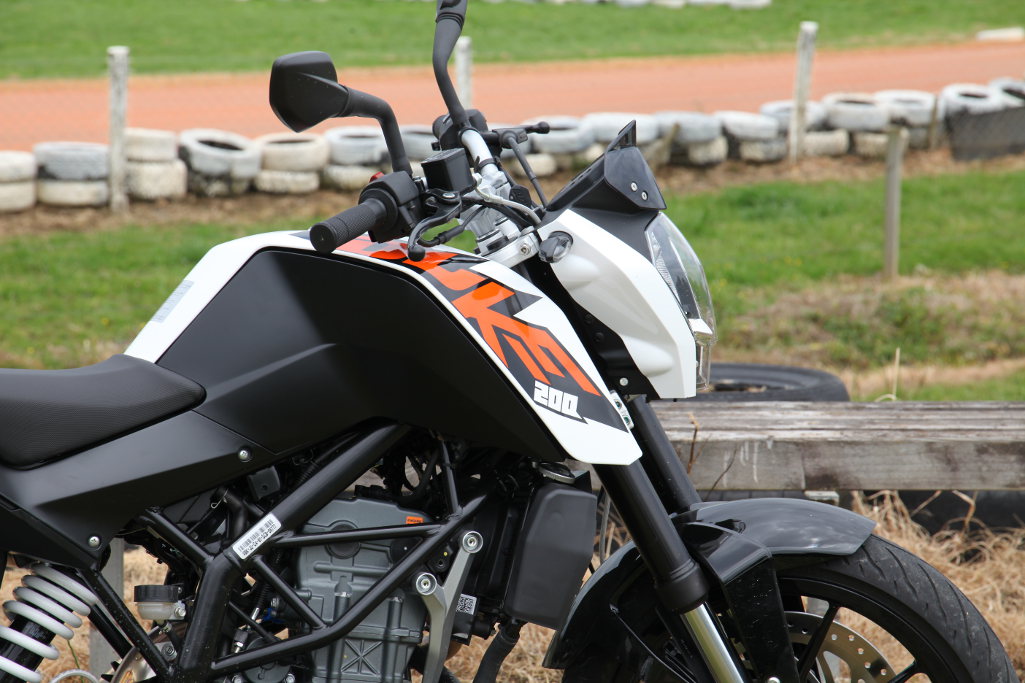 Powered by a fuel-injected, liquid-cooled, DOHC, single-cylinder, KTM claim the Duke puts out 26hp, which doesn't sound like much, but it was enough to see us cruising on the open road at 100km/h without a fuss. There was enough power there to make pulling away easy and smooth, and changing through the gears was effortless. Gaining some speed and going up through the gears was quick, although being only 200cc you levelled out quite quickly. So again being a learner the bike, it was never intimidating in speed, but provided you with some comfort that you were never going to end up with your bike being impounded for speeding. Braking was smooth and easy making the whole ride enjoyable, fun and easily managed.
Despite only having a tiny 'screen', the Duke was happy out on the open road although getting into a bit of a racer's crouch was required to get any more speed out of the Indian-made machine. You'd never know the Duke wasn't made in the same factory as the other orange models, with the build quality, cool orange LCD clocks and slick graphics making the 200 Duke look no different from the rest of the family. The clocks really were cool, especially when 'Ready To Race' pops up every time you turn the ignition on. I'm not sure whether it would actually be any good in a race, but it felt like I was in one after a while chasing Paul down some local backroads. Riding a bike like this is great for teaching you essential riding skills as you really need to plan your overtakes and corners to try and carry as much speed as possible. With the Duke having a huge 300mm disc on the front, braking power was never lacking, but I only used it if it was necessary, as it made a big difference with the speed you carried onto the next straight.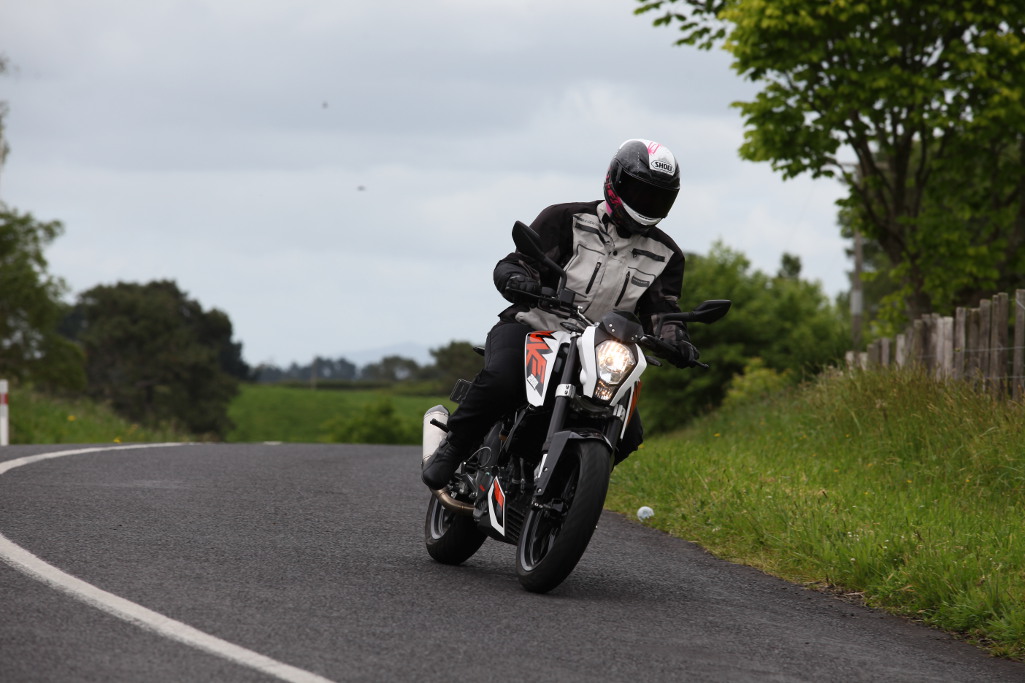 One thing I did notice with the Duke is the grunt factor this bike has, helped I would imagine by the aftermarket Akrapovic exhaust can which gave the 200 a fruity note. If you enjoy a loud bike, then you are going to enjoy this one. Apart from being a constant reminder to your neighbour that you ride a bike, I also see the positive of a bit of noise as you're heard a lot more by other traffic. Now that's always a bonus on our roads.
Despite my initial reservations, the KTM 200 Duke was super cool and fun. I think it was be a fantastic short commute to work bike, which you could then use for blasting around on in the weekend. It's not the sort of bike you'd want to be doing massive distances on, but if you're looking for a cheap and fun LAMS machine with a bit of style, the Duke 200 would have to be high on your wish list.
KTM 200 Duke Specifications
ENGINE, POWER & TORQUE
Displacement             199.5 cc
Maximum Power         24.6 Bhp @ 10000 rpm
Maximum Torque       19.2 Nm @ 8000 rpm
Engine Description     Single-cylinder, 4-stroke, spark-ignition engine, liquid-cooled
Fuel System               Fuel injection system
Bore x stroke             72 mm x 49 mm
BRAKES
Front Brake                300 mm disc brake with four-pot brake caliper
Rear Brake                 230 mm disc brake with one-pot brake caliper, floating brake discs
SUSPENSION
Front Suspension      Telescopic Upside Down Forks (WP Suspension 4357)
Rear Suspension       Monoshock, Alloy Swingarm (WP Suspension 4618 EM)
Front Wheel Travel   150 mm
Rear Wheel Travel    150 mm
Front Tyre                110/70 R17
Rear Tyre                 150/60 R17
DIMENSIONS, WEIGHT & CAPACITIES
Overall Length         2002 mm
Overall Width          873 mm
Overall Height         1274 mm
Ground Clearance    165 mm
Seat Height             810 mm
Wheelbase              1367 mm
Dry Weight              129.5 kg
Kerb/Wet Weight     136 kg
Fuel Tank Capacity   11 litres
Reserve Fuel Cap     2.5 litres
Oil tank capacity      1.4 litres