The Munro name needs no introduction to Kiwi motorcyclists. This year, great nephew of the legendary Burt Munro – Lee – helped mark the 50th anniversary of 'that run' by helping Indian Motorcycle return to the hallowed Bonneville salt with a modern tribute to the Munro Special.
 Words: BRM Photos: Indian Motorcycle
It could be said that Land Speed racing in New Zealand has fallen out of the headlines, with no governing body to take the reins and steer the sport back into the limelight until recently. But with 2017 being the 50th anniversary of Burt Munro's record-breaking run at Bonneville, aboard his 1920 Indian Scout – the Munro Special – Indian Motorcycle wanted to celebrate one of the crowning jewels in its history by repeating the feat.
The whole endeavour was the brainchild of Burt's son John, who pitched the idea to Indian Motorcycle with Lee Munro in mind as the pilot, should it all get off the ground.
Now, getting hold of a 1920 Indian Scout, tearing it to pieces and taking on the challenge of repeating Burt's under 1000 cc class record of 295.453km/h was going to be a challenge to say the least. After all, 1920 Scouts aren't going cheap these days.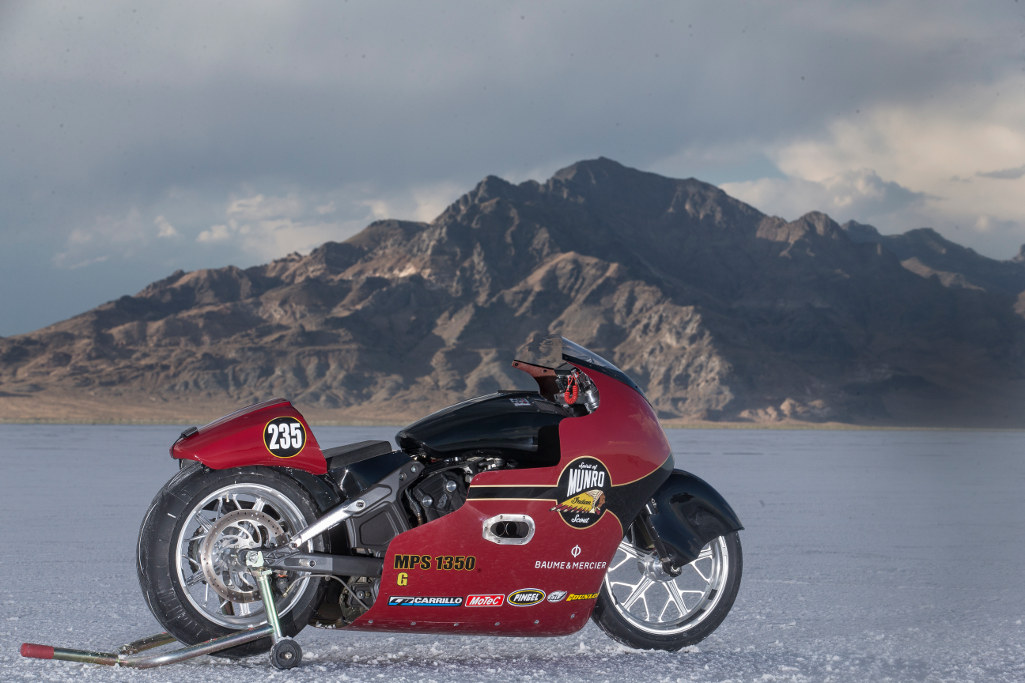 With that in mind, Indian Motorcycle headed to the production line and instead of pulling a brand new bike off the shelf, raided the parts bin to create the basis of 'The Spirit of Munro', building the bike from the ground up to compete in the 1350cc class 'Modified Partial Streamliner Gas' class.
The build was definitely in the spirit of Burt Munro, with the majority of work to build it done on volunteer labour.
"We used a stock bottom end and then went up from there, Lee reminisces. "The triple clamps were from an older project. It really was something that was put together in a bit of a backyard kind of way. It wasn't like they went 'right, let's put all our money and effort into this.'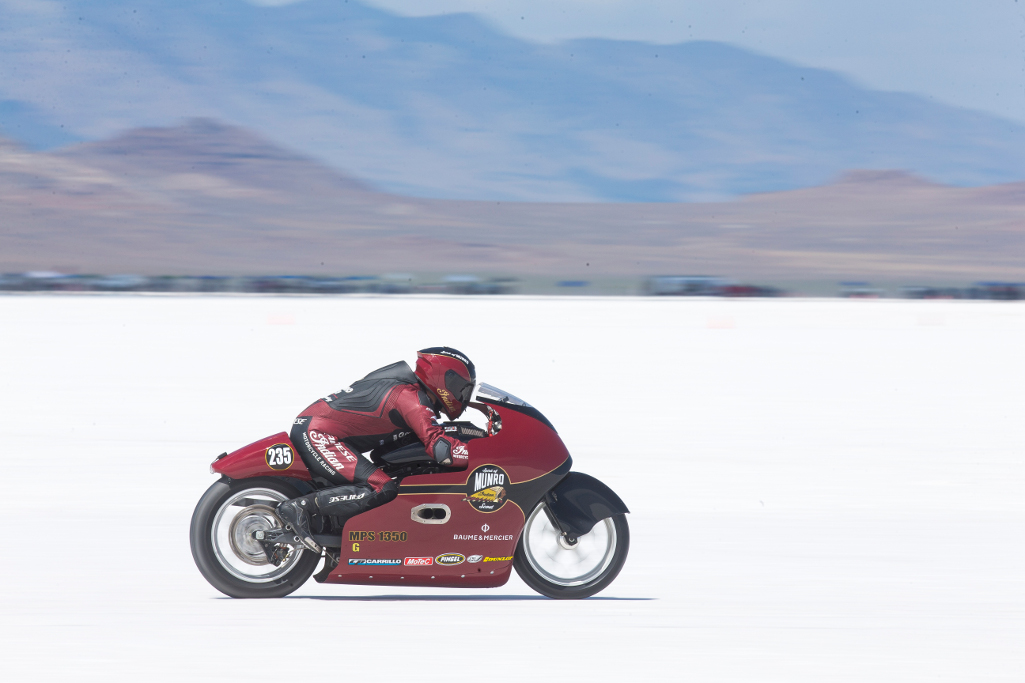 "We never even wind tested the bike, it was never wind tunnelled or any of that sort of stuff, it was just thrown together and then it was 'we'll do a tribute run and if we can match Burt's speed, then all good.' It wasn't a case of 'we've got X amount of dollars so we'll do this this and this. It was more like 'how can we make that happen without blowing Marketing's budget? It's the old; Engineering wants to this, but Marketing wants to do this, but Accounting won't let either of them do any of it.
I am stoked that Indian's running on with it. They're a bunch of good bastards who just all dig together there's no infighting and no nonsense; we've all got the same passion to get the job done."
With a completed bike, and Lee decked out in Indian racing leathers, the first job was to get the Kiwi certified to hit the salt flats.
Lee says riding on salt is a completely different challenge to almost anything else you can do on two wheels. While the speeds achieved in land speed racing competition sound like the kinds of speeds you could do at a racetrack back here (and often are), the big challenge is battling the elements and the conditions in order to go fast.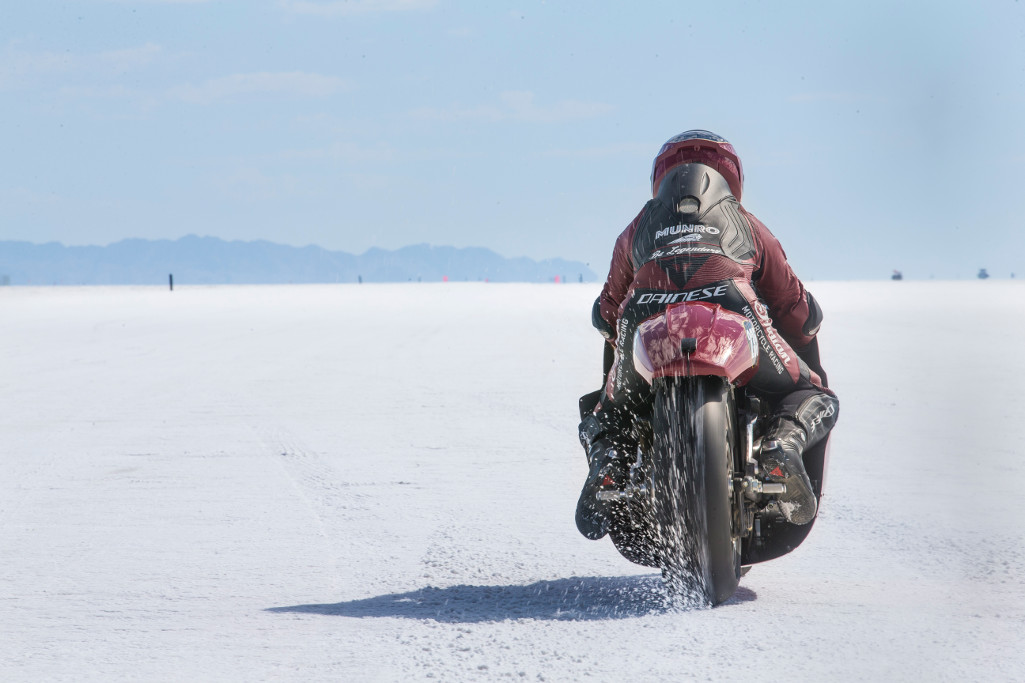 Despite its grainy nature, salt isn't a particularly tractable surface: "What you can't prepare yourself for is the lack of adhesion, surface changes and stuff like that, says Lee. "The only thing you can do is make sure you're enthusiastic about what you're doing, get out there and give it your best."
"You just sort of become your environment and that's pretty much all you can do really."
"You do get a sense of speed, because the track's not flat. The salt this year was bumpy as. We were getting bucked out of the seat many times, the back end coming off the ground, spinning up, landing, going sideways, the front end getting thrown out from underneath you, it was pretty hairy stuff."
Despite the challenges, including what Lee calls a near broadside, it was one of the more fulfilling experiences of his career – being a Munro on an Indian at Bonneville celebrating ancestral glory has a way of doing that.
"Yeah, it was pretty special. There were people there loving what we were doing, loving the romance of a Munro on an Indian, on the salt. I suppose that's what the movie's done; it's put it in the forefront of a lot of people's minds or in the back of a lot of people's minds, so when they hear about a Munro from NZ on an Indian, they go "oh, that's the movie" and they instantly want to come and meet you and stuff like that.
"For me personally, it was special but what was quite nice was the way everyone else seemed to love it and we're all really enthusiastic about what we were doing.
"That makes you feel good as well, because at the end of the day New Zealanders are pretty laid back people and we kind of do shit under the radar, so when other people appreciate something that you're a part of I think it's pretty cool.
"I like it 'cos I like to see people loving the brand. When people come up and beam joy at me about the bike – I'm real enthusiastic about it."
So how did this son of the South Island do in America? Well, he came, he saw, and he put his name down in the history books.
"Our target speed was 190 and we did 191.28 on the first run. It was lucky that we got set up on the rookie course orientation thing in the morning and then they set us off on the short course. So off we go on the first run with unblemished salt, first thing in the morning with very little wind. A little bit of cross wind meant the conditions were in our favour, so we didn't have to battle the heat bringing up the barometric pressure which goes from 4200 to 6500 feet, so you're losing a lot of power there. We were lucky with that first run. If we had had to line up with everyone else, we would have struggled a bit more I think. The conditions really hampered everyone on a bike."
So what's next for Lee Munro and Indian Motorcycle? With the success of the 50th anniversary celebration of Burt's achievements, there are more high speed runs aboard the Spirit of Munro to do.
"We'll be going back to El Mirage in November this year and see if we can break our own record. Indian love racing and for me, getting to meet the bosses, the engineers, the foremen and influential people from Indian is pretty awesome. They're passionate about racing and the history of Indian racing.
"They're such good people and on the same level as me and my mates in terms of passion for motorbikes, and so it's like, 'we've built this bike as a tribute why would we put it into mothballs?'
You've gotta use it, it's not a marketing stunt, what they did was a tribute to history.
They always intended to carry it on right from the start. And something that annoys me a little bit is that you're always going to get people who clip off the Tall Poppy. Indian is the tall poppy in that their climbing up and up and up, getting better and better, building really awesome bikes and people will say 'oh, it's a marketing stunt'. And It annoys me because those people haven't even looked at why Indian is doing what it's doing.
"It's not about 'what wins on Sunday sells on Monday'. For Indian it was more like going back to their racing heritage. It's such a romantic company and they've got such a rich history they want to live up to."
With Land Speed Racing soon to make a proper return to the New Zealand racing calendar as well, Lee has plans to compete on the salt again but also at home as well.
"I'm pretty sure we can get the Indian over for that. Personally, I wouldn't mind getting my own Indian – maybe stripping out a Scout and doing something to it. You can never have too many bikes, you've just gotta build more sheds to put them all in.
"It's never a question of saying 'do I need another bike.' Of course you do."
Words to live by. In fact, we're pretty sure Burt said something very similar…where's that DVD gone? We should watch it again.