KTM MAKES IT 17 DAKAR WINS IN A ROW WITH MATTHIAS WALKNER TAKING THE 40TH EDITION OF THE ICONIC RACE
Red Bull KTM Factory Racing's Matthias Walkner entered the final timed special stage of the 2018 Dakar Rally with a healthy 22-minute lead over his nearest competitor. Holding his nerve and completing the "short" 120km loop around the Argentinian city of Córdoba, the KTM 450 Rally mounted rider did exactly what he needed to do to win the 2018 Dakar Rally. Walkner's victory, the first for an Austrian rider in the motorcycle class, is an astonishing 17th in a row for KTM, who have won each and every edition of the Dakar since the rally moved to South America in 2009.
Walkner unquestionably put in a champion's performance at this year's event. The former FIM Cross-Country Rallies World Champion rode intelligently from the very first stage, finding the right balance between out-and-out speed and error-free navigation. Stage 10 was again a game-changer in the rally with Walkner ending the day with an almost 30-minute advantage over his nearest competitors.
Reaching the finish of the final stage in eighth position, Matthias was finally able to relax and celebrate a well-deserved overall win and let his historic achievement sink in.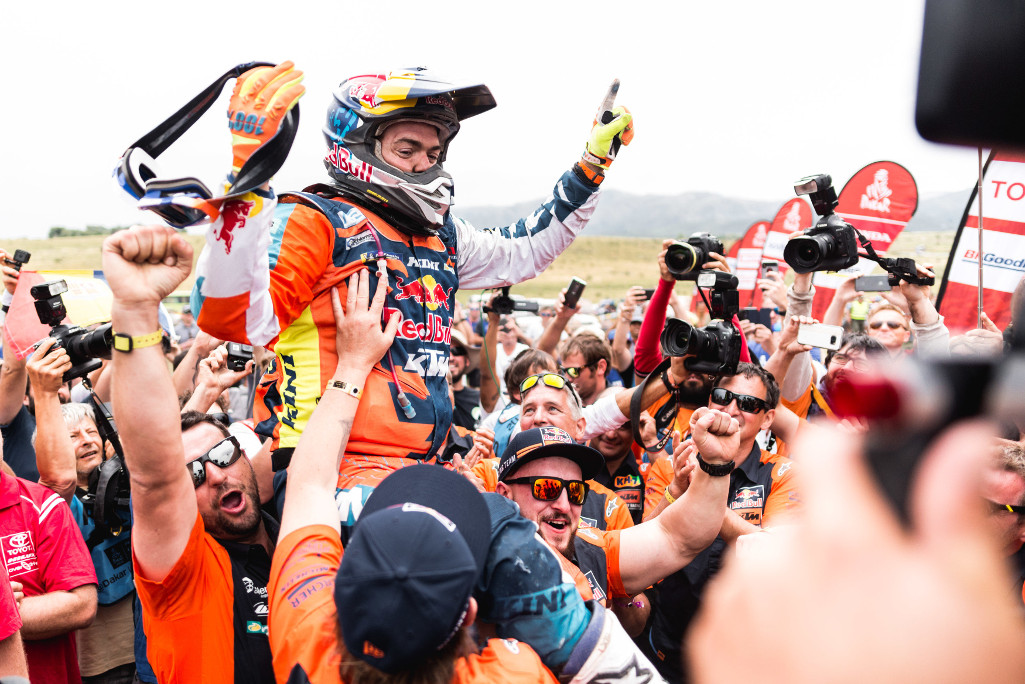 "It's unbelievable – I can't describe how it feels, Walkner said. This year's Dakar has been so difficult, easily the toughest rally of my career. Navigation has been tricky pretty much every day. At the beginning of the race, all the top guys were so close with not much time between us. I just tried to keep on doing well each day without making any mistakes. Things were so tight right up to my stage victory. After that I aimed to finish each day safely and get to the end of the rally without losing my advantage. Luckily the tactics worked out and I'm here at the end now as the winner and it feels unreal. Thank you to my team and everyone that has supported me – we did it!"
Last year's winner, Sam Sunderland, withdrew from the Dakar after a crash left him with two crushed disks in his spin and no feeling in his legs. He is recovering well at home in Bournemouth with family.
DAKAR 2018 MOTO TOP 10 RANKINGS
| | | | | |
| --- | --- | --- | --- | --- |
| 1 | 2 | | RED BULL KTM FACTORY TEAM | 43H 06′ 01" |
| 2 | 47 | | MONSTER ENERGY HONDA TEAM | 43H 22′ 54" |
| 3 | 8 | | RED BULL KTM FACTORY TEAM | 43H 29′ 02" |
| 4 | 19 | | RED BULL KTM FACTORY TEAM | 43H 53′ 29" |
| 5 | 3 | | HIMOINSA RACING TEAM. | 44H 07′ 05" |
| 6 | 40 | | GAS GAS MOTORSPORT | 44H 59′ 54" |
| 7 | 61 | | HERO MOTOSPORTS TEAM RALLY | 45H 28′ 53" |
| 8 | 10 | | ROCKSTAR ENERGY HUSQVARNA FACTORY RACING | 45H 30′ 06" |
| 9 | 29 | | HIMOINSA RACING TEAM. | 45H 43′ 21" |
| 10 | 68 | | MONSTER ENERGY HONDA TEAM | 45H 48′ 37" |