Red Bull Honda World Superbike Team's Stefan Bradl will miss the remaining two rounds of the 2017 FIM Superbike World Championship, the team has announced.
The 27-year-old German highsided in the early stages of race one at Portimão on September 16th and was forced to miss the second race due to strong pain in his right wrist.
Following extensive medical checks back home in Augsburg, Germany,  Bradl underwent arthroscopy surgery on September 28th to repair a torn scaphulonate ligament. During which,  doctors inserted pins and wire to put back the two sides of the torn ligament in position – so that the healing process can begin.
A seven-week full rest of the right forearm has been ordered by the group of doctors who performed the surgery, with a total of eight weeks required before Stefan will be able to begin with physiotherapy.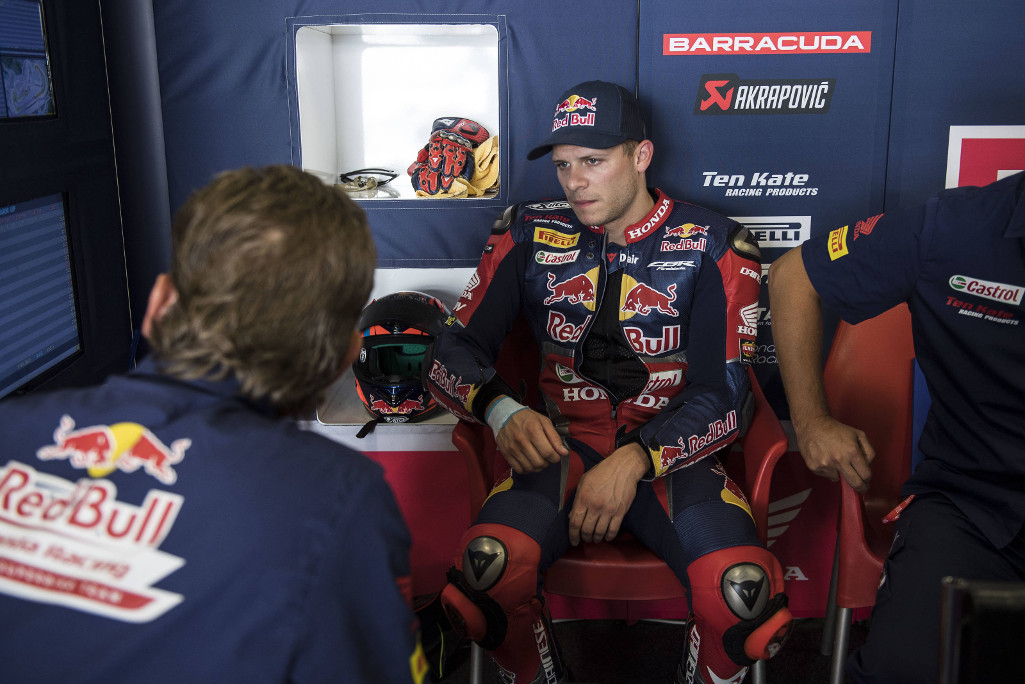 Next week, a new evaluation of Bradl's wrist condition will be made in order to determine the exact date for the second surgery, in which the pins and wire will be removed.
"Obviously it's quite a difficult time for me, as it's hard to come to terms with the fact that I won't be able to race for the rest of the season, Bradl told the press. "I have to stay positive, though, and try to do everything needed to make sure that my hand and wrist are fully healed. Rest is now priority number one for the healing process. Luck hasn't been on our side this year, but I couldn't imagine that the consequences of my crash in Portimão were going to be so severe. I want to thank everybody who worked with me this year: it hasn't been an easy one, not only from the sporting side but also for the tragedy we all had to endure early on. There's not much I can do right now, but I will follow the races on TV and support the team from here.
The team has not yet determined Bradl's replacement rider for the remaining two rounds of the season.
"First of all, we want to with Stefan a speedy and full recovery, because that's the most important thing, Honda's WorldSBK Operations Manager, Marco Chini, commented. We felt things were going in the right direction at Portimão and we enjoyed seeing him improve his feeling and his speed on board the Honda CBR1000RR Fireblade SP2, so that's a real pity that we cannot have his talent by our side in the remaining rounds of the season. Jerez and Losail were two tracks he knew well, so we were looking forward to seeing him perform there. We will follow his recovery as we head into the last leg of the season."
Bradl currently sits at 14th in the Championship, while Kawasaki's Jonathan Rea has already taken a record breaking third championship win in a row with two rounds remaining.