Frenchman Sylvain Guintoli has been designated the rider to race Suzuki´s GSX-RR in the French GP in Le Mans on May 21st and following races, until Team Suzuki ECSTAR's factory rider Alex Rins is fully recovered and able to return to competition.
Guintoli will join Team Suzuki MotoGP, already in Jerez, to take part in Tuesday´s test day, to get acquainted with the factory MotoGP machine and start his adaptation process. He will succeed Takuya Tsuda aboard Rins' GSX-RR, after Tsuda´s participation in the Spanish GP and the test on Monday after the race.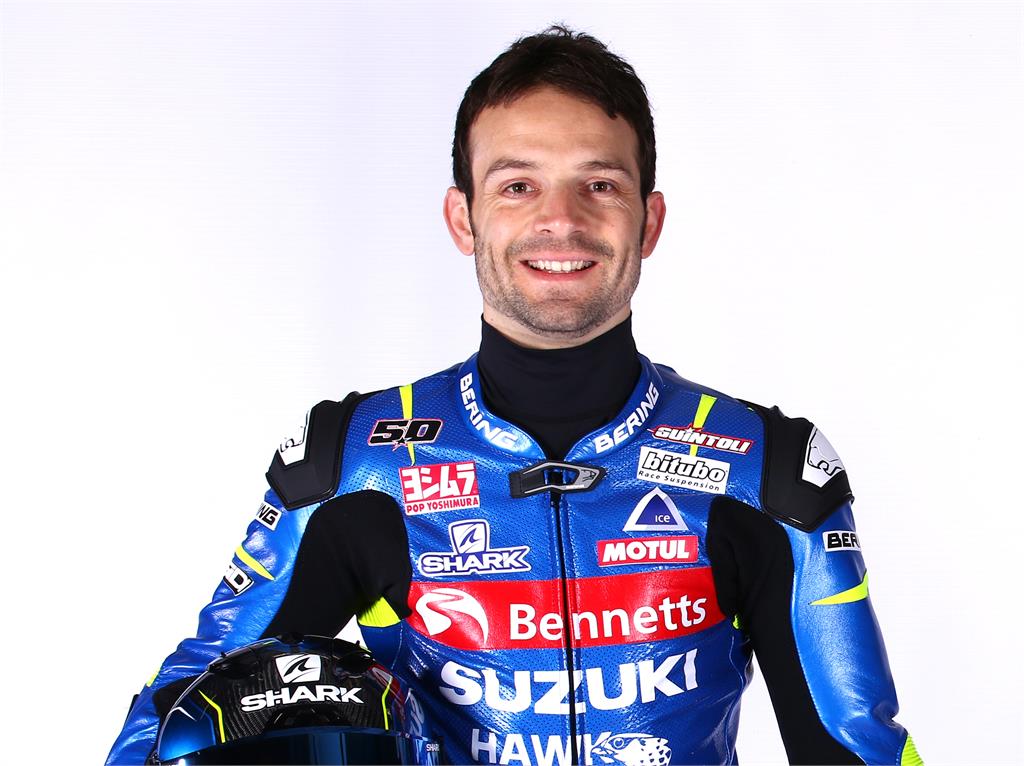 "Being able to ride the GSX-RR, currently one of the fastest racing machine in the world is a very exciting prospect, let alone at my home race in front of the French fans, said Guintoli. "The 'Le Mans Grand Prix' brings back a lot of strong memories, the best one of course was leading the MotoGP race for a few laps in 2007. This is going to be a very difficult challenge, adapting to the very powerful prototype MotoGP machine and the Michelin tires, but my main goal is to enjoy the experience and give 100% commitment to the Team Suzuki ECSTAR. The test on Tuesday will give us some time to adapt and to start understanding this amazing motorcycle. Finally, I want to wish a very good recovery to Alex."
The choice of Sylvain Guintoli to substitute the injured Alex Rins is a sort of natural choice for the team: not only he has been Superbike World Champion in 2014, but he also already has experience in MotoGP, and he is already a Suzuki rider. He is currently competing in the British Superbike Championship with team Bennetts Suzuki aboard the brand new Suzuki GSX-R1000R. He is actually in 12th position with 15 points, and participation in the MotoGP rounds will not clash with any races of the BSB calendar.
Sylvain Guintoli was born in Montélimar (France) on June 24th, 1982. He won the National title in France in 2000. The same year he was offered a wild card in the French GP of the World Championship. In 2001 he was on the entry list to his first season of the 250cc World Championship, where he stayed until 2006. He got his first podium in 2003, in Assen, only taking a break in 2002 when he raced in the MotoGP premier class. He went back to the top class in 2007 and 2008, after that he moved to Superbike, where he became World Champion in 2014.
"For us it's a good opportunity to be able to substitute Alex with Sylvain, who is a rider with strong and solid experience in racing, said Team Manager Davide Brivio. "He is a former World Champion in Superbike and he is already racing for Suzuki in the British Superbike Championship, so he is already part of the Suzuki family. With him we will try to carry on with the development of our GSX-RR, trying to improve it more and more. Also, during the races, hopefully we will be able to prepare an even more competitive package for Alex when he returns to us."
This weekend sees the MotoGP circus in Spain for the Gran Premio Red Bull de España. With practice and qualifying over Saturday and Sunday, the race itself kicks off at 12.00am Monday morning.